VietNamNet Bridge - The domestic used-car market is busy with total value of $3 billion a year as estimated by Anycar Vietnam JSC.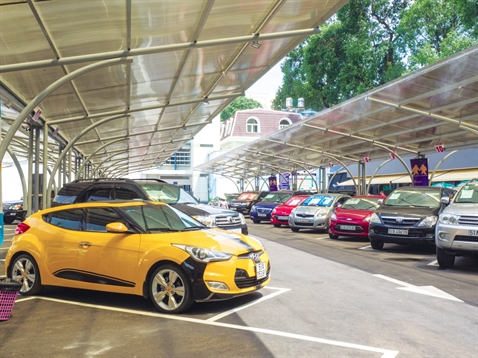 According to analysts, there are two groups of car dealers in the market. One attracts customers with advertising and the other with maintenance services.
Established in 2010, Anycar.vn was one of the 'veterans' in the market. It now runs two used-car trading networks in Hanoi and HCM City and mobile services in 64 provinces and cities. 
Anycar.vn is a representative of the second group of car dealers. It promises to give 100 percent of money back to customers within seven days if the cars it sells do not have the quality as committed. 
In fact, besides Anycar.vn, some other businesses also have services such as Ford Vietnam and Haxaco. However, Haxaco focuses on used Mercedes Benz cars and products are less diverse than Anycar.vn.
The domestic used-car market is busy with total value of $3 billion a year as estimated by Anycar Vietnam JSC.
According to Cao Minh Cuong, Anycar.vn's assistant to CEO, about 2,000 used cars are sold every year from the chain, while the revenue grows by 10-30 percent, depending on tax policies and the manufacturers' price policies on brand new cars. 
Also according to Cuong, the profit rate is modest, just 5 percent of total revenue, because the company has to make high investment in quality control, labor force and sale network.
Another member of the second group is Sago Auto, designed as a US-style car market. Pham Dang Khoa, director of Sago Auto, said after 1.5 months of operation, the market receives 300-400 customers with 7-9 cars sold a day. About 140 used cars are displayed.
He said that transparent information is vital for used-car market. Sago Auto has joined forces with Anycar.vn's testing service to ensure the quality of the cars at the chain.
The company's revenue does not come from commissions from sold cars, but mostly from the premise leasing fee (VND100,000 per car per day) and service fee (testing, ownership transfer services and others).
The common disadvantage of the second group of car dealers like Anycar.vn and Sago Auto is the limited number of cars registered for sale. Meanwhile, the car dealers of the first group such as Carmudi.vn, Chotot.vn and choxe.net, which focus on connecting buyers and sellers, can diversify the products on display.
According to Bryan Teo, CEO of Cho Tot, the number of news pieces on used motorbike and car sales on Chotot.vn accounts for 13 percent of total news on the website every month, about 90,000 pieces of news. The news on used-car sales increases by 80 percent per annum. 
Thanh Lich