A scheme on Vietnam's industrial development policy is being completed to give a fresh boost to the industry two years after the Prime Minister signed two decisions approving the nation's industrial development strategy.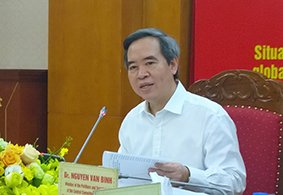 Nguyen Van Binh, head of the Party Central Committee's Economic Commission
Speaking at a dialogue on industrial development policy in Hanoi last week, Nguyen Van Binh, head of the Party Central Committee's Economic Commission, called for scientists and experts to point out the country's current industrial conditions to help the commission improve and quickly complete the scheme for submission to the Politburo in November.
Binh said many parts of decisions 879 and 880 signed in June 2014 on a master zoning plan for Vietnam's industrial sector development are inappropriate to the current conditions in Vietnam and the world, so the commission was assigned to make improvements so that the Government could review and revise the nation's industrial development strategy.
Duong DinhGiam of the Vietnam Association of Economic Sciences, who took part in the drafting of the two decisions, admitted difficulties when doing the task, saying the selection of 19 key industrial sectors at that time was infeasible.
Professor Kenichi Ohno of Japan's National Graduate Institute for Policy Studies, who has helped draw up almost all industrial development policies for Vietnam over the past 20 years, commented that Vietnam's industrial development policy is not as good as that of some nations in Africa.
He said 19 major industrial sectors are too many and proposed slashing the figure to five. He suggested the Prime Minister get involved more in the process of devising industrialization programs instead of only signing them. 
Le ThanhThao from the United Nations Industrial Development Organization (UNIDO) in Vietnam said Vietnam's industrial competitiveness ranking climbed from 94th in 1990 to 40th in 2015 among 200 countries. However, all local and international policymakers agreed the level of Vietnam's industrial sector stays low after over 30 years of reform and integration. 
Truong ThanhHoai, head of the Heavy Industry Department under the Ministry of Industry and Trade, said Vietnam sets too many orientations and targets. 
The nation's auto industry development has failed due to high targets, according to experts. The processing-manufacturing sector creates 90% of total industrial production value but it contributes less than 13% to Vietnam's gross domestic product (GDP) while the mining sector makes up only 8% of industrial production value but accounts for 10% to GDP.   
Hoai said Vietnam must spend US$50 billion importing spare parts and components annually since local supporting industries are weak.
One top of that, Vietnam is facing many challenges. Regarding human resources, only 21% of 54.4 million people of working age have been trained and just 18% of the trained laborers are working in the processing-manufacturing sector, Hoai said.  
Vietnam has also lagged behind other nations in terms of technology application. Foreign direct investment (FDI) enterprises account for 90.6% of technology investment, State-owned firms 8.7% and non-State companies a mere 0.67%.
Besides, the average headcount at businesses dropped from 27 in 2007 to 18 in 2014 while firms with small capital edged up from 77% in 2012 to 83% in 2014.
Dr. Vu Thanh Tu Anh from the Fulbright Economics Teaching Program said Vietnam keeps applying an old approach in building its industrial development policy though economic conditions have changed fast. He explained policymakers are mainly from State-owned enterprises, which contributes 30% of GDP but creates 20% of industrial production value. 
This means private businesses, which generate most of the industrial production value and GDP, do not get involved in the policymaking process. 
Vietnam aims to attract investors in the hi-tech sector but just 20% of its export revenue is contributed by this sector. Anh said the country should focus more on added value as foreign businesses have made the most of it while the country supplies cheap labor, land and utilities.
Coordination among ministries and agencies is poor, Anh said.
Vietnam's international integration has gone faster than internal reforms. Anh warned that the number of local firms would likely go down sharply in the coming years when the nation fulfills all commitments to free trade agreements due to their weak competitiveness, and more social problems would emerge when people lose jobs.
Saigon Times