VietNamNet Bridge - Chinese agencies have said they are considering opening the market to Vietnam dairy exports through official channels.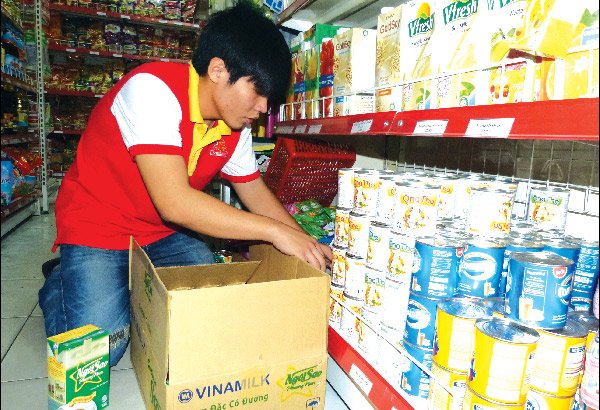 Domestic sources reported that in the talks with the Chinese General Administration of Quality Supervision, Inspection and Quarantine (AQSIS), the Vietnamese Minister of Industry and Trade Tran Tuan Anh requested AQSIS to speed up the process of considering Vietnamese dairy products to enter the Chinese market. 
In reply, the representative of the Chinese agency asked the Vietnamese side to provide necessary documents. 
Vu Ngoc Quynh, secretary general of the Vietnam Milk Association, said recent surveys show that many Vietnamese dairy products were favored by Chinese, including sugar and non-sugar yoghurt, pasteurized yogurt, full cream yoghurt and some other liquid dairy products.
Chinese agencies have said they are considering opening the market to Vietnam dairy exports through official channels. 
Also according to Quynh, Vietnamese dairy producers are considering coming to China in the third quarter to discuss with Chinese phytosanitary agencies the issues related to dairy exports. 
A senior executive of Vinamilk estimates that the Chinese powder milk market is worth $30 billion a year. Though China is the fourth largest dairy producer, it still needs to import a big volume of powder milk every year. 
Vietnam still cannot export products to the country through the official channel due to problems in quarantine procedures.
The senior executive said that Vietnamese dairy producers were capable of competing with the producers in the world in terms of production conditions. However, it is necessary to survey the market thoroughly to learn about the taste, and to set up large distribution networks.
According to the Vietnam Milk Association, Vietnam's dairy industry is strong enough to export products. The revenue of dairy production has been increasing steadily in recent years. The revenue was VND92 trillion in 2015, an increase of 23 percent over 2014, of which 30 percent came from liquid products.
Vietnamese dairy producers develop milk cow farms, which provide enough materials to make dairy products for local consumption and export.
TH Milk, for example, now can control 100 percent of materials it needs for production. Vinamilk last year spent VND1.6 trillion to develop milk cow farms in Thanh Hoa province. NutiFood has joined the liquid milk market by setting up the largest in the northern factory, capitalized at VND1.6 trillion.
Dairy producers have shown their interest in the Chinese market. Vo Thuy Anh, CEO of Anova Milk, for example, said the company is planning to export products to China, Myanmar, Laos and Cambodia.
TBKTSG