Provinces in the Mekong Delta and Ho Chi Minh City introduced 69 key projects to invite investors at a conference on investment, trade and tourism promotion in HCMC this morning.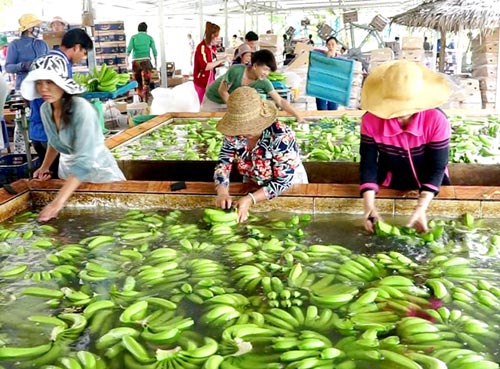 Most of the projects concentrate in traffic and seaport infrastructures, hi-tech agriculture and processing of seafood and agricultural products.
Bac Lieu, Ca Mau and Kien Giang provinces invite investors for marine economic development. An Giang and Long An want to build commerce and trade centers and border economic zones.
Hau Giang and Long An attract investment to a 100 hectare high quality farm produce market and a 1.1 hectare Binh Minh agricultural trading center.
According to the Southwest Steering Committee, the Mekong Delta is the largest delta in Vietnam. Annually, it supplies 90 percent of the country's rice export volume, 50 percent of rice output, 70 percent fruit, 40 percent wild caught fish and 74 percent farmed fish and other aquatic products.
Last year, the delta implemented six projects with a total capital of VND2.6 trillion (US$117 million) from the state budget, seven projects worth VND18 trillion (US$808 million) financed by government bonds and six official development assistance (ODA) projects with the total funds of VND41 trillion (US$1.84 billion).
In addition, the delta called social investment to build three projects with the total funds of VND5 trillion (US$224.42 million), implemented seven others under BOT (Build-Operate-Transfer) form with VND23 trillion (US$1.03 billion).
So far, the Mekong Delta has1,205 valid foreign direct investment (FDI) projects having the total registered capital of US$18 billion.
At present, a large area has not been exploited in the Mekong Delta including Dong Thap Muoi inland wetland, Long Xuyen quadrangular, the southern side of the Hau River and the southernmost tip of Ca Mau.
Meantime, HCMC is a special urban area, gateway of cultural exchange and economic integration and driving force of the southern key economic zone.
Stating at the conference, chairman of the HCMC People's Committee Nguyen Thanh Phong said that comprehensively economic cooperation between the city and the delta is an open economic connectivity aiming to create attractive investment opportunities for businesses in the delta.
The connectivity, contributing to 18.5 percent gross domestic product of the country, is a right and long term direction, he said.
With clear and open policies and the principle that considers businesses' successes as the city's, chairman Nguyen Thanh Phong said that HCMC authorities pledge to continue creating advantageous conditions for domestic and overseas investors.
HCMC will be together with the Mekong Delta, central and local agencies to improve investment environment and facilitate businesses' development, he affirmed.
SGGP