Trade-industry ministry boosts e-document application in management
The Ministry of Industry and Trade (MoIT) has promoted the use of information technology in management by implementing electronic document applications and as part of an effort to boost the development of e-government among state agencies.
The ministry's electronic document management system (iMoIT) has been implemented in the ministry's 38 units since June 1, which helps facilitate coordination, information exchange and recommendations.
According to the units, iMoIT reduces costs while shortening the time to look for documents. In addition, the system allows officials to control, handle documents and give guidance to their staff through the internet.
Some 936 people, half of the ministry's staff, have used the system.
Minister of Industry and Trade Tran Tuan Anh said that being a leading ministry in applying information and technology, the ministry has offered 24 online public services to citizens and businesses and the number is expected to rise to 52 this year.
HCM City calls for partnership of major businesses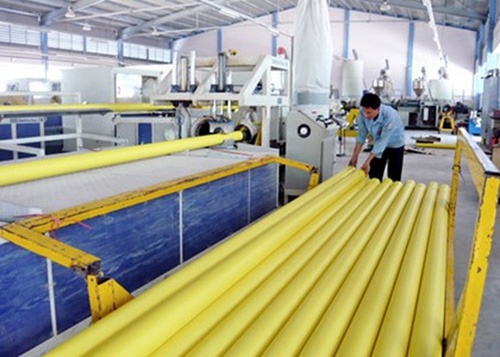 Ho Chi Minh City needs the partnership of big businesses at home and abroad as the southern metropolis aims to become a centre of finance, trade and services in Southeast Asia, said Chairman of the municipal People's Committee Nguyen Thanh Phong.
The official told leaders of enterprises under the Young Presidents' Organisation (YPO) and the World Presidents' Organisation (WPO) in HCM City on June 13 that the locality is calling for investments in urban infrastructure, business climate improvement, high-value service development and high-tech industry and agriculture.
He suggested domestic businesses revamp their operation and accompany State management agencies in order to compete with their foreign rivals in the context of international integration.
In reply, the guests said they are interested in projects and areas in which the city is luring investments.
They proposed that the municipal leaders build a large-scale international exhibition centre and offer more incentives to businesses as well as high-quality human resources.
YPO is the world's premier peer network of young chief executives and presidents with about 24,000 members from 130 countries and territories. Similar to YPO, WPO gathers business leaders above 45 years old.
Vietnam has 31 members of YPO and 13 of WPO.
Vietnamese firms updated on Czech law on electronic records of sales
Details of the new law on electronic records of sales (EET) of the Czech Republic were introduced to Vietnamese businesses at a recent conference in Prague.
Jointly held by the associations of Vietnamese enterprises and students in the Czech Rep. and the host country's Ministry of Finance and Department of finance management, the event also aimed to clear up Vietnamese companies' queries relating to the enforcement of the law.
Deputy Prime Minister and Finance Minister of the Czech Rep. Andrej Babis affirmed at the seminar that his country will provide full information about the EET, saying that the law will increase the country's tax collection by 18 billion koruna (about 666.7 million EUR), which will remarkably contribute to constructing and upgrading roads, hospitals, and schools in the country.
He hoped the EET will receive supports from businesses operating in the Czech Rep., including Vietnamese firms.
Deputy Finance Minister in charge of tax Alena Schillerova and EET experts detailed the nature of the law as well as the roadmap for enforcement of the law, stressing that the EET application will help create a fair business climate for all enterprises in the country and increase the budget collection.
Deputy PM Andrej Babis said relevant Czech agencies have organized numerous meetings with the local Vietnamese community to discuss the EET. He added that he will work with the aviation sector to promote the opening of a direct route between Vietnam and the Czech Rep., towards further fostering bilateral cooperation.
The EET concerns income tax payers, entrepreneurs , legal entities, sole traders and individuals that accept cash, cards, checks, bills of exchange or similar means , such as gift cards, meal vouchers, and tokens for their goods and services.
It requires entrepreneurs to connect their cash registers with financial agencies and print out receipts for customers, which is not common before.
Vietnamese businesses are playing a crucial role in the Czech Republic's development as they are running a great number of wholesale and retail outlets in the country.
The law is scheduled to be applied from December 1 under a four-period roadmap to 2018. About 600,000 businesses will be effected by the law, including 20,000 Vietnamese firms.
Duty-free business changes proposed
Supervision of imported food products sold at duty-free shops might no longer be needed and firms will assume full responsibility for product quality and safety, according to a Government draft decree on duty-free business issued for public comment.
According to the proposed decree, imported food products for sale in duty-free shops will not fall under the regulations on food hygiene and safety checks.
As duty-free business is a type of retail sale with an abundance of product types but small volumes, specialised checks were costly and time consuming, according to the law's authors. In addition, specialised checks are not necessary as duty-free products are of clear origin and well-known brands.
An agreement on abolishing safety checks on duty-free food products has already been reached among the relevant government agencies and ministries.
Tobacco, cigars, liquor and beer on the shelves of duty-free shops must be labelled "VIETNAM DUTY NOT PAID", according to the draft decree.
According to data compiled by the Ministry of Finance, there are 31 such shops nationwide, including eight at international airports, nine at international ports, 12 at border gates and two in downtown areas.
In the 2009-15 period, there were more than 3.5 million purchases at duty-free shops.
HCM City smashes tax targets
HCM City has asked the Government for a bonus of 10 trillion VND (450 million USD) for exceeding its tax revenue target last year.
The target was 234 trillion VND (10.5 billion USD) and the city achieved 255 trillion VND (11.4 billion USD).
The target for this year is set at 298 trillion VND (13.4 billion USD).
"HCM City will achieve the target though it is 9 percent higher than last year's collection," Politburo member and city Party Secretary Dinh La Thang told Vietnam News Agency.
"To achieve stronger growth, HCM City will need a special mechanism with more powers vis-a-vis finance and human resources. [Then], human resources and production capability will significantly improve and help the city grow in double digits."
The city is collaborating with central agencies and leading experts to create a comprehensive mechanism to improve the business environment.
People's Committee Chairman Nguyen Thanh Phong said economic growth in the first five months has been strong and would ensure the Government's goals are achieved.
"The Government should give back to the city a part of the import and export tax revenues for 10 years and allow the city to collect taxes from certain industries," he said.
Le Thanh Van, a member of the National Assembly's Finance and Budget Committee, said: "HCM City has already sent many petitions related to the special mechanism. Some can be approved but others do not comply with current laws.
"HCM City should submit a comprehensive mechanism to the Politburo and National Assembly to consider and approve."
Tran Du Lich, a member of the National Monetary policy Consultancy Council, said, "HCM City is asking for a normal mechanism like other cities around the world: more independence and more responsibility for its activities.
"We should not treat HCM City like other provinces around the country. The city must be treated like other developed cities in the neighbourhood."
Nguyen Duc Hai, Chairman of the Finance and Budget Committee, said, "We support the city's requirement but we need to find a sustainable and proper mechanism."
Ca Mau faces shrimp scarcity for export due to drought
The Mekong Delta province of Ca Mau is facing a lack of shrimp for export due to the recent drought and saline intrusion that affected over 53,000 hectares of shrimp farms.
The province's total shrimp production in the first five months of this year was 143,000 tonnes. The figure is estimated to reach 159,000 tones in first half of the year, a drop of 3 percent over the same period last year, the local People's Committee reported.
The drought and salinity, reaching its peak during April and May, resulted in complete loss in several farms and caused diseases to others in many localities across the province.
Ca Mau has announced a natural disaster on aquaculture, with an estimated repair cost mounting to over 142 billion VND (6.36 million USD).
According to Ngo Thanh Linh, Secretary-General of the Ca Mau Association of Seafood Exporters and Producers, local shrimp processing factories are forecast to operate at 50-60 percent of their capacity to the end of this year, with estimated export revenue of about 1 billion USD for the whole year, lower than the province's target of 1.2 billion USD.
Furthermore, rising shrimp prices and competition from Chinese traders also make it difficult for factories to supply enough shrimp, he added.
The Ca Mau People's Committee estimates that total seafood exports in the first six months of this year is 416 million USD, equal to 98 percent of that in the same period last year.
Local seafood processors, especially small and medium-sized, are in need of supportive measures to maintain their production in the rest of the year.
However, Le Van Quang, Director of Minh Phu Seafood Company, said that the Ministry of Agriculture and Rural Development should still strictly control the amount of antibiotics in shrimp to ensure the reputation of Vietnam's seafood in the world market.
Formosa textiles firm faces industrial dispute
600 workers at Taiwan's Formosa Textile Company in Ba Ria-Vung Tau Province have gone on strike to protest against what they describe as unreasonable regulations.
On June 11, about 600 out of 1,000 workers at Formosa Textile Company went on strike. According to the workers, they work from 7.30am until 12pm and have one hour lunch break. They then resume work from 1pm to 4.30pm. They say the company has forced them to work until 6pm without breaks or additional meals. The workers have also complained about the quality of their lunches, citing they cost only 45 US cents and claiming this has led to health issues.
A worker said, "Overtime should be voluntary but we don't have a choice. It's difficult to ask for break or take leave for family emergencies."
In addition, the company promised to give a USD14 bonus to outstandingly skilful workers and USD9 for good workers and additional pay for overtime but that promise has not been carried out.
Nguyen Duc Y, chairman of the union of industrial zones in Ba Ria-Vung Tau Province said that they had held meetings with local authorities and Formosa to ask them to follow up on their promise to the workers. As the company does not provide an extra meal, the workers have asked for additional pay to cover the overtime.
Chau Van Thang, chairman of Ba Ria-Vung Tau Labour Federation, said the local unions had just been established recently and lacked experience so they hadn't report the case in time. They have sent people to work with Formosa to resolve the case.
Formosa agreed to consider the pay overtime and bonuses for extra output but said they already added the bonus as well as hazardous duty pay to the VND3.1m (USD141) basic wage. The monthly wage workers receive is VND3,480,000 (USD158).
Firms need to foster lychee exports
Enterprises should export lychees via trade contracts to avoid the risk of economic losses and comply with standards in harvesting and packaging to ensure the quality of lychees for export, said Deputy head of Lang Son Department of Customs Vy Cong Tuong.
During a conference on promoting lychee exports held yesterday in the province, Tuong also emphasised the importance of establishing an association for lychee exporters to better facilitate the firms and provide them with latest market information.
Deputy chairman of Lang Son People's Committee Nguyen Cong Truong said the province had drawn up several measures to accelerate lychee exports, especially to the Chinese market, with a focus on extending the customs clearance time, improving infrastructures of border-gate economic zones and opening more warehouses at the provincial border gates.
The committee also requested relevant authorities and sectors to create the most favourable conditions for lychee exporters, Truong said.
Lang Son Province's statistics revealed that more than 90,000 tonnes of fresh and dried lychee, valued at about US$130 million, were shipped to China via the province's border gates last year.
According to experts, lychee farmers needed to adopt VietGap and Global-Gap standards on more areas to improve the quality of their fruits and meet hygiene and food safety requirements in both domestic and export markets.
Businesses should pay attention to packaging and building brands for the fruit, they said, adding that building a value chain for the fruit was very important.
New law drafted to fuel boom in SMEs
Viet Nam is drafting a law on extending support to small and medium-sized enterprises (SMEs).
It is part of the Government's determined efforts to promote the development of the business community and double the number of firms to one million by 2020.
The planning and investment ministry will submit the draft law to the Government next month and to the second meeting of the 14th National Assembly (NA) for discussion.
This will be the first time support for SMEs is legalised in order to provide a comprehensive approach. SME's account for 97 per cent of businesses in Viet Nam, contribute more than 40 per cent to the gross domestic product (GDP) and generate 52 per cent of jobs.
Deputy Minister of Planning and Investment Dang Huy Dong said Vietnamese SMEs were facing several difficulties in loan, land and technology access and market expansion, partly explaining the private sector's modest competitiveness and vulnerability to policy and social vagaries, said Dong.
Dong said support policies for SMEs were currently provided by various legal documents, with a majority of them being support for businesses in general, placing SMEs at a disadvantage compared to large firms.
The ministry's statistics reveal that as of the end of 2015, the outstanding loans of SMEs accounted for just 23 per cent of the total outstanding loans, although they make up 97 per cent of the business community.
Dong said legalising support for SMEs was not a subsidy, adding that all forms of support would be compliant with international commitments.
At a three-day consultation conference held by the ministry in HCM City that ended last Saturday, Deputy Head of HCM City's NA Deputy Delegation Tran Du Lich said the draft should turn a spotlight on the strategic significance of SME development in the country's industrialisation process, adding that SME development support would promote social progress and equity.
Experts at the conference said the draft should define the roles of local authorities in giving assistance to businesses, as seen in other countries. Business associations also agreed to set up a national SME development council.Vice Chairman and General Secretary of the Vietnam Association of Small and Medium Enterprises To Hoai Nam suggested that the Government should lay out the details of the council's functions, missions and organisational structure.
Experts also said support for business households that played an important role in the economy should also be considered.
While State-owned enterprises (SOEs) were undergoing a thorny restructuring process, Viet Nam has recognised the private sector, mainly comprising SMEs, as an important driver of the nation's economic development.
Deputy Prime Minister Vuong Dinh Hue said at the first-ever Viet Nam private economic forum that the Government would improve the business climate to enhance national competitiveness and ensure a level playing ground for businesses.
SMEs: Revenue of less than VND100 billion/Labour force less than 300 employees
Support:
- Banking credit access: Banks with at least 30 per cent of outstanding SME loans will receive government support
- Setting up of mutual funds and start-up funds encouraged
- 5% reduction in corporate tax rate for five years from the date of SMEs' inception
- 20% of public procurement budget to be used to purchase SMEs' goods and services
Local banks welcome AEC, TPP opportunities
Vietnamese banks have more opportunities to establish and expand their presence in international markets, Gary Hwa, Ernst & Young's (EYs) regional managing partner for financial services for Asia Pacific, said.
Hwa told the press meeting titled, 'ASEAN Economic Community (AEC) and Trans-Pacific Partnership: Which way for Vietnamese banks' held in Ha Noi last week that with increased capital flow into the country, the solvency of the Vietnamese banking sector had been set to help banks utilise more abundant capital with lower costs.
"A wider spectrum of products are being offered by local banks to cater to more sophisticated needs of the global client. This helps boost the competitiveness of Vietnamese banks," he said.
However, the AEC and TPP would also put up bigger challenges for local banks.
He said most of the Vietnamese banks were faced with funding difficulties. They should be technologically strong to have access to the development of other countries in the region.
Hwa suggested merger and acquisitions as one of the solutions for banks in the digitalisation process as several local banks had encountered the problems of bad debts and modest scales.
He noted that small banks could implement digitalisation successfully thanks to cheap solutions from start-ups.
The wave of fintech in recent years has made investments in technology and has not been too expensive, he said.
Hwa also said that Viet Nam's Government should consider unlimited room for foreign investors. The penetration of foreign banks would also open opportunities for Vietnamese banks to approach modern, cutting edge technology, dedicated expertise and state-of-the-art banking practices.
"The issue is how to open the banking market to foreign investors while balancing the benefits. Viet Nam could step-by-step lose their room," he said, and added that the Government should complete the capital market.
The role of the capital market in Viet Nam has seen limitations. The funding for the economy has still depended on bank loans. If there is no foreign investment, local banks could find it hard to resolve several targets.
Sharing these ideas, Nguyen Thuy Duong, EY Viet Nam Finance & Banking Service deputy director said there would be a risk of brain drain when the highly skilled, English proficient world force of Viet Nam could move to other more developed countries such as Singapore and Malaysia.
"Presence of more foreign banks will make competition among banks in Viet Nam more severe, especially when foreign banks possess more advantages of cutting edge technology, abundant capital base and other competitive edges compared to domestic banks," Duong said.
She said Vietnamese banks had to meet the requirement on capital, management capacity among others. This would create pressure on domestic banks to enhance their capacities in order to achieve standards to meet with qualified ASEAN bank status.
She suggested that banks should be active in enhancing risk management, seeking new capital resources and providing training to staff.
"Local banks should quickly move to implement common standards on risk management when the country is integrating deeper into the international playground. Vietnamese banks could find it hard to meet with Basel II standards this year.
However, Viet Nam has completed the legal framework with specific regulations toward the standard," she added.
World-class real estate charms foreign customers
After the amended Housing Law took effect, which allows overseas Vietnamese and foreigners to buy homes in Vietnam, the market has seen a steady increase in foreign customers who particularly focus on international standard real estate projects.
According to analysts, while mid-level projects continue to attract Vietnamese buyers, most foreign customers focus their attention on high-end projects of prestigious developers.
A number of such projects in eastern Ho Chi Minh City have become very popular among potential foreign customers.
In the southern area, foreigners also make up a high proportion of customers purchasing high-end projects. Statistics from the Phu My Hung Corp. between end-2015 and the end of the first quarter of 2016 showed a strong increase in transactions of foreign customers.
In particular there was an unexpected rise in foreign customers in the second quarter of 2016. The latest project Le Jardin, for example, recorded the highest foreign customers' transactions, which made up nearly 30% of all transactions in phase 1 launch day.
The percentage of foreign customers of previous projects, such as Happy Residence or Scenic Valley 2, was between 10% and 15% for each opening.
According to the Phu My Hung Customer Service Center, foreigners from 20 countries and territories make up nearly half of the 30,000 population in Phu My Hung City Center.
The number of foreign residents is increasing further thanks to the positive effects of the Housing Law amendments, newly-signed trade agreements as well as the constant improvements of Phu My Hung master plan. Between 2013 and 2015, the expat population in Phu My Hung increased by 35 percent.
The greenery environment is one of the prerequisites to attract foreign customers, which is why Phu My Hung is considered the best place to live in HCMC as well as a high-quality residential area with the highest expat population.
Built on the consistently developed infrastructure with large green area that guarantees a fresh ecology, coupled with many on-site facilities, such as commercial and financial centers and international schools, etc., most real estate projects in Phu My Hung can meet the factor of "all-in-one: live here – work here – enjoy here" and promise a truly high living quality.
Le Jardin project also has attracted a great number of expat customers. It was built in Southside District, the most luxury resort-style and beautiful district in Phu My Hung which the investor chose to develop after all the others.
The district is dominated by low-rise residential architecture, including semi-classic villas and a few high-rise buildings, which gives it a consistent look and airy movement.
As a result, most apartments in this area can benefit from a nice and open view and a luxurious landscape.
Le Jardin is the only project with 100 percent park-view apartments thanks to the 45,000 square meters of park surrounding; offering a wide open view and a fresh and peaceful living space in harmony with the nature.
"The real estate market of Vietnam is much diversified now, but that doesn't mean any project can meet our demand of clean and green environment. That was why we chose Le Jardin, which can give us a perfect life," said Julia Nguyen, a Vietnamese American.
Dong Nai Plastic to issue additional shares
Dong Nai Plastic JSC (DNP) expects to issue another 8.1 million shares, worth VND10,000 each, to offer existing shareholders at a ratio of 100/60.
In accordance with this ratio, those with 100 shares can buy 60 additional ones.
DNP also decided to pay a share dividend of 22 per cent for 2015. Thus, it will issue 2.97 million shares, worth VND 29.7 billion, for the dividend.
It will also issue 2.43 million shares, worth VND24.3 billion, as a 2015 bonus for shareholders.
Yesterday, DNP shares were traded at VND42,000 each on the HCM Stock Exchange.
Binh Son Oil Refinery to sell PVBuilding stake
Binh Son Oil Refinery (BSR) has announced it will sell nearly 8 million shares of PetroVietnam Building and Commercial Joint Stock Company (PVBuilding) at an auction.
The auction is set to take place on the Ha Noi Stock Exchange (HNX) on July 12.
HNX said 7.8 million PVBuilding shares were being offered at a starting price of VND12,200.
With charter capital of VND175.22 billion, PV Building, based in Quang Ngai Province, is a professional builder of houses and trader of plastic products.
Currently, BSR holds 96.5 per cent of the firm. The shares on offer are equivalent to 46 per cent of PVBuilding. Cam Thanh Guesthouse is the second-largest holder, with 3.14 per cent of the stake. The firm's employees own less than 0.5 per cent of the firm.
VN goods on display in France
 Vietnamese enterprises would have more opportunities to ship their products to the European market after a successful week for Vietnamese goods in France, Viet Nam's Ministry of Industry and Trade said.
The Vietnamese goods week themed "Honouring Vietnam" ending last weekend, the third of its kind, was held in the French city of Lyon, attracting nearly 100 French trade agencies and firms and 20 guest Vietnamese businesses.
Goods from Viet Nam were put on display at Casino Gambetta supermarket, and they included fresh fruits, frozen spring rolls, shrimps, and beverages, in addition to rice, and apparel, among others.
Present in Lyon for the event, Deputy Minister of Industry and Trade Ho Thi Kim Thoa hailed the export of Vietnamese goods to the European Union via distribution outlets, particularly those in France – a strategic partner of Viet Nam – where nearly 400,000 Vietnamese are living and working.
She expected this would be an efficient trade development channel bringing benefits for consumers, distributors and producers.
A leader from the Casino giant retailer pledged to continue shipping goods from Viet Nam to Casino supermarket chains in Europe and the world in the future.
Last year, the group sold $30 million worth of Vietnamese goods, sourced from 60 Vietnamese suppliers.
However, Thoa said this was a small figure against the immense potential in trade relations between the two countries and she expected the Casino retailer to import more Vietnamese goods in the future.
So far, key Vietnamese products sold in the European supermarket system include seafood, tea, some kinds of food, garment, and footwear, apart from wooden and decoration products, she said.
Those products would join zero export tariffs when the Viet Nam-European Free Trade Agreement (EVFTA) comes into effect. Therefore, French and European consumers would have many benefits when choosing Vietnamese goods.
On the occasion, the Vietnamese Ministry of Industry and Trade, the Vietnamese embassy in France and the Rhone Alpes region's Chamber of Commerce and Industry held a seminar featuring the strong growth of the Vietnamese economy.
Speaking at the event, Deputy Minister Thoa hailed France as a promising market for Viet Nam and the two countries' enterprises serve as a bridge to bring Vietnamese goods to the world and French goods to Vietnamese consumers.
Vietnamese and French business communities should utilise bilateral free trade agreements to seek mutually-beneficial opportunities, she said, and added that the Vietnamese Commercial Affair office in France was ready to provide them with assistance.
Francois Turcas, president of the General Confederation of Small and Medium-sized Enterprises of Rhone Alpes region, expressed interest in business opportunities in Viet Nam – a vibrant economy and a gateway to ASEAN.
Participants shared information about the business climate, policies and legal regulations to boost two-way trade and attract French investments in Viet Nam.
French businesses operating representative offices in Viet Nam spoke highly of reforms in the country, suggesting that Viet Nam should continue upgrading infrastructure to meet requirements for socio-economic development and urbanisation.
Apart from these activities, Deputy Minister Thoa also held working sessions with representatives from retailer Auchan and several other French businesses.
GTNFoods fully open to foreign investors
GTNFoods (GTN) has increased its foreign holdings ratio to the maximum level of 100 per cent. The company will also stop using its former name, Thong Nhat Investment and Manufacturing JSC, and will now use GTNFoods as its official name. This is the second time GTN has changed its business name.
According to the firm, the name change emphasises GTNFoods' core business in food production.
GTN which was established over ten years ago, via a merger of companies involved in bamboo manufacturing, construction infrastructure, minerals, building materials, plastics, agricultural products and foodstuffs.
The company was named Dai Viet Minerals and Environment JSC, then Thong Nhat Investment and Manufacturing JSC in 2013.
GTN used to be involved in railway and road construction, electrical appliances and furniture producing. It now focuses on agriculture and consumer goods.
GTN increased its capital to VND1.5 trillion (US$66.8 million) at the beginning of the year.
GTN recently announced that it would divest from non-core businesses, including Thong Nhat Agricultural Materials JSC, Thong Nhat Energy JSC, and Thong Nhat Construction JSC.
In March, Singapore's Two TEAL Partners Ltd, bought 30 million shares, or a 20 per cent stake, and became a strategic partner of the firm.
The HCM Stock Exchange (HOSE) adjusted the percentage of foreign holdings in GTN from 17.78 per cent to 100 per cent in late May.
Last weekend, the FTSE Viet Nam, a local open-end fund tracked by the VN30 Index, added GTN to its 2016 basket of stocks, under which GTN will be traded as of June 20.
In the first quarter of 2016, the firm earned VND745 billion in revenue and VND3.5 billion in after tax profit.
GTNFoods shares rose more than 5 per cent to reach VND20,800 each on the HCM Stock Exchange yesterday.
MTA Viet Nam 2016 to open in HCM City
The 14th International Precision Engineering, Machine Tools and Metalworking Exhibition and Conference (MTA Viet Nam 2016), featuring the latest in advanced technologies and equipment, will be organised in HCM City from July 5-8.
As many as 360 exhibitors from 20 nations and territories, including many newcomers, will display their products and services.
The event will feature a strong lineup of companies representing the industry value chain. These include Akyapak, DMG MORI, Ficep, Guehring, GF Machining Solutions, Goodway, Haas, Hoffmann Quality Tools, Hurco, Hwacheon, LITZ, Makino, Mazak and Mitsubishi Electric.
The return of MTA Viet Nam comes at a time when the country is receiving an increasingly high level of foreign direct investment (FDI) and becoming a prominent manufacturing hub in Southeast Asia, due in part to recently signed free trade agreements, the establishment of the ASEAN Economic Community and prospects for the Trans-Pacific Partnership.
Vietnamese companies, especially small- and medium-sized enterprises, have been urged to upgrade industrial technology and improve productivity in order to move up the value chain and enhance their competitive advantage.
The Industrial Production Index in Viet Nam rose 7.9 per cent on the year in April, which marked an acceleration compared to the 6.2 per cent increase recorded in March, when the processing and manufacturing industry led the way with year-on-year growth of 12.5 per cent, according to the General Statistics Office.
Home Credit Vietnam hit big jackpot
Czech-backed consumer financial product provider Home Credit Vietnam Finance Limited Company has won a big windfall in this year's first four months.
The company has reported that in the first four months of 2016, its cash loan volume grew 80 per cent year-on-year, accounting for 27 per cent of the whole company's total outstanding loans.
Home Credit has made some statistics on cash loan customers to have a clearer picture of customers getting cash loans at the company. The statistics are based on active cash loan contracts of Home Credit in the first four months of this year.
Home Credit Vietnam has two groups cash loan customers, comprising those who have not had any credit contract with the firm before, and those who already had at least one credit contract including installment loan contract to buy phones, motorbikes, or home appliances before. The former group can borrow a maximum VND20 million ($909) in cash from Home Credit while the latter can get a maximum cash loan of VND60 million ($2,727).
The average age of cash loan customers at Home Credit is 32.5. This partly explains for the statistics that 70 per cent of Home Credit's cash loan customers are married. This figure is also similar to statistics on customers who get installment loans from Home Credit to buy two-wheel and consumer durable products. The figures show that married customers' spending demand are higher than single ones which make up 24 per cent of Home Credit's customers.
For fresh cash loan customers, the most popular loan amount is VND7-10 million ($318.2-454.54) with the average tenor of less than one year (60 per cent customers choose to get loan within 6-12 months). Meanwhile, the majority of customers who already used Home Credit's service earlier choose to borrow VND20-30 million ($909-1,363) with the popular tenor of more than 24 months.
Among cash loan customers in the first four months of this year, more than 20 per cent have had at least two cash loan contracts with the company. This statistic not only reflects the satisfaction of Home Credit's customers but also shows the responsibility of customers in terms of debt payment.
"It's because how customers make payment for the first loan is an important indicator to be considered when we review their second loan applications," said a risk management specialist of Home Credit Vietnam.
In terms of customers' occupation, 50 per cent of Home Credit's cash loan customers are workers and unskilled labourers while people relating to sale jobs account for 11 per cent, people having administrative jobs make up 8 per cent, technicians account for 6 per cent, and farmers 6 per cent. In terms of literacy, 80 per cent of Home Credit's cash loan customers have a secondary education level.
Starting operation in Vietnam since 2009, cash loan volume of Home Credit always maintained the two-digit growth during 2010-2015, with an annual average rate of 57 per cent.
Government suspends operation of Valeant's Vietnamese subsidiary
The Pharmaceutical Management Department under the Ministry of Health has suspended the drug manufacturing operations of Euvipharm Pharmaceuticals Joint Stock Company, a subsidiary of Canadian drug producer Valeant Pharmaceuticals, for three months.
According to Decision No. 242/QD-QLD signed by Truong Quoc Cuong, director of the department, on June 9, a May 25 investigation of the Long An-based company showed that Euvipharm "used materials of unclear origins" to produce pharmaceuticals.
Additionally, during the investigation the department found that the materials did not meet the requirements that the company registered earlier with the authorised government agencies. The company sold the products being fully aware that the ingredients were of unclear origins.
The company's operation will be suspended for three months starting from the signed date of the decision. The department ordered Euvipharm to stop its production lines and comply with the law in its operation.
Established in April 2005, Euvipharm is registered to produce and sell pharmaceutical products in Vietnam. In 2013, Canadian Valeant spent $21 million to acquire a little over 50 per cent of Euvipharm.
Currently, the debt-laden Valeant could be looking to sell Euvipharm. The Canadian company has recently been considering the sale of some of its assets to reduce debts. Sources familiar with the matter said that Egyptian drugmaker Amoun Pharmaceutical Co., some of Valeant's Latin American operations, dermatology firm Obagi Medical Products Inc., cancer drug Provenge, and some drugs Valeant acquired from Marathon Pharmaceuticals are on the list of assets the company wishes to sell.
Dong A Plastic to triple Danpla sheet production capacity
Dong A Plastic Group (DAG) is going to produce largest-size Danpla sheets in Vietnam after receiving a production line from Chinese company Handern Group.
On June 10, DAG signed a contract to receive the production line to produce maximum-size Danpla sheets from Shanghai-based Handern Group. Handern is the biggest manufacturer of plastic packaging material in China.
The new production line costs tens of billions of VND  and has a capacity of up to 2,000 tonnes per year. When starting operation in the third quarter of this year, it will triple DAG's danpla production capacity.
Danpla plastic (also called PP) is an essential packaging material because it meets the strict requirements for transportation of technical or electronic products. Danpla is also used in the advertising industry and helps prevent scratches in construction activities.
The recent rapid growth of industrial manufacturing in Vietnam, with big companies, such as Samsung, Sony, and LG expanding their presence in the country, is going to increase the demand for packaging. DAG has been raising its capacity in order to dominate the sector, providing antistatic and oil resistant packaging.
Moreover, with the cooperation with Handern, DAG aims to show its determination to become the leading company in the Vietnamese plastic industry.
CapitaLand Vietnam CEO named Real Estate Personality of the Year
Mr. Chen Lian Pang, CEO of CapitaLand Vietnam, has received the Real Estate Personality of the Year award at the Vietnam Property Awards 2016, held on June 10 in Ho Chi Minh City by Property Report, Asia's leading luxury real estate, architecture and design magazine.
The only accolade not chosen by the independent panel of judges, it is given to an individual who has achieved great success in the local property sector over the past year.
With more than 30 years of experience in construction and real estate, Mr. Chen Lian Pang has earned a reputation for excellence, especially when it comes to doing business in emerging markets.
"It is a great honor and privilege to be chosen as Real Estate Personality of the Year," he said.
"This is a remarkable achievement not only for myself but also for CapitaLand Vietnam, especially those who have supported me and taught me to be a better leader through the years. I believe that the best-run companies connect effectively with customers, employees, and the communities where they operate. It is a continuous learning process where we learn from each other."
CapitaLand's prime residential developments in Vietnam were also winners, with Kris Vue picking up Best High-End Condominium in Ho Chi Minh City while The Krista was Highly Commended for Best High-End Condominium in Ho Chi Minh City and Seasons Avenue Highly Commended for Best High-End Condominium in Hanoi.
"We are proud to receive the Best High-End Condominium awards for our Kris Vue, The Krista, and Seasons Avenue and projects," he said.
"The awards are testament to our core values of pursuing excellence and creativity in everything we do. Having been in Vietnam for more than 20 years, CapitaLand Vietnam is committed to quality development standards and on-schedule delivery and to contributing to the community."
The Vietnam Property Awards is part of the long established Asia Property Awards, recognizing the best practices in the real estate sector.
The Asia Property Awards offer an unrivaled showcase of Asia's real estate industry, boosting awareness and highlighting top quality projects in the region. With a professionally run and fully audited judging system, they also bring Asia's real estate industry to the world stage.
According to this year's Chairman of the Judging Panel, Mr. Thien Duong, Managing Director of Transform Architecture, the awards are designed to provide a much-needed boost for developers in this exciting cycle for the local property sector.
"The short-listed companies can be proud that they have made benchmark contributions to the built environment while providing high value for money to their customers and investors," he said. "This is an opportunity for businesses in Vietnam to strive not just for profit but to create brands that have long-term credibility in the market."
Vietnam is one of CapitaLand's key markets in Asia. Its real estate market is supported by its strong economic growth, rapid urbanization and young and growing population. CapitaLand is committed to being a long-term real estate developer in the country.
CapitaLand Group's has a presence in six major cities and provinces: Ho Chi Minh City, Hanoi, Hai Phong, Da Nang, Nha Trang and Binh Duong province in the residential and serviced residences sectors.
In the residential sector it has a portfolio of close to 7,850 quality homes across eight residential projects, including Seasons Avenue and Mulberry Lane in Hanoi and Kris Vue, The Krista, Vista Verde, The Vista and PARCSpring in Ho Chi Minh City.
CapitaLand was one of the top-performing foreign developers in Vietnam last year, selling more than 1,320 units in both Hanoi and Ho Chi Minh City.
In the serviced residence sector, its wholly-owned serviced residence business unit The Ascott Limited has a portfolio of more than 3,000 apartments in 17 properties in the six major cities, making it the largest international serviced residence owner-operator in the country.
Under its strategy and vision, CapitaLand will continue to contribute to Vietnam's economy by engaging and nurturing a strong local team, exchanging knowledge and skills with local partners, and contributing to underprivileged children in local communities and the environment through corporate social responsibility efforts.
Financial market needs diverse products to attract investors
Experts have underscored the need to diversify products for the local financial market to attract more institutional and individual investors.
Representatives of financial institutions, securities companies, funds and banks shared this view at a workshop on Vietnam's financial market held by the Vietnam Bond Market Association (VBMA) in Danang last Friday.
At the workshop, VBMA released findings of a survey of financial institutions which are members of the association. The survey showed they invest more in housing products and stores for lease than land, stocks and deposits.
They want to generate stable and regular incomes, and make quick bucks but can keep investment capital despite slow investment recovery. That means financial products are not the first choices of investors in the sector and there have not been financial products that really meet the needs of investors.
"Wealthy people prefer investments in assets like housing and land, but it is not easy to buy properties in central areas while housing on the outskirts has low liquidity," said Nguyen Thi Kim Thuy from Bao Viet Fund Management Company Limited (BVFMC).
Thuy stressed the market needs products that can generate profit for investors.
Nguyen Viet Anh, deputy general director of TienPhong Bank, said investors favored products that could generate big bucks like gold as seen ten years ago and properties today.
In Vietnam, the need to issue bonds is quite high and bonds sometimes compete with savings rates at banks. Therefore, agencies should consider issuing bonds for individual investors in the coming time, according to Anh.
Nguyen Quang Thuan from StoxPlus said Vietnamese investors have plenty of money. Nonetheless, there are only nine out of 20 open funds having products for sale and many institutions have few, unattractive products.
It is the quality that determines the competitiveness of a product, Thuan noted.
Tran Kieu Hung from the Bank for Investment and Development of Vietnam (BIDV) shared a similar view, saying product quality is key to increasing the quality of and breathing new life into the financial market. He added before coming up with a new product, institutions need to make sure their old products are good and competitive.
Anh from TienPhong Bank pointed out legal problems. It is important to have proper regulations in place encouraging the launch of new products, including derivatives.
Nguyen Son, head of market development at the State Securities Commission of Vietnam, said property is a good product and that the commission is working to securitize property loans. New products like index and bond futures will be standardized and launched in 2017.
Son said there remain obstacles for new products on the financial market and the ban on short selling needs to be removed. If there is no short selling, there will not be market makers.
Jan-May auto sales grow 31% y-o-y
Auto sales in the first five months of this year soared a staggering 31% compared to the same period last year at 111,440 units, showed data of the Vietnam Automobile Manufacturers Association (VAMA).
Of the total volume, the January-May period saw passenger autos rising by 22% year-on-year to around 61,570 units, commercial vehicles by 42% to 41,980 and special-purpose autos by 59% to nearly 7,900.
Statistics of VAMA indicated that some 26,028 units were sold in May, increasing 1% over the previous month and 45% against the same period last year. Auto sales last month were higher than in previous months.
Around 14,039 passenger cars and 10,312 commercial autos were delivered to customers last month, up 2.2% and 6.7% respectively while only 1,677 special-purpose vehicles found buyers, sliding 27% over April.
In May, sales of imported completely build-up (CBU) autos edged up 11% month-on-month to more than 6,900 units. This was the second consecutive month sales of imported CBU cars had been higher than domestically-assembled autos.   
Last month, more than 19,100 locally-assembled autos were consumed, falling 2% over the previous month. The figure in the five-month period neared 85,240 vehicles, up 37%, while imported CBU autos reached more than 26,200 units, up 16% compared to the same period last year.  
Auto exporters projected the number of buyers of cars with large engine displacement will continue increasing until July 1 when higher special consumption tax rates apply.
Govt decree makes rice exporters less competitive
Experts have said stringent regulations in Government Decree 109/2010/ND-CP have eroded the competitiveness of the rice export sector.
Dang Quang Vinh from the Central Institute for Economic Management (CIEM) said the decree has certain provisions impeding rice export activity.
According to Vinh, after the 2008/2009 food crisis, Decree 109 was adopted. Article 4 of the decree requires rice traders to have at least a warehouse capable of storing 5,000 tons of paddy and a milling facility whose minimum capacity is ten tons of paddy per hour.
In addition, the warehouse and the milling facility must be located in provinces and cities that export rice or have international ports for goods export.
Enterprises complained that they must spend VND20-25 billion in order to meet those requirements. Under Article 17, enterprises have to register rice export with the Vietnam Food Association (VFA) within three working days after their rice export contracts are clinched as required by the Ministry of Industry and Trade. This, according to Vinh, means they have to find customers, sign contracts and then report to the VFA whose leaders are also leaders of Vinafood 1 and Vinafood 2, which are major rice exporters as well.
"The rule has created an unfair business environment. While small firms have found it hard to join the market, big companies have been struggling with unfair treatment," Vinh noted.
As required by Article 16, any company which directly signs or arranges a government-to-government contract is allowed to export 20% of the total volume of the contract while the remaining 80% is shipped by authorized exporters. However, the process of selecting companies for exporting the remaining volume is not transparent, creating fertile ground for favoritism.
The floor price of rice is another problem. While the export price is not allowed to be lower than the floor level, the market price keeps fluctuating and the floor price remains almost unchanged. Therefore, many companies have seen their inventories increasing.
Vinh said there were 230 rice exporters rice before the decree was issued but the current number is around 80.
The decree was issued to help increase rice quality, export prices and incomes for farmers. However, this goal has not been achieved but it has given more power to big exporters and put more pressure on farmers.
Many companies do not pay much attention to improving the quality of their products while others targeting choosy markets fail to overcome the barriers set in the decree due to their small scales, according to Vinh.
It is necessary to remove such barriers to create a real competitive market and equitize State-owned food enterprises as private companies can be capable of producing and distributing food, he said.
VEF/VNA/VNS/VOV/SGT/SGGP/Dantri/VET/VIR