VietNamNet Bridge - Three more commercial banks, namely OCB, Vietcombank and Bac A Bank, have announced they will set up subsidiaries specializing in providing kieu hoi (overseas remittance) services.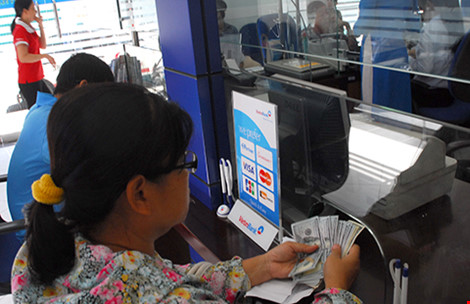 Meanwhile, VietinBank, BIDV, Agribank, ACB, Sacombank and Dong A Bank have been running their remittance companies for many years.
According to Nguyen Hoang Minh, deputy director of the HCM City Branch of the State Bank of Vietnam, by the end of May 2016, the volume of overseas remittance to HCM City had reached $1.7 billion, an increase of 2.2 percent over the last year's same period. 
The remittances are predicted to keep flowing to Vietnam in the last months of 2016.
"The overseas remittance to HCM City accounts for 58-62 percent of total remittances to the country. The remittance increases steadily by 10-15 percent year after year," Minh said, adding that this wa one of the reasons that prompted banks to set up kieu hoi companies. 
The overseas remittance to HCM City accounts for 58-62 percent of total remittances to the country.
An analyst said that providing overseas remittance services is a profitable business. If noting that the remittance fee is 0.3-2 percent, one would see that banks could pocket tens of millions of dollars from the $1.7 billion worth of kieu hoi in the first five months of the year.
The analyst went on to say that the volume of kieu hoi to Vietnam is expected to keep increasing thanks to the recovery of the economy, especially real estate market. The high demand provides a good reason for banks to establish kieu hoi companies.
Vietnamese prefer using legal services rather than going through unauthorized channels because banks charge lower fees and provide safe services. 
Meanwhile, Nguyen Tri Hieu, a renowned banking expert, thinks that banks rush to set up kieu hoi companies partially because of current laws which say that one commercial bank can act as an agent for one kieu hoi company only.
"The regulation sets restrictions on bank remittance services and prompts banks to set up kieu hoi companies of their own," Hieu said.
Dong A Bank and Sacombank are considered to be the  pioneers who laid the foundation for the kieu hoi company model. Both the banks had overseas remittance division in the 2000s. Later, they decided to set up subsidiaries to facilitate their operation. 
By nature, overseas remittance companies provide another channel for money remittance. When their relatives remit money to Vietnam, recipients can choose either to receive money from banks, or from overseas remittance companies belonging to the banks.
According to Le Minh Tam, CEO of Sacombank Overseas Remittance Service Company, at Sacombank, 60 percent of kieu hoi goes through the bank, and the remaining through the kieu hoi company. Therefore, kieu hoi companies can be seen as the arm of banks.
NCDT