VietNamNet Bridge - It is estimated that 70-80 million packages need to be delivered in 2016, creating a market large enough for many players.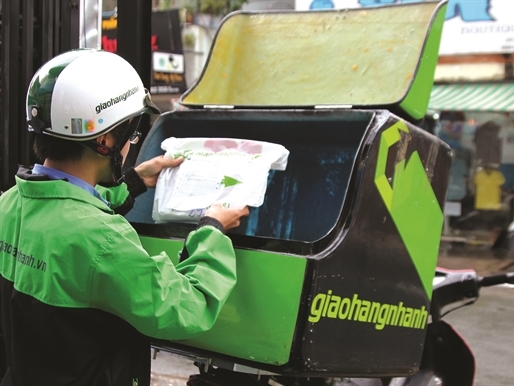 In November 2015, Mobile Intelligence Products JSC (MIP) launched the app ShipS into the Hanoi market. It take full advantage of society's resources, such as taxi motorbike drivers and students, to work as delivery people for online shops during their free time.
They take orders for deliveries to addresses nearest to them, advance money for products and then deliver to buyers for a service fee.
Analysts said that the method can help two problems in e-commerce – the high capital and capability of delivering goods within two hours at reasonable costs.
Some months later, in January 2016, Tuc Thoi Delivery Service Company set up a new feature in AhaMove app, allowing to connect delivery boys. Its operation model is nearly the same with ShipS, but the difference is that AhaMove collects a fee of 30 percent on shipment orders for the HCMC market and 20 percent for Hanoi.
It is estimated that 70-80 million packages need to be delivered in 2016, creating a market large enough for many players.
Bagasus plans to join the market this year with the Bagasus app. According to Nguyen Khanh Hoa, co-founder of Bagasus, the company provides fast delivery service at reasonable costs to e-commerce floors and retail shops, including floral and fresh food ones.
According to Tran Hai Trieu, general director of B5 Distribution, delivering fresh food is the biggest challenge for delivery firms, because it requires strict conditions on storage and preservation.
He said demand for food delivery is very high from big manufacturers such as Mondelez Kinh Do, Loc Troi and CP Group.
Giao Hang Nhanh, a delivery company, estimated that about 70-80 million packages of goods will need to be delivered in 2016, high enough to attract both long existing and experienced companies such as VNPost, ViettelPost, and newcomers such as Uber and Grab.
However, to date, VNPost, ViettelPost and LEX, a subsidiary of Lazada Vietnam, still have not taken any moves to join the prompt delivery market.
A representative of LEX said the company only takes large-scale orders, while it still does not intend to join the market of prompt deliveries with freelancers.
Meanwhile, the representatives from GrabBike and UberMoto said that they are not significant rivals in the prompt delivery market, because the apps they use are designed to carry passengers, a much simpler process.
However, both Grab and Uber are expected to exploit the delivery market with freelancers in 6-12 months, as passenger transport service is in difficulty due to stiff price competition. 
Analysts say the goods delivery service is more complicated, but can bring higher value at the same distance.
NCDT