VietNamNet Bridge – The popularity and consumption of E5 bio-fuel remained below the government's expectations due to inadequate support with regard to lowering its prices and ensuring supply.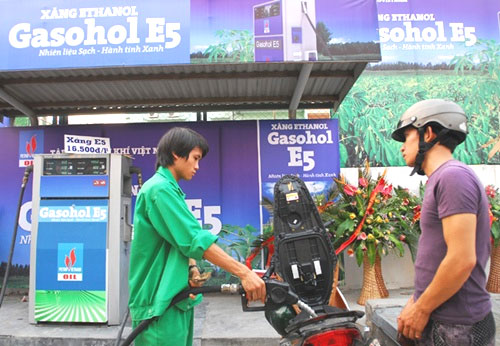 The Vietnamplus reporter toured 15 petrol stations in Ha Noi but found that only some of them sold E5. — Photo htv.com.vn
The government planned to replace RON A92 with E5, which comprises 5 per cent ethanol and 95 per cent petrol, in eight provinces and cities, including Ha Noi, Hai Phong, Da Nang, and Quang Nam, in addition to Quang Ngai, HCM City, Can Tho and Ba Ria-Vung Tau, from the beginning of this month as well as make it available at 50 per cent of the petrol stations in others provinces and cities under central government.
However, that goal was missed.
"Completely replacing RON A92 with E5 sounds unfeasible, at least at the moment, given the shortage of policies to encourage consumption," economic expert Ngo Tri Long said.
"It is crucial to lower prices and clarify the E5 bio-fuel quality to promote consumption of this type of fuel," he said.
Nguyen Phu Cuong, director of the Ministry of Industry and Trade's Science and Technology Department, recently said that RON A92 would still be available in the market, co-existing with E5 bio-fuel. "More time is needed for businesses and residents to change their habits and the replacement should be gradual."
The Vietnamplus reporter toured 15 petrol stations in Ha Noi but found that only some of them sold E5.
Statistics from the Department of Industry and Trade in Ha Noi, which started the sale of E5 bio-fuel in 2014, showed there were 481 petrol stations in the city but E5 was available at only 116 of them, with an average consumption volume of more than 10cu.m per month.
In HCM City, as of May, roughly 50 per cent of petrol stations sold E5, which held a share of 6.3 per cent in the city's total petrol and oil consumption.
A taxi driver in Ha Noi said that he did not know about the replacement plan for E5 from the beginning of this month. He added that if both E5 and RON A92 were available, he would opt for RON A92 because it would be difficult to buy E5 in other provinces.
According to Phan The Rue, president of Viet Nam Petrol and Oil Association, the government should launch policies to lower the prices of E5 bio-fuel to encourage consumption while supporting distributors and producers to ensure supply.
VNS