Technology is regarded as the key to agricultural restructuring and the solution to tackling food security and agricultural produce quality.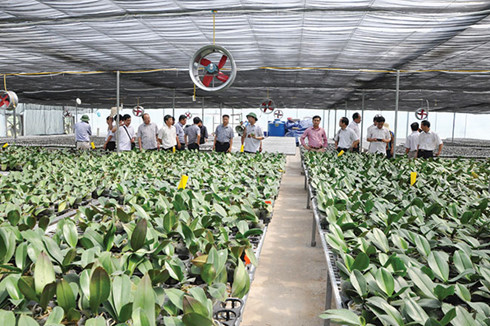 Director of the Institute of Policy and Strategy for Agriculture and Rural Development (IPSARD) Nguyen Do Anh Tuan stated that Vietnam's agriculture needed to develop in depth and on a broader scale to match integration requirements.
The only way to realise these goals, according to Tuan, is by promoting hi-tech agriculture to improve both quality and efficiency, meeting the increasingly diversified consumer demand.
"Science and technology applications in agricultural production need the engagement of not only the state and scientific research organisations, but also the participation of farmers and businesses. In fact, businesses play a growing role in raising the sector's technology level while increasing farmers' access to hi-tech applications," Tuan said, adding that businesses' engagement in agriculture could help tackle problems with capital and output markets for agricultural products.
Based on this theory, a raft of investment incentives for hi-tech agriculture was introduced.
The project to develop hi-tech agriculture by 2020, approved by the prime minister in 2010, awarded the highest incentives applicable to research and development activities to promote hi-tech agriculture, train workers, and support the development of hi-tech agricultural businesses.
Alongside national incentives, many cities and provinces have enacted specific mechanisms to assist businesses and push up administrative reforms to attract investors.
Thus far, a number of cities and provinces have become desirable destinations for hi-tech agricultural businesses, such as Ho Chi Minh City, Lam Dong, Vinh Phuc, and Quang Ninh.
According to Deputy Chairman  of the Quang Ninh People's Committee Dang Huy Hau, in light of the agricultural sector's five-year restructuring plan with a vision to 2030, science and technology will lay the groundwork to create breakthroughs in development.
This is a signal for the participation of businesses from assorted economic sectors to enter into the restructuring process. These businesses will be a central factor in the process, creating spill-over effects linking farmers and from there spurring production.
Most recently, Quang Ninh has invested intensively into developing a hi-tech agricultural zone in the province's Dong Trieu district, calling on companies and organisations to promote research and application of science and technology in agricultural production.
The province's efforts were duly rewarded. Vietnam's leading private group Vingroup is carrying out the first phase of a VND650 billion (US$29.8 million) hi-tech agricultural centre project on 43 out of 200 hectares, producing about 20 types of vegetables and fruit that comply with VietGap standards.
The initial output is from 2.5-3 tonnes per day for supply to its VinMart system, helping to generate jobs for nearly 200 local labourers.
The project employs cutting-edge technologies from Japan, Israel, and the Republic of Korea to ensure products meet VietGap, GlobalGap, and organic food standards.
They are striving to shape a hi-tech agricultural production zone with the centre for procuring, processing, product preservation, and technology transfer located in Dong Trieu district's Hong Thai Tay commune.
Dong Trieu district is also co-operating with diverse enterprises and the Crop Institute to promote hi-tech agricultural development models which are rooted on the collaboration between the state, scientists, businesses, and farmers.
Minister of Agriculture and Rural Development confirmed that his ministry was prioritising hi-tech development as a key method in driving agricultural restructuring and to build a new countryside model.
He expected more and more firms would come on board with hi-tech agriculture development on account of cities and provinces' proven commitment in the field.
Promoting the public-private partnership model in hi-tech agriculture
Vietnam has tremendous potential for hi-tech agricultural development, which explains why many leading local groups such as Vinamilk, TH True Milk, and Duc Long Gia Lai have all ventured into the sector.
In fact, according to Tuan, a slew of foreign investors have made forays into Vietnamese agriculture.
"Agriculture has great potential for development in Vietnam. In addition, the country's agricultural exports have unprecedented opportunities as a string of free trade agreements between Vietnam and other countries have been or will soon be signed. Investment in this sector is expected to continue rising in the near future," Tuan commented.
According to national targets, by 2020 Vietnam will be home to 200 hi-tech agricultural businesses and 10 hi-tech agricultural zones.  
However, according to general secretary of the Association of Hi-tech Application Agricultural Enterprises Ngo Tien Dung, Vietnam currently only reports 22 hi-tech agricultural businesses out of thousands of agricultural firms.
That was because companies face numerous difficulties in capital and investment incentives, while this field is capital-intensive and requires a long time to recoup seed funds.
Experts therefore suggest attracting investment into agriculture by promoting a public-private partnership model, as applied by Quang Ninh. The province's results have thus far been encouraging.
Under this model, the state sets out standards and implements concrete policies to encourage businesses to use technological advances in agriculture.
The government also plans agricultural production zones and clarifies its policies for farmers and businesses.
Cities and provinces can work closely with businesses during project implementation to clear space, convince local residents to support businesses, and establish hotline channels to help firms tackle impediments.
VIR