VietNamNet Bridge - By 2017, Vietnamese branded goods market may reach $2.7 billion in value, according to Euromonitor International.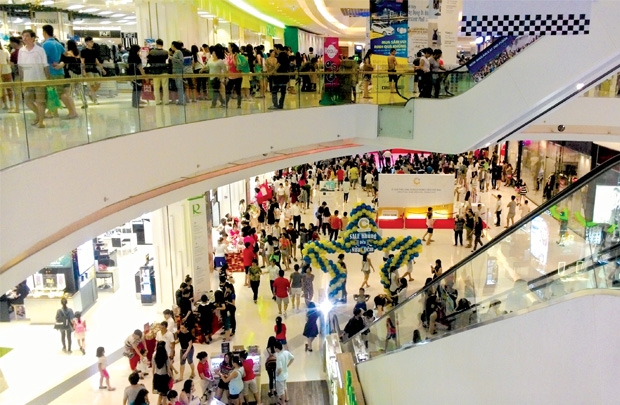 Demand on the rise
On April 16 at midnight, Crescent Mall in Phu My Hung new urban area in district 7, HCM City was still open. At Gap, Calvin Klein and Marks & Spencer shops, shopaholics tried to hunt for the things they liked at the Midnight Sale, an important event which lasts only one day.
By 2017, Vietnamese branded goods market may reach $2.7 billion in value, according to Euromonitor International.
This was the third time the shopping mall organized a sale promotion campaign in which the sharp discount rate of 50 percent was offered at 100 shops located there. 
T. Mai, who introduced herself as a shopaholic, said she especially liked Mango's products which have diverse design, good materials and 'reasonable prices'. 
The 'reasonable prices', in Mai's eyes, are between VND2-3 million for each item. Sometimes Mai can buy products at just VND1 million or lower in a sales campaign.
The 'reasonable prices' are 'unreasonable' to the majority of Vietnamese, who have annual income per capita of $2,000 a year on average.
However, the number of customers like Mai, i.e those who can afford branded goods, has been increasing rapidly.
Not only Mango, other international fashion brands such as Gap, Guess, Topshop, Ralph Lauren and Nine West have also become the choice of many young Vietnamese, especially office workers.
The big changes in consumption trend in newly emerging markets have influenced distributors' business strategy. 
Zara, belonging to Inditex, noted that Vietnamese consumers now tend to choose high street fashion products.
A survey by Nielsen on Vietnamese consumers' confidence index in the fourth quarter of 2015 showed that Vietnamese were willing to spend money on holidays, tourism, fashion and high-technology products.
Zara, the fashion brand from Spain, has arrived in Vietnam. Its presence is expected to heat up the Vietnamese high street fashion market.
Vietnam is one of five new markets where Zara plans to set up shops this year. The other four are New Zealand, Paraguay, Aruba and Nicaragua. 
In the 2015 fiscal year, which finished on January 31, 2016, Inditex opened 7,013 shops in 88 markets all over the world, including 2,000 Zara shops.
Meanwhile, Mango reported revenue of $2.6 billion last year, of which 80 percent came from non-Spain markets. Mango is present in 107 markets.
Mango, which targets the customers aged 18-40, has been present in Vietnam since 2004 through a franchise contract signed with Maison JSC.
It also has other franchise partners, including DAFC, a subsidiary of IPP, and BFF, belonging to Vingroup.
DNSG