Vietnam-RoK forum connects SMEs
The Vietnam-Korea Business Forum took place in Seoul on April 14 with the focus on opportunities for small and medium-sized enterprises (SMEs).
The forum was organised by the Vietnam Association of Small and Medium Enterprises and the Vietnam Trade Office in the Republic of Korea to connect businesses in the two countries.
Present at the event were Vietnamese Ambassador to the RoK Pham Huu Chi, President of the Vietnam Coffee and Cocoa Association (VICOFA) Luong Van Tu, Second Deputy Head of the Trade and Investment Unit of ASEAN-Korea Centre Moon Ki-bong and representatives of about 50 SMEs from both sides.
Ambassador Pham Huu Chi said the RoK is now Vietnam's biggest investor, with about 45 billion USD pumped into Vietnam.
The RoK is also Vietnam's third largest trading partner while Vietnam is the fourth largest of the RoK. Last year, bilateral trade exceeded 36 billion USD, he noted.
Chi said that the two sides have huge potential to develop trade and production linkages.
VICOFA President Luong Van Tu, who is former chief of Vietnam's WTO negotiation delegation, said that the new-generation Vietnam-Korea Free Trade Agreement (FTA), which took effect late last year, opened up opportunities for businesses in the two nations, especially small and medium sized firms.
Processing and exports of farming products are among promising sectors where Vietnam's strengths in agriculture and the RoK's advanced technologies could complement each other, he added.
CS International, a RoK-based cosmetics producer, sees Vietnam as a promising market, director Cho Yoon told Vietnam News Agency.
He spoke highly of the country's business climate and hoped to find a capable business partner at the forum.
VASEP requests foreign loans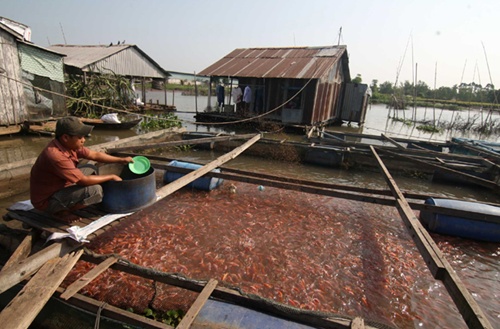 The Việt Nam Association of Seafood Exporters and Producers (VASEP) has requested the State Bank of Việt Nam to revise existing regulations to let them access short-term foreign currency loans.
According to a central bank's circular on credit institutions and foreign bank branches providing foreign currency loans to residents, short-term loans to fund the export of goods were prohibited, starting in the second quarter, in an effort to stem dollarisation.
Tightened access to foreign currencies, which forces local producers to borrow in Vietnamese đồng with higher interest rates, was undermining their competitiveness, the association said, adding that the gap in competitive advantages between local and foreign-invested enterprises, which had significant capital in foreign currency, could widen.
VASEP said if Vietnamese firms must borrow in Vietnamese đồng for short-term capital, the differences in interest rates on Vietnamese đồng and foreign currencies would push up the prices of Vietnamese exported goods in general and seafood products in particular.
In addition, many seafood companies, especially small and medium-sized enterprises, are struggling to arrange capital for 2016 after a year of declining export revenue.
The association said seafood export turnover in 2015 saw the first ever drop by more than US$1 billion against 2014, earning $6.7 billion.
The devaluation of several currencies has also pushed Vietnamese exports into difficult situations.
With a stable forex trend witnessed in the first quarter of this year, the association said that allowing short-term loans in foreign currency in 2016 would not see a negative impact from significant fluctuations in forex.
Previously, Bùi Quốc Dũng, director of the central bank's Monetary Policy Department, said lending in foreign currencies had been eased to support exporters during the economic downturn. Now that the economy had improved, lending in foreign currencies must be tightened to stabilise the forex market and promote credit growth in Vietnamese đồng.
Nissan Việt Nam launches new pickup
Japanese automaker Nissan Việt Nam on Thursday launched a new addition to the Nissan NP300 Navara family, the All-New NP300 Navara EL 2WD AT, at a price of VND649 million (US$29,500).
It is the first vehicle in its segment in Việt Nam to be equipped with a seven-speed automatic transmission.
Backed by Nissan's 80 years of global pickup truck know-how, the NP300 Navara EL 2WD AT promises to meet the needs of demanding individuals as well as business owners in Việt Nam, according to Nissan.
Imported as a completely built-up unit from Thailand, it is available in five colours, savana orange, earth brown, twilight gray, brilliant silver and pearl.
It comes with a three-year or 100,000 km warranty and is available at all Nissan dealerships nation-wide.
Until 30 April an early bird discount of VNĐ20 million ($909) is available.
Comprehensive competition policy – a need for market economy
A comprehensive competition policy is necessary to shift the Vietnamese economy to a market economy, stated Nguyen Dinh Cung, head of the Central Institute for Economic Management (CIEM), at a workshop in Hanoi on April 15.
According to Cung, during 2011-2015, Vietnam carried out a lot of measures to become a market economy, with the priority given to macro-economic stability, economic restructuring, growth model shifting, administrative reform and human resources development.
However, the macro economy has yet to be stabilised firmly, the economic growth is lower than the set target, and economic restructuring and growth model shifting remain slow.
He attributed the shortcomings to insufficient awareness of the socialist-oriented market economy among Vietnamese people.
Michael Woods, an international consultant on competitiveness, said that the Vietnamese Government is paying attention to sustainable economic growth.
However, it is necessary to clarify competition principles and have an equality among enterprises, he added.
He also emphasised the importance of reviewing the Competition Law and other relevant laws and policies to ensure competitiveness and sustainability.
Meanwhile, the CIEM head suggested clarifying the functions of the State and the market, improve public awareness of the market economy, and determine the tasks of State agencies in the 2016-2020 period.
Yen Bai calls for investment from RoK
The northern mountainous province of Yen Bai has pledged to create favourable conditions for businesses from the Republic of Korea (RoK) investing in the province.
At a conference on promoting investment opportunities in the locality opened in Hanoi on April 15, Chairwoman of the provincial People's Committee Pham Thi Thanh Tra asserted that foreign investors will enjoy preferential treatment in land and water surface leasing, site clearance, infrastructure building, and taxes.
Tra noted that Yen Bai has reformed its administrative procedures, helping foreign investors save time and costs. The province has also organised monthly seminars to link local authorities with investors in order to solve promptly their difficulties.
RoK Ambassador to Vietnam Jun Dae-joo spoke highly of Yen Bai's advantages in mineral resources and hoped that the RoK's investment in the locality will increase in the future.
He affirmed that he will do his utmost to bring more potential Korean investors to the province.
At the conference, a cooperation agreement was signed between the provincial People's Committee and the Korean Chamber of Commerce and Industry (KCCI) and the LG Electronics Vietnam Hai Phong Co., Ltd.
Currently, there are six RoK enterprises investing in Yen Bai with a total investment capital of 26.3 billion USD, mainly in garment and infrastructure sectors.
TPP trade deal on the table at City conference
The Trans-Pacific Partnership agreement is likely to bring benefits to Việt Nam but also challenges, a conference heard yesterday in HCM City.
Trương Đình Tuyển, the former commerce minister and the Government's senior advisor in the TPP negotiations, said the trade deal would bring investments to Việt Nam, expand its exports, create jobs and promote economic growth.
It would bring new technologies and management expertise, transforming the country's growth model and creating a framework for institutional reform and improving the business environment, he said.
But the competition would be fierce, he warned.
"Agriculture and rural areas will be vulnerable if their products cannot compete and food safety standards and disease prevention are not ensured.
"It will be difficult for Vietnamese goods to enter markets that have FTAs with Việt Nam even when the import tax is reduced to zero, while their products can easily penetrate our country."
The opportunities would not by themselves turn into benefits or market strength, he said, adding that it depends on whether the country can undertake timely and effective reforms, both economically and politically, to meet the challenges and capitalise on the opportunities offered by the agreement.
With FTAs not likely to have any great impact on the economy this year, slow recovery of the global economy and difficulties in the domestic economy, growth is expected to be only 6.5 per cent, or even lower depending on the outcome of the restructuring and improvement in the business environment.
The TPP is expected to take effect in 2017 and, along with other FTAs and a recovery of the world economy in 2017 and 2018, would create new momentum for Việt Nam's economy to grow, he said.
"Based on these factors, Việt Nam's economic growth in 2017 is expected to be higher than in 2016 and could get even better in 2018," he said.
Speaking about the challenges in complying with TPP trade commitments, Nestor Scherbey, senior advisor to the Việt Nam Trade Facilitation Alliance, said rules of origin is the greatest challenge for a producer in Việt Nam.
"Multinational FDI companies will have to identify, plan for and make changes in their global supply chains because of the Rules of Origin (ROO) of TPP.
"They must do this to take advantage of the duty and tax preferences granted by these agreements to trade in finished goods when they are exported to TPP markets.
"The ROO of TPP and other new FTAs provide the greatest opportunity for new investment by these global companies in Việt Nam as well as by their suppliers in Việt Nam.
"These rules will also provide new opportunities for Vietnamese companies to become suppliers to … global companies in their global supply chains."
So businesses in Việt Nam should be ready to make new investments to secure raw materials and produce goods, he said.
Producers must demand that suppliers of materials and components should provide documentation proving the origin of the materials and components supplied, he said.
The Government should establish a database of foreign-invested companies and domestic suppliers for the purpose of identifying opportunities for the latter to become suppliers to FDI companies, he said.
Herb Cochran, executive director of the American Chamber of Commerce in Việt Nam, said Vietnamese small and medium-sized enterprises should understand the requirements of global businesses and the global supply chain.
He said companies should check out websites of major US retailers like Target and Walmart to find out what the latter need and what they should do to get orders.
Nguyễn Thị Thanh Hà of the National Office of Intellectual Property said the TPP sought to set high standards on intellectual property protection, including introduction of criminal procedures and penalties for commercial-scale infringements of intellectually property, which are seen as stricter than regulations under the WTO.
The enforcement of such regulations would be a challenge for Vietnamese firms.
In the long run, however, better protection of intellectual property is expected to provide stronger incentives for businesses to invest in creative industries that Việt Nam is seeking to develop, according to delegates.
Credit redirected to production, business
Credit this year would be oriented to flow more into production and business instead of non-production industries as done previously, experts said.
In the latest report on prospects of the banking industry released this week, analysts of Vietcombank Securities (VCBS) forecast that credit growth this year would be roughly 16 per cent, lower than the 18 per cent rate of last year, because credit would focus more on production and business.
"After the steep rise in 2015, credit to construction, real estate and BOT projects can be levelled off this year due to both market conditions and the orientation from the central bank," the analysts said.
The central bank this year would issue the amended Circular No 36, which is aimed at ensuring the safety of the banking system, curbing the risk of a real estate bubble and orienting the credit flow to production and business.
According to the draft amendments, banks and foreign bank branches must reduce the proportion of short-term funding from 60 per cent to 40 per cent and from 200 per cent to 80 per cent at non-banking financial institutions. It also requires an increase in risk ratios for receivables from real estate activities from 150 per cent to 250 per cent.
According to the central bank, since 2015, the real estate market has been in a period of recovery with the help of various support measures, including the VNĐ30 trillion (US$1.3 billion) housing credit support package and the reduction of the ratio of short-term loans to medium- and long-term loans from 250 to 150 per cent, thus allowing banks to extend medium- and long-term credit.
Moreover, the increase in medium- and long-term outstanding credit will put pressure on interest rates. The International Monetary Fund has warned Việt Nam about its outstanding credit for real estate.
Deputy Chief Inspector of the State Bank of Việt Nam Phạm Huyền Anh said that as long-term investment was needed for business and production activities, including bank operations, medium- and long-term loans must flow to safer purposes and follow the direction of the country's socio-economic development plan.
According to VCBS, the upcoming policy to tighten lending on real estate will slow down credit growth, contributing to easing of liquidity, reducing pressure on interest rates and stabilising them in accordance with the government's orientation.
"The amendment can cause a negative impact on commercial banks in the short term such as pressure on medium- and long-term capital mobilisation. However, in the long term, the banking system will become more safe and credit will flow to production and business that are short of capital despite creating high value for the economy," the analysts said.
According to VCBS, the interest rate this year is under pressure as credit might continuously outstrip deposits while inflation is expected to be higher than last year at 2.5 per cent.
VCBS forecast that with a rise of less than 50 percentage points, the deposit interest rate this year would touch the cap of 5.5 per cent set for short-term tenors by the central bank.
Head of VCBS's analysis division Trần Tuấn Anh also expected the central bank to continuously keep a cap in order to control the lending interest rate and orient credit institutions to restructure their capital source with a rise in long-term deposits in context of rising needs for medium- and long-term loans.
ACB "actively" handling bad debts, says official
The Asia Commercial Bank (ACB) is actively handling the issue of bad debts caused by a former senior official, who was jailed for his role in a multi-million dollar scandal.
ACB General Director Do Minh Toan made the statement at a shareholders' meeting in HCM City today, when asked about the issue.
Nguyen Duc Kien, who was the former co-founder of the bank and one of the top banking tycoons in Việt Nam, was sentenced to 30 years in jail in 2014 for fraud, tax evasion, illegal trade and deliberate wrongdoing causing serious consequences.
Toan said the bad loans of some companies run by Kien totalled nearly VND5.8 trillion (US$257.8 million) as of December 31, 2015. This year, ACB plans to recover VND2 trillion out of this total amount.
Toan said the bad loans were guaranteed with mortgages and some real estate shares, and the ACB will have to find ways to sell these assets for debt recovery although the State Bank of Viet Nam (SBV) has adopted a mechanism for settling soured loans.
Nguyen Van Dung, the head of the HCM City banking supervision department, said that following the mechanism given by the authorities for a lender facing problems arising from the past, ACB will have four to five years to fully handle the debts.
"However, the ACB must have high determination in establishing provisional funds and stepping up debt recovery," he told VnExpress online.
Toan said that the ACB will establish a provisional fund worth VND1.5 trillion against non-performing assets in 2016, with VND1 trillion to be used as a provision for Kien-related loans. As many as VND200 billion has already been established in the first quarter.
Besides the case involving Kien, Toan told shareholders that the ACB is making progress in restructuring its deposits at two nationalised banks, Viet Nam Construction Bank (VNCB) and Global Petrol Bank (GP.Bank).
The deposits at VNCB are worth VND400 billion and the amount at GP.Bank is VND772 billion. The SBV acquired both ailing banks last year, at a price of zero dong per share.
At today's meeting, Julian Fong Loong Choon, who represented a 15 per cent stake of Standard Chartered Bank in ACB, petitioned for his resignation.
The representative said Standard Chartered assigned him to help ACB train its human resources over the last few years, and he had completed his mission as staff conditions had basically stabilised at the local bank.
He affirmed that Standard Chartered will continue to be a strategic partner with sustained investments at ACB.
With regard to this year's business plans, ACB Chairman Tran Huy Hung said the bank's charter capital is expected to be increased from VND9.4 trillion to VND10.3 trillion, by paying dividend in shares at a rate of 10 per cent, with retained profits.
An increase in equity is needed for the bank to ensure capital security, enhance financial capacity, extend lending limits and cope with market fluctuations, he said.
This year, the bank plans to reach more than VND1.5 trillion in pre-tax profits, an increase of 14 per cent over last year, on a deposit and lending growth rate of about 18 per cent. Its total assets are also expected to rise by 18 per cent year-on-year at VND237 trillion in 2016.
In 2015, the bank's pre-tax profits grew by eight per cent year-on-year at VND1.3 trillion and its total assets were up 12 per cent year-on-year at VND201.5 trillion. Its deposit and lending growth rates were 13 per cent and 15 per cent, respectively, with the bad debt ratio falling to 1.3 per cent from the 2.2 per recorded at the end of 2014.
Japanese fund invests in Vietnamese confectionery company
A Japanese institutional investor, Mizuho ASEAN Investment LP, has invested US$9.3 million in Phạm Nguyên Confectionery Company Ltd.
Pham Nguyen said the financing would be used to support rapid growth by increasing production capacity for the company's key brands. It would also help introduce new product categories and expand its distribution network in the country.
"The investment will allow us to reach more Vietnamese customers with our current and upcoming quality products," said Pham Ngoc Thai, the company's chairman.
Founded in 1990, Pham Nguyen is one of the leading companies in the confectionery industry. The company's products are in four key categories of soft cakes, chocolate, biscuits and bread. The company's products are distributed in over 52,000 retail locations and its products are exported to 16 countries and territories.
Mizuho ASEAN Investment LP is a private equity fund advised by Mizuho Asia Partners Pte Ltd, a Singapore-incorporated registered fund management company.
The fund seeks to invest growth capital and nurture promising small- and medium-sized companies in Southeast Asia, in part by leveraging Japanese connections.
US partially rescinds antidumping duty on 'frozen fish fillets'
The Vietnam Competition Authority (VCA) on April 5 announced the 'Final Results of the Administrative Review' of the antidumping duty order imposed by the US Department of Commerce (DOC) on certain frozen fish fillets imported from Vietnam.
In the 'Preliminary Results' of the 11th administrative review of the antidumping duty order issued September 14, 2015 the DOC partially rescinded the antidumping duty and after giving interested parties an opportunity to comment recently issued its final order.
The VCA said in the 'Final Results' the DOC made changes to the margin calculations increasing them to a range of US$0.41 to US$0.97 per kilogram for 16 Vietnamese companies based on the period of review August 1, 2013 through July 31, 2014.
The DOC identified 15 companies that did not have any transactions during the review period or were uncooperative and therefore their future shipments, if any, will be subject to the much higher Vietnam-wide entity rate of US$2.39 per kilogram, said the VCA.
The product covered by the order is frozen fish fillets including regular, shank, and strip fillets and portions thereof, whether or not breaded or marinated, of the species Pangasius Bocourti, Pangasius Hypophthalmus (also known as Pangasius Pangasius) and Pangasius Micronemus.
Vietnam Forum 2016 reviews national renovation process
An international conference called Vietnam Forum was held for the first time in Singapore to review and examine how Doi Moi renewal policy has changed Vietnam over the past 30 years and its national and regional implications.
The two-day meeting brought together scholars from around the world, representatives of several embassies, and international correspondents.
Tan Chin Tiong, the Director of the Institute of Southeast Asian Studies (ISEAS), said Vietnam has made many important achievements over the past 30 years but is also facing challenges that are how to maintain the results for future growth.
Economists discussed the development of private businesses in Vietnam and the changes of state-owned enterprises.
They agreed that Vietnam needs to boost the growth of the private sector and the reform of the state sector to turn it into a pivotal factor to the national economy toward sustainable development.
Multiple incentives sought for Thai Nguyen steel project
State Capital Investment Corporation (SCIC) has proposed the most preferential incentives ever for the Thai Nguyen steel plant to help resume work on its second phase which has been delayed for nearly a decade.
Assigned to solve problems faced with the steel plant, SCIC proposed the Government and the ministries of finance and industry-trade exempt the expansion project from import, contractor and value-added taxes.
Thai Nguyen Iron and Steel Joint Stock Corporation (TISCO), the project investor, has conducted 10 rounds of negotiations with Chinese contractor Metallurgical Group Corporation (MCC) to deal with the problems with the project, SCIC said.
MCC has shown its determination to resume work on the project. However, the two sides have not reached a compromise on several conditions set by the Chinese contractor.
In specifics, MCC required TISCO to pay for it and its subsidiaries nearly US$4.4 million as compensation for a construction suspension since June 2012, and US$53 million for after-sale services, project handover and maintenance and repair for the construction site, and purchases of damaged equipment.
SCIC said the project would only be profitable if it costs a total of VND7.87 trillion (US$853 million) as appraised by the Vietnam National Construction Consultant Corporation (VNCC) and Institute of Construction Economics under the Ministry of Construction.
In addition, the project should have construction work finished on September 30 next year and start production on January 1, 2018.
SCIC said the project would not be effective if the investment cost is adjusted up to more than VND9 trillion (US$405 million) as suggested by TISCO and the selling price of steel ingots is 6% lower than the projected price.
That was why SCIC did not agree with TISCO's proposal to revise up the project's cost.
The expansion of Thai Nguyen steel plant began in 2007 with an original cost of VND3.84 trillion. Though TISCO had disbursed VND4.44 trillion for the project, it is still half-done as MCC withdrew from the project in 2012 after it had got paid for over 90% of the equipment cost.
Saudi Arabia halts shrimp imports from Vietnam
The Food and Drug Authority of Saudi Arabia has announced a decision suspending customs clearance of all import shipments of fresh and frozen shrimp from Vietnam due to concern over white spot disease.
The National Agro-Forestry-Fisheries Quality Assurance Department (Nafiqad) on April 7 informed local seafood exporters of the suspension based on a statement of the Vietnamese embassy in Saudi Arabia.
The customs clearance halt comes after a report of the World Organization for Animal Health (OIE) said white spot disease had been found in shrimp originating in Vietnam.
Nafiqad under the Ministry of Agriculture and Rural Development said Saudi Arabia would lift the ban when Vietnamese exporters meet certain requirements. In particular, shrimp must be checked and go through sample tests, processed for instant eating or heat-processed.
Ngo Hong Phong, deputy head of Nafiqad, said the ministry's Department of Animal Health is working with a competent agency of Saudi Arabia to learn about the requirements.
Nafiqad has requested local shrimp exporters to look into the requirements and closely collaborate with their Saudi Arabian partners.
Data of the ministry showed seafood exports neared US$1.36 billion in the first quarter of this year, up 1.7% year-on-year. The U.S., Japan, China and South Korea were the biggest importers in the first two months, making up 51.84% of the total.
New PM backs dialogue with business
New Prime Minister Nguyen Xuan Phuc has thrown his weight behind a plan to hold a dialogue between the Government and local private firms in HCMC late this month, said the chairman of the Vietnam Chamber of Commerce and Industry (VCCI).
Vu Tien Loc told the Daily on April 7 that VCCI sent Phuc a written proposal for holding the dialogue on the same day and the new PM approved it.
"The Prime Minister supports organizing the dialogue and pledges to back the development of domestic enterprises," Loc said.
VCCI proposed Phuc chair the dialogue and guide Vietnamese private businesses and Government agencies to suggest ways to draw up a national action program for the development of Vietnamese businesses in the next five years as well as solutions to help the corporate sector deal with challenges and fuel growth this year.
The Ministry of Planning and Investment is drafting a law on small and medium enterprises with an aim at propping up private companies in Vietnam. The 14th National Assembly is expected to consider and approve the law.
The health of domestic private firms is a major concern as the number of business closures and suspensions has been steadily soaring since 2011.
Speaking at the NA's session on socioeconomic performance last week, Loc emphasized the need to have a national action program for business development with an aim of having 1.5-2 million firms operating efficiently in 2020 and providing 30-40 million jobs.
Loc suggested the country have a national startup program as part of the 2016-2020 socioeconomic development plan to mobilize resources for spurring business growth in the next five years.
Tien Giang licenses US$220-million paper project
Taiwan's Dai Duong Paper Production Co Ltd has got an investment certificate from the Tien Giang Industrial Zones Management Authority tobuild a paper factory worth US$220 million.
The plant covering over 22 hectares at Long Giang Industrial Park (IP) in the Mekong Delta province will produce Duplex and Kraf paper as well as products for household use. The facility is scheduled to come on stream in August 2017.  
According to the authority, the Taiwan investor will use domestic waste paper and imported material for the plant instead of investing in a material cultivation area in the country.
This was the biggest foreign direct investment (FDI) project in Vietnam in the first three months of this year in terms of registered capital, according to the Foreign Investment Agency under the Ministry of Planning and Investment.
The province also licensed Chinese-invested Cong Thai Hoc Loctek Vietnam Co Ltd to build a US$12-million plant to produce pylons and racks and Trans Pacific Textile Co Ltd to invest in a US$9-million sportswear factory.
Long Giang IP has attracted 26 investment projects with total capital pledges of US$1 billion so far.
March automobile sales hike 112 percent
Vietnam's automobile sales in March shot up 112 percent from the previous month, amounting to some 24,802 units, the Vietnam Automobile Manufacturers' Association (VAMA) announced on April 8.
In the month, the number of passenger cars sold revved up 105 percent against February to 13,246 vehicles. Commercial cars increased 100 percent to 9,206 units and special-purpose cars sales expanded 249 percent to 2,350 units.
Nearly 20,000 domestically-assembled cars rolled out from outlets and showrooms over the month, 116 percent higher than February. Meanwhile, the industry recorded a 94 percent rise in the purchase of imported cars with 4,807 units.
According to the VAMA, the Truong Hai Automobile Joint Stock Company took the lead in automobile sales in the month with 10,366 sold units, followed by Toyota Motor Vietnam with 4,693 units and Ford Vietnam with 2,392 units.
In the first quarter of the year, automobile turnover stood at 59,685 cars, rising 23 percent from the same period last year. The sales of passenger cars, commercial cars and special-purpose cars soared 6 percent, 55 percent and 57 percent.
Vingroup wins big at Asia Pacific Property Awards
Vingroup was successful at the prestigious Asia Pacific Property Awards in Kuala Lumpur, according to an announcement by the company's public relations department.
Vingroup was awarded three highly commended awards for the three property developments of Vinhomes Central Park, Landmark 81 and Vinhomes Times City - Park Hill.
The specific categories of the awards were – best mixed-used development, best high-rise development and best residential landscape architecture.
The three aforementioned developments were also nominated to represent the Asia Pacific region at the International Property Awards to be held in London later this year in December.
Thanks to all the sales agents and our clients for their support over the year, said Vingroup.
CBRE: Medium-class, budget apartments dominant in Q1
Medium-class and budget apartments made up 73% of 7,708 units put up for sale in HCMC in the first quarter this year, according to property service firm CBRE.
CBRE said in a report that the 7,708 apartments offered in the first three months of this year represented an increase of 38% over the same period last year. Of the new apartment projects launched in the period, those in the eastern and southern parts of HCMC accounted for 48% and 31% respectively.
Notably, property developments in the west of the city accounted for 11% of the total in the period as more real estate firms have invested in the area given lower land prices, more available land, and improved infrastructure.
Marc Townsend, managing director of CBRE Vietnam, said medium-class and budget apartments have continued dominating the housing market, especially those priced at around VND1.5 billion (US$67,000) each.
However, the past three months saw the sold luxury apartments making up the highest ratio of 41%, followed by the medium-class segment with 39%.
Asked whether there could be a bubble in the apartment segment, Townsend did not give a direct answer but said the market has turned more complicated, with customers growing wiser and developers not yet learning from painful lessons during the years when the market was stagnant.
The Government is closely monitoring the market and moving towards tightening lending to property projects. A list of projects that that meet conditions for future sale has been announced.
Therefore, the absorption rate of the apartment segment is not a big worry, according to Townsend.
Townsend called for investors to look at housing products at seaside resorts, saying there were thousands of such products sold in the first quarter on Phu Quoc Island, and in Nha Trang and Danang cities.
Particularly, 1,357 units at the resorts in Nha Trang City found buyers, well above 481 units sold in all of last year. The number in Danang was 1,335, compared to 180 units last year.
Demand for housing in the cities has picked up owing to more tourism developments and direct international flights to and from those cities.
Regarding the retail segment, rent in downtown HCMC rose by 2-4%. However, CBRE forecast rent of retail space in the downtown and suburban areas would stabilize in the coming time.
Vietnam asks Panama to check tra fish processors
Vietnam has requested Panama's agency for food safety management to come to inspect tra fish farms and processing facilities.
The Vietnam Association of Seafood Exporters and Producers (VASEP) said the agency is expected to send staff to check tra fish processors in Vietnam in the coming time.
VASEP said on April 4 that some Vietnamese fish shipments to Panama were earlier found to be infected with pathogenic microorganisms. After Panama's warnings, the National Agro-Forestry-Fisheries Quality Assurance Department (Nafiqad) cooperated with firms to solve the problem and reported the results and preventive measures to Panama.
Nafiqad also suggested Panama consider allowing Vietnamese enterprises whose tra fish shipments were flagged to resume exports as they have taken quick measures to solve all relevant problems.
According to VASEP, Panama has agreed to allow the distribution of seafood that was imported from Vietnam and tested negative for pathogenic microorganisms. Samples of tra fish from Vietnam will be checked and allowed for sale there if they meet the requirements of Panama.
VASEP quoted the Vietnam Trade Office in Panama as saying that Vietnamese tra fish farms and processors should be inspected by a competent agency of Panama. Nafiqad asked the Ministry of Agriculture and Rural Development for approval to work with the inspection team when they come.
In the first two months of 2016, Vietnam's tra fish exports amounted to US$237.3 million, up 5.6% year-on-year. Shipments to the U.S. and the European Union accounted for 40.5% of the total.
Data of VASEP showed tra fish export revenue from other markets including Panama reached nearly US$73.5 million in January, up 14.1% over the same period last year.
Provinces join forces to woo tourists
The central coast and Central Highlands provinces of Phu Yen, Binh Dinh, Gia Lai and Daklak have clinched an agreement on cooperation in developing new tourism products and carrying out promotions to attract more tourists.
The provinces will implement a major tourism program called "Four provinces – one destination" under the deal they signed at a recent conference on tourism investment in Quy Nhon City, according to the Binh Dinh Department of Culture, Sports and Tourism.
The provinces will use their budgets and call for enterprises to contribute financing to the program. Enterprises are encouraged to propose ways of cooperation in the program.
The four provinces will cooperate in producing video clips and guide books, as well as setting up a common booth at tourism events at home and abroad to introduce their products and services to travelers. Domestic tourists and foreign visitors from South Korea, Japan and Russia are the program's target consumers.
Pham Van Bay, deputy director of the Phu Yen Department of Culture, Sports, and Tourism, told the Daily that the four provinces have advantages in tourism products, especially those relating to seas and forests. They have airports and roads convenient for tourists to travel and explore attractions.
At the conference, Binh Dinh Province also handed over investment certificates to a number of tourism projects.
The province targets 5.5 million tourists and tourism revenue of VND10 trillion (US$44 million) with annual growth of 25% by 2020. Around 45 key tourism projects will be implemented until 2020.
Vingroup, Sun Group, FLC, and Becamex Binh Duong have got involved in some projects in the province.
EVN pledges sufficient electricity in dry season
Despite the impact of severe drought on hydropower plants in different regions, Vietnam Electricity Group (EVN) is committed to ensuring sufficient electricity supply in the dry season this year by increasing output at thermal power stations.
The promise was made at a news briefing on April 4 to allay concerns over dry-season power shortages as water levels at reservoirs in the central, Central Highlands and southern regions dropped to record lows in the first quarter.
Vu Xuan Khu, deputy director of the National Load Dispatch Center, told the news briefing that electricity output in 2016 is expected to rise by nearly 12.3% year-on-year. Electricity demand in this year's dry season is forecast to grow 13.2% over the same period last year.
Currently, hydropower power plants in the central, Central Highlands and southern regions ensure both electricity generation and water supply for downstream areas.
EVN said due to severe drought, the reservoirs from the north-central province of Thanh Hoa southward are 40-60% lower than the average of previous years. Only 38 reservoirs have sufficient water for power generation and downstream areas in the dry season with a total capacity of 33.01 billion cubic meters.
To cope with prolonged drought caused by the El Nino weather phenomenon, EVN has been running diesel-fueled power plants from last December to generate nearly 3.3 billion kWh of electricity in the dry season. In the remaining months of the dry period, coal- and gas-fired thermal power facilities in the south will be running at full capacity to meet rising demand, Khu said.
EVN plans to commission generators of Duyen Hai 3 thermal power plant. Therefore, Khu said the national power system can meet demand in the dry season and for the whole year.
Ngo Xuan Hai, deputy general director of EVN, said the dry season is forecast to last until May, so EVN will continue operating oil-fueled generators. Power supply for the south this year will be improved significantly with a maximum additional capacity of 3,000 MW.
Becamex IDC to build major industrial and urban complex in Binh Dinh
The Government has agreed to add the Becamex-Binh Dinh industrial, urban and service complex covering 2,370 hectares to the Nhon Hoi Economic Zone development plan in the central coast province of Binh Dinh.
According to the Government website, the Prime Minister has assigned Binh Dinh government to consult relevant ministries and agencies over formulation and submission of the project.
In August last year, Binh Dinh and Becamex IDC Investment and Industry Development Corporation signed a memorandum of understanding on the project. Becamex IDC selected Canh Vinh Commune in Van Canh District as the location for the project as this hard-soil area is favorable for developing industrial infrastructure. The investor will coordinate with relevant agencies to implement the project as soon as possible.
Binh Dinh government has pledged 15-year incentives for the project and swift construction of infrastructure for the complex.
With the project recognized as part of the Nhon Hoi Economic Zone, the infrastructure developer and secondary investors in the complex would enjoy more incentives than those projects outside the economic zone.
A source familiar with the project said the area of the project might be revised down by 62 hectares to 2,308 hectares compared to the original plan.
Becamex IDC is a large industrial infrastructure investor based in Binh Duong Province. Over the years, Singapore investors have got involved in a majority of Becamex IDC's projects. However, whether or not Becamex IDC's Singaporean partners would participate in the project in Binh Dinh is unknown.
Credit flows into manufacturing sector
More bank loans over the past few years have gone to the manufacturing sector, according to a State Bank of Vietnam (SBV) report.
The report said bank credit was increased by 5.3% per year to gain an extra 1% in economic growth per annum in the 2006-2010 period.
In 2011-2015, gross domestic product (GDP) growth averaged out at 5.91% a year. Therefore, loans should grow 31.3% a year if that GDP growth rate is maintained. This means total outstanding loans should have reached VND8,900 trillion by end-2015.
In reality, loan growth in the five-year period stood at an average 13.5% a year but total outstanding loans totaled only VND4,600 trillion as of the end of 2015. This indicates the quality of credit growth has improved as less capital was needed to fuel economic growth.
Cao Sy Kiem, former SBV governor, said capital contributes 80% of growth in Vietnam and cheap labor the remaining proportion. Therefore, to maintain high GDP growth, credit growth should be at a high level.
For instance, to achieve GDP growth of 1%, credit should grow 2-3%. The country has set a GDP growth target of 6.7% for this year, so bank credit should grow 18-20%.
Kiem noted many targets have been set for monetary policy, from fueling economic growth to controlling inflation and stabilizing macroeconomic conditions.
PVN seeks Gov't help to reduce losses of PVTex
Vietnam National Oil and Gas Group (PVN) is seeking support from the Government and the Ministry of Industry and Trade for the Dinh Vu polyester plant in Haiphong to sell products and reduce huge losses.
Also known as PVTex, the plant, 74% owned by PVN and 26% by Dam Phu My, started operation in 2014 using material from Dung Quat Oil Refinery in Quang Ngai Province. It was expected to meet 40% of domestic demand for fiber and 12% for yarn.
However, the US$325-million facility had to suspend operation last September due to huge losses.
Since the start of PVTex operation, PVN repeatedly proposed incentives for PVTex. The group wanted textile enterprises to purchase its products and high import tariffs to be imposed on the items similar to those made by PVTex.
The group also proposed two-year exemptions of utility, land rental and management costs for the plant and exemption of value-added tax (VAT) for the plant's products. However, the Ministry of Finance rejected the proposals several times because they were against the nation's WTO commitments.
PVTex racked up losses of more than VND1 trillion (US$44.86 million) in the first year of operation, and its losses mounted in the following year.
The losses were attributed to the fact that the feasibility study of the project was different from the reality and the plant's efficiency was lower than planned.
Moreover, there are four other enterprises producing the same products with a total production capacity of about 500,000 tons per year. Vietnam also imports about 250,000 tons of fiber products a year.
Higher production cost resulted in higher prices of PVTex products than other producers and imported items. Textile firms were hesitant to purchase material from the facility since its product quality was unstable. Large inventories forced the plant to suspend production to reduce losses.
The expected investment recovery was over eight years but adjusted to nearly 24 years.
According to the financial report of Dam Phu My, its 26% stake in the plant was valued at VND562 billion (US$25.2 million) in late 2014 but fell to VND198 billion (US$8.88 million) in late 2015.
Syrena Việt Nam wins brand award
Syrena Việt Nam Development Investment Jsc., a member of the multi-sector BIM Group, on April 2 received the Việt Nam Strong Brand Name 2015 award.
The annual award, presented since 2001, was given by the Việt Nam Economic Times in coordination with the Việt Nam Trade Promotion Agency under the industry and trade ministry to recognise businesses with huge achievements and contributions to the economy.
A representative of the Syrena Việt Nam-BIM Group said uplifting businesses amid rapid integration was critical for the success and the sustainable development of firms as well as the robust development of the national economy.
This year, 75 firms with foreign investment won the Rồng Vàng Award, while 100 domestic firms won the Việt Nam Strong Brand Name award.
The brand of Syrena Việt Nam, founded in 2011, was built from its ongoing efforts to bring the best products and service quality to customers.
Syrena Việt Nam's property developments have contributed to changing the face of Hạ Long City in the northern Quảng Ninh Province, with its flagship 248ha Halong Marina Urban Area project, located along a 3.8km-long coastline on Hạ Long Beach.
The urban area consists of a line-up of component projects such as Green Bay Towers, the first luxury apartment in the city; Lotus Residences, the resort townhouse in a prime location with promising returns; and Green Bay Village, the first gated community with international living standards in the city.
Syrena Việt Nam said the company would speed up property developments this year, especially two five-star hotels under construction in Phú Quốc Island and Laos. These are InterContinental Phú Quốc and Crowne Plaza Vientiane, which are managed by the United Kingdom-based InterContinental Hotels Group (IHG).
Vinamilk keeps stake in Angkor dairy plant
Vietnamese dairy giant Vinamilk has appointed Angkor Dairy Products Co Ltd as the official distributor of Vinamilk products in Cambodia following the closure of its local representative office last month.
Manoj Nutchanart, a representative for Angkor Dairy Products, also known as Angkormilk, said Vinamilk's decision to close the office would not affect operations of its milk processing factory in Phnom Penh.
"Angkormilk (AKM) will run the production of dairy products under the Angkormilk brand for sale in Cambodia, while Vinamilk products will be imported by AKM for selling in the Cambodian market too," Nutchanart said yesterday.
Vinamilk received an investment license to build and operate a $23 million dairy products plant in Phnom Penh Special Economic Zone in 2014. Vinamilk has a 51 per cent share in the facility, while Angkor Dairy Products owns the remaining share.
The 27,000-square-metre factory aimed to produce 19 million litres of liquid milk, 64 million jars of yogurt and 80 million cans of condensed milk annually.
Nutchanart said Vinamilk's interest in the factory would remain unchanged.
Exports to China up 10.38%
Viet Nam gained US$1.1 billion from exporting to China in February, bringing the total export turnover in the first two months of the year to US$2.4 billion, a year-on-year increase of 10.38%.
Computers and electronics were key export items of Viet Nam to China with US$337.5 million, up 4.8%. It was followed by vegetables and fiber with US$236.6 million and US$191.4 million, up 184.76% and 10.22%, respectively.
Viet Nam ranked 12 th among the largest exporters to Canada in 2015 with US$2.683 billion, up 25.9% compared to 2014.
Main export items included machines, equipment and electronics (US$807 million, up 208.9%), knitted and crocheted products (US$342 million, up 10.9%), footwear (US$338 million, up 15.9%), printing machines, computers, spare parts and tools (US$296 million, down 9.3%).
Viet Nam's import turnover from Canada in 2015 attained US$513 million, up 18.7% and accounting for 0.13% of the country's total import. Viet Nam was the 35 th importer of Canadian commodities.
VEF/VNA/VNS/VOV/SGT/SGGP/Dantri/VET/VIR