VietNamNet Bridge – Mobile electronic commerce or m-commerce is soon set to take off in Viet Nam thanks to the increasing number of mobile phones and rapid internet development, experts have predicted.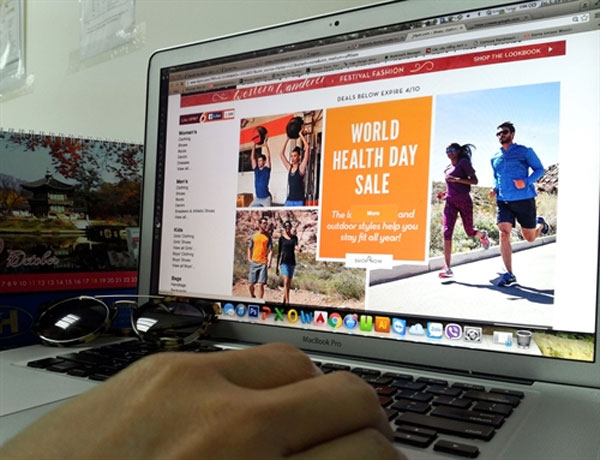 A customer browses goods on an online shop. – Photo: VNS
According to a report by Google Viet Nam, mobile devices have driven a major shift in consumer behavior.
It said a Vietnamese on average picks up and looks at their mobile phone 150 times a day, or more than 10 times an hour.
Furthermore, more people under 35 now use smartphones than computers.
This has a tremendous impact on m-commerce since users are seeking specific information and content, the company said.
On the sidelines of a conference on m-commerce held in HCM City on Wednesday, Nitin Gajria, Viet Nam country manager for Google, told Viet Nam News that he is really optimistic about m-commerce in the country.
"What I am really encouraged by is that the infrastructure is already in place so that it can grow very quickly. Third-generation (3G) coverage is nationwide and phones are getting cheaper.
"Data is already relatively cheap compared to the rest of the markets in the region. So all of these are great conditions for internet penetration to grow quite dramatically very quickly. And that gives me great encouragement for everything that has to do with the internet, including m-commerce."
According to MasterCard's latest mobile shopping survey, more than 51 per cent of Vietnamese participating in the survey made purchases using their smartphones last year, up from 45.2 per cent in 2014.
The survey is based on interviews that took place between October and December last year with 8,500 participants aged 18-64 across 14 markets in Asia Pacific, including 500 respondents from Viet Nam.
The markets include Thailand, China, Japan, Korea, Australia, Malaysia, New Zealand, Taiwan, Viet Nam, Hong Kong, Indonesia, Singapore, India and the Philippines.
Clothes and fashion accessories, gifts and toys and mobile apps are the most mobile shopping purchases in the country.
The survey also revealed that India topped the region in growth rates, with the number of people shopping on smartphones rising by 29.3 per cent from two years ago, followed by Singapore (17.1 per cent) and Viet Nam (16.8 per cent).
Le Xuan Long, marketing director of online marketplace Lazada Viet Nam, said, "Every day more and more customers use the internet through mobile phones."
Technologies are developing and so websites browsed on mobile phones will match mobile applications, he added.
"For Lazada, 60 per cent of trading value is through mobile phones. The figure is set to increase to 80 per cent by 2020."
Are you ready?
For many companies, m-commerce is a new concept though Vietnamese consumers have indulged in it for long, using their phones every day to access shopping sites, watching advertising videos on YouTube and Facebook and buying products and services.
Demand has shot up but companies do not seem ready with many remaining focused on the desktop.
Only a few companies are developing mobile applications.
Lazada said it has developed an App 2.0 version to meet the increasing demand through mobile devices.
Long said the money required to develop the application was not small and thought that was the reason why many companies are reluctant to invest in m-commerce.
But he was optimistic that with pioneers like Lazada coming to the market, others would follow suit and the market would boom.
Gajria told Vietnamese companies: "Keep an eye out for what their users want. I think, one, is obviously to look out around the world for best practices, look to reapply best practices from around the world. But don't just blindly reapply best practices; customise it for your users in Viet Nam.
"Just picking up what western markets are doing may not work in our markets, in developing markets.
 "So it is important to understand what your users want. And deliver a great, fantastic experience."
VNS