VietNamNet Bridge - Vietnamese rice exporters have been told to try to penetrate non-China markets to make bigger profits. However, they have not made efforts to attack markets in France and the US.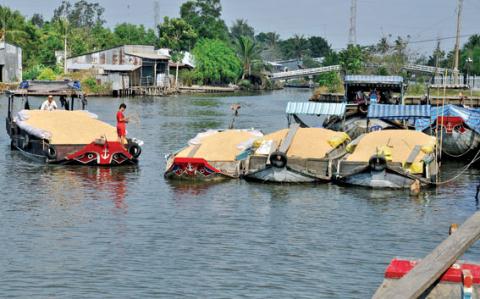 Vietnam, which has been exporting rice for 30 years, China remains the largest market which consumes 50 percent of its total export volume.
However, exports to China can only bring modest profits, while Vietnam's rice remains unknown to Chinese consumers.
Though Chinese import millions of tons of rice from Vietnam, the rice products available at supermarkets in China don't bear Vietnamese brands.
Nguyen Ngoc De from Can Tho University noted that Vietnamese enterprises only try to export as much rice as possible while they don't pay high attention to improving the rice quality.
The problem, according to De, lies in Vietnamese enterprises' capability. They make transactions directly with foreign partners, but sell rice through foreign intermediate companies. In many cases, the intermediate companies receive rice from Vietnamese companies and then pack products with their labels.
"Vietnamese enterprises do whatever the Chinese intermediate companies request, provided they can make profit with rice exports," he explained, adding that because of the way of doing business, Vietnamese can't find new markets.
"Some businesses said that they will only change the way if they are requested by the Chinese partners. If not, they will still follow this way. They would rather sell rice cheaply, because they still can make profit if they sell in large quantities," he said.
The viewpoint of Vietnamese rice exporters explains why they still have been relying on the Chinese market.
Penetrating choosy markets
According to De, Vietnam has many different rice products which can satisfy the taste of consumers.
The French, for example, want long grain to cook rice in accordance with European style. When rice is done, every grain stays separate. But more and more French nowadays like to cook rice according to the Asian style and want soft rice. They also like fragrant rice.
Though Chinese import millions of tons of rice from Vietnam, the rice products available at supermarkets in China don't bear Vietnamese brands.
However, though Vietnam has good rice products which can satisfy customers' demand, whether the products can penetrate the French market would depend on some other factors, including competitiveness.
French now consume Indian Basmati rice, Thai and Cambodian fragrant rice. Meanwhile, Vietnam's rice is not available at supermarkets and Vietnamese brands remain unfamiliar to French consumers.
A rice expert commented that to penetrate choosy markets, Vietnamese enterprises need to have two things – strong determination by business heads and financial capability.
"In order to arrange capital to follow a long-term Vietnamese rice development strategy, the State needs to give support to enterprises," he said.
Dat Viet