VietNamNet Bridge – Viet Nam has succeeded in stabilising the foreign exchange rate, but the rate of dollarisation has not decreased as expected, experts said in a meeting on Monday.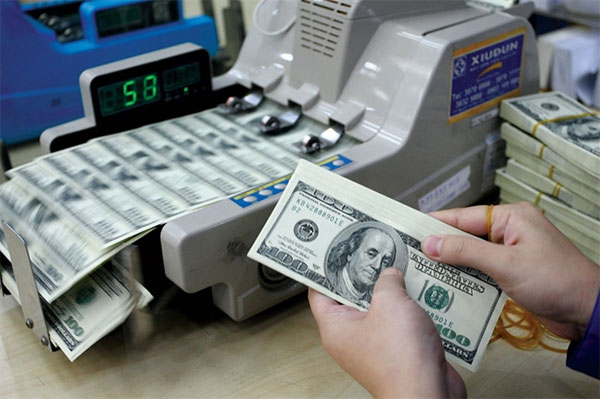 Viet Nam has succeeded in stabilising the foreign exchange rate. — Photo doanhnhansaigon
Director of the Viet Nam Institute for Economic and Policy Research, Nguyen Duc Thanh, said that people now tend to keep their savings in US dollars and wait for the currency to appreciate.
In reality, it is likely that the Viet Nam dong will be depreciated as the currency is quite strong, putting enterprises under much more pressure, he said.
Thanh also said that the market was waiting to see who would be the new leader of the State Bank of Viet Nam (SBV), and whether the change in power would be followed by a change in foreign exchange policy.
"This is another reason for the increase in dollarisation," he added.
According to the director the important thing in a stabilised foreign exchange market is that enterprises could buy US dollars easily, but the current supply of US dollars to market is still dominated by a few banks.
Truong Van Phuoc, deputy chairman of the National Financial Supervisory Commission (NFSC), said that foreign currency-denominated deposits in commercial banks last year rose by 14 per cent compared to 2014.
Particularly, the market saw an unexpected surge in the savings' mobilisation rate in the last four months from September to December, he said. He attributed the surge to China's foreign exchange adjustment in August.
He said that China's move had impacted people's sentiments by motivating them to buy more foreign currencies to deposit at banks.
Le Duc Thuy, former governor of the SBV, raised concerns that the US dollar deposit interest rate was now zero per cent, but this had not incentivised people to save in Viet Nam dong.
He said the Viet Nam Joint Stock Commercial Bank for Trade and Industry (Vietinbank) had signed a contract to borrow US$200 million from eight foreign commercial banks.
He wondered, "Why did the Vietinbank have to ask for loans from foreign banks while the domestic US dollar savings interest rate is zero per cent?"
The phenomenon proved that the low interest rate did not prevent people from saving money in US dollars, Thuy said.
NFSC deputy chairman Phuoc agreed, saying that the Government was taking measures to prevent dollarisation, and the reduction of the interest rate was one solution, but in fact, people were still looking forward to an increase in the currency's value.
That's why people were still saving in US dollars at home, Phuoc said.
VNS