VietNamNet Bridge - In 2015 alone, Nguyen Thi Nga, who is believed to be the richest Vietnamese businesswoman, spent billions of dollars on big business affairs.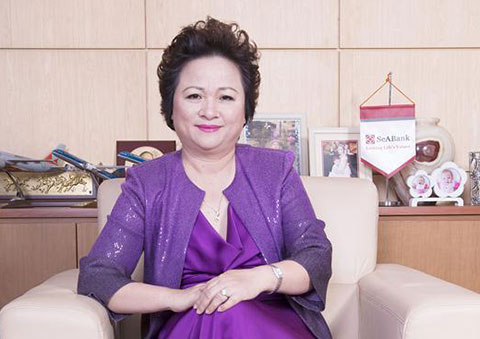 Mrs Nguyen Thi Nga
Pham Thu Huong, deputy chair of Vingroup, is recognized as the richest stock millionaire with stock assets worth VND4.205 trillion.
However, Huong is not the richest woman in Vietnam. The title is believed to belong to another woman. Nguyen Thi Nga, president of SeABank, and president of BRG, though the information about her assets has not been made public since BRG does not list its shares on the bourse. 
Forbes has put Nga at the fifth position in the list of the Vietnamese most influential women. Nga has been described as one of the owners of veteran private enterprises. Her assets mostly come from investments in real estate, tourism, banks and trade.
Forbes has put Nga at the fifth position in the list of the Vietnamese most influential women. 
BRG invests in many businesses and projects, including SeABank, King's Island Golf Resort in Hai Phong City, Legend Hill Golf Resort in Hanoi, Hilton Hanoi Opera and Hilton Garden Inn.
In banking, Nga is not only the owner of SeABank, but also a big shareholder of Techcombank. In trading, Nga has been chair of the board of directors of Intimex Vietnam JSC which runs Intimex, one of the largest supermarket chains in Vietnam.
Sources said that in 2015 alone, the richest businesswoman spent billions of dollars on big takeover affairs.
After six years of holding 11.59 percent of stakes in Intimex Vietnam, Nga in 2015 decided to buy another 34.3 percent of the company's shares, raising BRG's ownership ratio to 45.89 percent in the company which possesses a 'golden land plot' in an advantageous position in Hanoi.
Prior to that, King's Valley, a subsidiary of BRG, became the strategic shareholder of Thang Long GTC with 27 percent of the company's stake. Thang Long GTC now holds the shares of a series of big hotels in Hanoi such as Pan Horizon Hotel, InterContinental Hanoi Westlake and Hilton Hanoi Opera Hotel.
In late 2015, managers of the Thang Loi Hotel & Tourism Company confirmed BRG's capital contribution, while Thang Loi Hotel changed its name into Hilton Hanoi Westlake.
Nga, president of BRG, who was introduced as chair of Thang Loi Hotel JSC, said that the West Lake is the best position for a high-end hotel complex.
Also in 2015, BRG took over OSC Vietnam, a travel firm, after acquiring 43 percent of OSC Vietnam's stake at the firm's IPO.
However, the event that made the biggest impression on the pubic in 2015 was the announcement that Nga's BRG and other two partners – the Vietnam National Television and SCIC – set up a joint stock company which would build the world's tallest TV tower in Vietnam.
V.Ha