VietNamNet Bridge – Chairman of Vingroup Pham Nhat Vuong is still the only Vietnamese on Forbes' list of the world's richest people, ranked 1,011th. This is the 5th time Vuong was named on this list.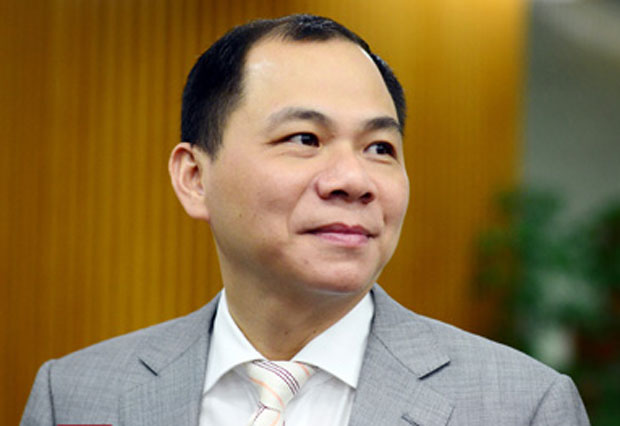 Chairman of Vingroup Pham Nhat Vuong.

The Forbes magazine on March 3 announced the world's billionaire list 2016. This year, there are 1,810 people on the list, compared with 1,826 people of last year. The total assets of the world's billionaires is more than US$6,480 billion, down $570 billion.
This is also the first time since 2010 the average assets of the billionaires on the Forbes list decrease compared to the previous year, with only $3.6 billion, a reduction of $300 million.
221 billionaires are no longer on the list this year, while there are 198 new names. 892 billionaires had less money in the past year, and 501 others got richer.
Only 2 of the top 20 billionaires last year maintain their positions this year. Bill Gates is still the richest man in the world, with assets of $75 billion, down by $4.2 billion from last year. He is followed by the owner of Zara, Amancio Ortega, and the legendary investor Warren Buffett.
Mark Zuckerberg had the best leap in the list of billionaires this year. The 31-year-old billionaire added to his assets of $11.2 billion in 2015, and advanced by 10 spots in the rankings. In the Forbes' top 20 billionaires this year, there are two Asian billionaires, the real estate mogul Wang Jianlin and billionaire Li Ka-shing.
Pham Nhat Vuong with total assets of $1.8 billion is still the only Vietnamese on the list, ranked 1,011th, 107 spots higher than that of last year.
In 2015, according to Forbes, Vuong is the only USD billionaire in Vietnam, with total assets of $1.7 billion, up from $1.6 billion in 2014.
This is the fourth consecutive year Vuong named on this list. According to Forbes, each year the total assets of billionaire Pham Nhat Vuong increased by $100 million.
Nam Nguyen