VietNamNet Bridge – The Vietnamese retail market has seen some mergers and acquisitions (M&A) between foreign and Vietnamese enterprises, thanks to the huge development potential of the retail sector.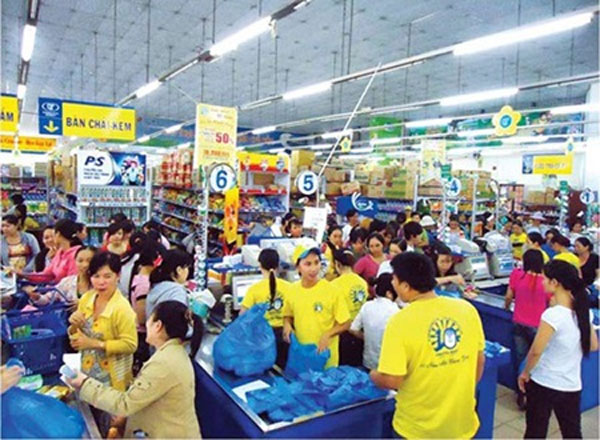 Consumers buy their garment and textile products in a Vinatexmart in HCM City. — File photo
As part of its commitment to join the World Trade Organisation, Viet Nam has allowed the establishment of 100 per cent foreign retail companies since 2015. Viet Nam's membership of the ASEAN Economic Community, signed last month, will connect the country's market with a single regional market of 600 million consumers, while the Trans-Pacific Partnership Agreement will bring more than 10,000 kinds of goods from 12 member countries at zero tariffs.
In this context, the current modern retail channel of supermarkets and stores account for only 25 per cent of the market share in Viet Nam, where the traditional market is still the most popular shopping channel. Compared with the region, the coverage of modern retail sector in the country is much lower than in the regional countries, such as 33 per cent in the Philippines, 34 per cent in Thailand, 51 per cent in China, and 60 per cent in Malaysia, besides 90 per cent in Singapore. Viet Nam, which plans to increase the rate of modern retail channels to 45 per cent, therefore, attracts a lot attention from foreign retailers.
The local retailers that run modern shopping channels are Co-opmart with 77 supermarkets, Fivimart with 20 supermarkets in Ha Noi, Citimart with 27 supermarkets, and Hapro with more than 20 stores. After the acquisition of the Retail Ocean Ocean Group, Vingroup joined the retail market, but its network of Vinmart supermarkets and Vinmart+ convenient stores were now more than 200 across the country.
Meanwhile, foreign retail enterprises account for more than 40 per cent of the more than 800 supermarkets in Viet Nam. Foreign retailers in Viet Nam include supermarket chains of Big C, Lotte Mart, Metro Cash & Carry and Aeon, besides convenience store chains such as Circle K from the US, Singapore's Shop & Go and Thailand's B's mart.
According to experts, the local conditions make Viet Nam one of the best places to invest in the modern shopping channel. Besides making wholly new investments, several investors have chosen M&A.
Thai retailer Berli Jucker, which acquired Metro Cash & Carry in Viet Nam, has announced plans to buy French retail casino group Casino Viet Nam, which owns more than 30 Big C supermarkets across the country.
According to a source familiar with the industry, Singapore's Dairy Farm Group, Korea's Lotte Group and Japanese retail group Aeon Co Ltd also want to buy the Big C supermarket network in Viet Nam.
The Dairy Farm Group is the second-largest retailer in Singapore and Hong Kong, with a series of retail brands such as 7-Eleven, Cold Storage, Guardian, and Wellcome Giant, besides Hero. It earned $13 billion in revenue in 2014. Meanwhile, Lotte Shopping is a Korean mall chain with a turnover of $23 billion in 2014.
Not only did foreign retail giants use M&A to enter the local retail market, local firms such as real estate developer Vingroup did the same. Vingroup has made consecutive M&A deals in the retail sector so far. It bought the Ocean Mart in 2014, renamed it Vinmart and expanded the chain. Then it bought all shares of Vinatextmart from the Viet Nam Textile and Garment Group, ending up with 39 Vinatextmarts in the country.
The group has also bought an 80 per cent stake in Hop Nhat Company, renaming it Vinlinks, and using it as the delivery for Vingroup's retail segment.
Most recently, the group acquired all shares of Maximark from An Phong Investment JSC. The group's Vice chairman Le Khac Hiep told local media that they would open 100 supermarkets and 1,000 marts by 2017 by building new facilities or through M&A.
VNS