VietNamNet Bridge – Viet Nam's gross domestic product (GDP) will likely grow 6.82 per cent this year, 0.12 percentage points higher than that predicted by the National Assembly last November in its resolution on the socio-economic development plan for 2016, the Centre Institute of Economic Management (CIEM) said.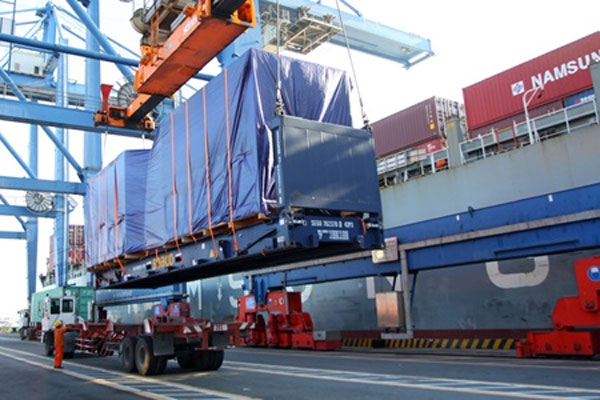 CIEM predicts that the consumer price index will increase 4.4 per cent, trade will grow 10.4 per cent with a trade deficit of US$4.1 billion. — Photo: VNA/VNS
A study by CIEM called "Viet Nam's Economy: 2015 Performance, 2016 Outlook" released said that there is a high possibility for the country to realise its goals in GDP growth and total social development investment, which is targeted to equal to 31 per cent of GDP this year.
However, it needs to reconsider other goals, such as keeping the consumer price index growth below 5 percent while increasing import-export turnover by 10 per cent.
CIEM predicts that the consumer price index will increase 4.4 per cent, trade will grow 10.4 per cent with a trade deficit of US$4.1 billion.
The study points out advantages for the country's economy this year including continued economic restructuring, deeper international integration with the signed or to-be-signed free trade agreements and more public investment as 2016 is the first year Viet Nam applies a medium-term investment frame for 2016 to 2020.
However, the country will face challenges from unstable economies including slow economic growth, capital withdrawal from emerged markets and falling prices in world commodity markets, particularly key export products of Viet Nam.
Moreover, challenges could lie on changing business policies, pressure on the currency exchange and domestic interest rate, especially if the US dollar and interest rates increase.
There remains risk of inflation because of on-going State budget overspending, higher prices of goods and services like healthcare and education, higher business costs as firms pay more social insurance.
The country should keep ensuring a stable macro-economy through reducing State-budget overspending and thorough preparation for free trade agreements, the CIEM study recommends.
"Improvement of the business climate is very important to business," the study says, calling for fair and healthy competition for both private and State-owned enterprises, both Vietnamese and foreign firms.
CIEM director Nguyen Dinh Cung said that for the last 30 years, Viet Nam had made progress in ensuring business freedom and now was time to pay more attention to healthy competition.
Three major bottlenecks of Viet Nam's business climate related to import-export licence, business licence granting and land use, Cung said, urging actions for an improved business climate and national competitiveness.
He suggested to develop a land use right certificate transaction market where the certificate could be auctioned for effective use.
The move would help remove the "ask-give mechanism" in which land was allocated or rented to State-owned enterprises who use it ineffectively, causing huge waste, he said.
He also said a clearer understanding about socialist-oriented market economy and the roles of the State, State-owned enterprises, public sector and private sector could be a foundation for better reform.
The socialist-oriented market economy in Viet Nam was seen as an economy with many sectors and recently the State sector was no longer considered decisive in directing economic development, Cung said.
Former Trade Minister Truong Dinh Tuyen said that Viet Nam's economy last year was mostly driven by foreign enterprises, which is not sustainable.
"Free trade agreements (FTA) are expected to bring a new wave of foreign investment into Viet Nam as happened when Viet Nam joined the World Trade Organisation," he said, noting that preparation for FTAs were crucial to gaining positive results.
Economist Le Dang Doanh said that last year saw difficulties for the agriculture sector – one of major pillars of Viet Nam's economy but farming was still small-scaled, farmers cared little about marketing and distribution networks were modest.
He also noted that employers complained over the quality of human resources and workers working discipline.
VNS