VietNamNet Bridge – The Saigon Hi-tech Park (SHTP) recently issued an investment certificate to Malaysia's United More SDN Bhd for a US$21 million plant to manufacture high-precision plastic products for smart TVs.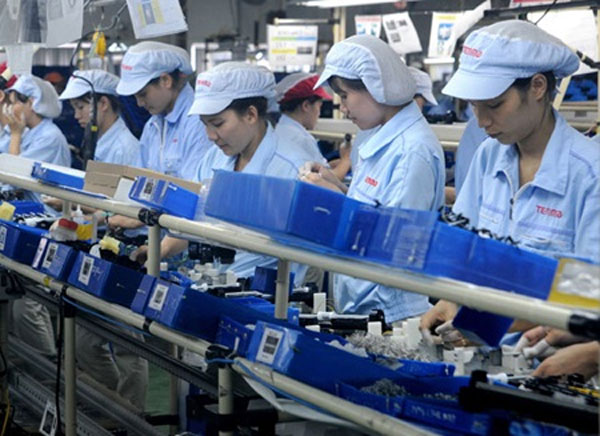 Electronic components are manufactured at Tenma Viet Nam in Que Vo Industrial Zone. Viet Nam exported $15.8 billion worth of electronic products, including computers and components, up $4.56 billion from 2014. — Photo: VNA/VNS
United reportedly hopes to supply the $2 billion Samsung SEHC hi-tech complex, also at SHTP, which is likely to begin operations next month, producing TVs, phones and other products.
The Malaysian company is the fifth foreign-invested firms in the electronics supporting industry recently licensed, particularly after Samsung came to SHTP.
The other four are also suppliers of Samsung.
These are continuing signs of an increase in the number of foreign-invested supporting industry companies and suppliers in HCM City and neighbouring provinces.
This is similar to what happened at some other places in Viet Nam where major players like Samsung, Microsoft, and LG began large electronics projects.
Late last year the Hai Phong Economics Zone granted investment licences for three Korean electronics supporting industry projects.
They are Hallacast Co ltd's $30 million Halla Vina, HKT Co Ltd's $16 million HKT Electronics Viet Nam, and Woosung Holding & Plastics Co Ltd.
They will all soon begin producing components for smart phones and TVs such as plastic covers and frames to supply companies like Samsung, Microsoft, and LG.
Another South Korean electronics supporting industry player, Orchem, also got a licence for a $2 million plant in the northern province of Vinh Phuc.
Nguyen Tien Hanh, director of the Vinh Phuc Investment Promotion Agency, told Dau Tu (Vietnam Investment Review) that in recent years the province has attracted a lot of foreign investment in the production of electronic components for Samsung.
Analysts said though the size of most electronics supporting industry projects is rather modest, their combined value has climbed into billions of dollars.
This means Viet Nam could be becoming one of the world's workshops for production of electronic components.
Samsung's two plants in Thai Nguyen and Bac Ninh provinces ship 33 per cent of all Samsung mobile phones sold world-wide.
Last year Samsung's exports of mobile phones and electronic products and components were worth $32.8 billion.
According to the General Statistics Department, Viet Nam exported $15.8 billion worth of electronic products, including computers and components, up $4.56 billion from 2014.
A majority of the exports was by foreign-owned companies.
Prof Nguyen Mai, chairman of the FDI Enterprises Association, said Viet Nam is indeed becoming a global hub for mobile components.
Domestic suppliers
Many Vietnamese companies are also intensifying investment in the electronics supporting industry, according to general director of Qualcomm Viet Nam, Thieu Phuong Nam.
"Viet Nam will be the world's hub not only for producing electronic products but also possibly for designing them."
In a report last year the Ministry of Information and Communications said the presence of many major foreign electronics companies in the country created opportunities for the domestic IT industry to achieve rapid and sustainable development.
VNS