Vietnam was forecast to reach an economic growth rate of 6.6 percent in 2016 just behind India with 7.4-percent growth, said economists in the survey on the world's worst-performing economies in 2016 carried out by Bloomberg.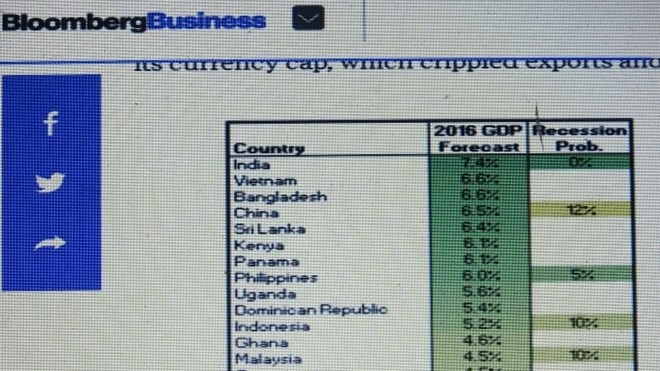 Part of the list posted on Bloomberg website. (Source: Bloomberg)
With such a growth rate, Vietnam will be the best economic performer in Southeast Asia, followed by the Philippines (6 percent), the Nhan Dan newspaper cited Bloomberg's forecast.
A growth rate of 5.2 percent is predicted for Indonesia, while a 4.5-percent growth rate is forecast for Malaysia; 3.2 percent for Thailand; and 2.3 percent for Singapore.
The top ten performers for 2016 also included Bangladesh (6.6 percent), China (6.5 percent), Sri Lanka (6.4 percent), Kenya (6.1 percent), Panama (6.1 percent), the Philippines (6 percent), Uganda (5.6 percent) and Dominica (5.4 percent).
In the Bloomberg analysis, 2016 will only bring more disappointment with Venezuela being the worst performers of any of the 93 surveyed countries, followed by Brazil, Greece and Russia.
In the meantime, many powerful economies were predicted to have a low economic growth rate including the US (2.5 percent), the UK (2.3 percent), Germany (1.8 percent), France (1.4 percent), Japan (1 percent) and the Republic of Korea (2.9 percent) among others.
VNA