VietNamNet Bridge – Deputy Prime Minister Hoang Trung Hai asked Viet Nam's aviation industry to create breakthroughs in building and upgrading airports in a bid to elevate it to a position among ASEAN's top four.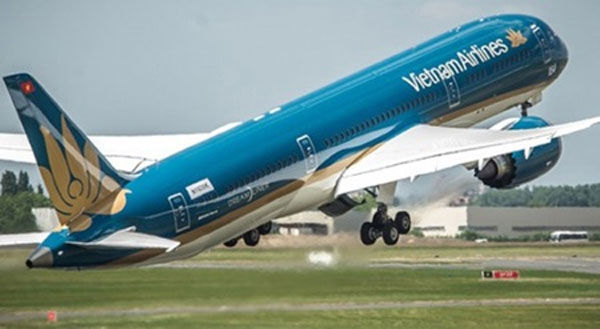 Vietnamese carriers account for 47.9 per cent and 11.6 per cent of market shares of international passengers and cargo transport. — File Photo
Speaking at a ceremony in Ha Noi on Sunday, Jan 10, to evaluate the sector's development over the last 60 years, the Deputy PM said the industry made crucial contributions to national construction and development.
He praised the sector's efforts to ensure flight safety and security, especially by preventing serious accidents and problems, stressing that this is vital for both the sector and the nation.
The industry needs to continue to promote its achievements and overcome shortcomings and limitations to further improve the sector, Hai said.
He asked the sector to concentrate on reviewing and adjusting plans, bettering transport-related law and policy systems, accelerating restructuring and mobilising extra-budgetary resources in order to promote its development in the future.
In addition to developing a young and modern fleet, the sector should reduce airfares, improve service quality and international competitive capacity and expand domestic and international routes, he noted.
The Viet Nam civil aviation industry must also ensure its role as a reserve force for national defence and national sovereignty protection, he added.
General Director of the Civil Aviation Authority of Vietnam (CAAV) Lai Xuan Thanh said that the industry had experienced strong growth in recent years, transporting 40.1 million passengers and 741,000 tonnes of cargo in 2015, up 13.7 per cent and 10 per cent from the previous year, respectively.
The country's airlines, including Vietnam Airlines, Jestar Pacific Airlines, Viet Nam Air Services Company (VASCO) and VietJet Air, boast 125 aircrafts operating 48 domestic routes. Together with 52 foreign airlines, they are running 95 international routes.
Vietnamese carriers account for 47.9 per cent and 11.6 per cent of market shares of international passengers and cargo transport.
The sector earmarked about VND55 trillion ($2.4 billion) for building and upgrading airport infrastructure, equivalent to 38.5 per cent of the sector's total investment.
The move had helped meet the development demand of domestic and international aviation transport markets, remarkably helping to ensure national defence-security and economic development and increasing the position of the Vietnamese aviation industry in the international arena, Thanh said.
Regarding international integration, the industry signed 67 bilateral agreements on aviation transport and six multilateral ones, while actively joining the ASEAN aviation market.
It also strictly obeys international regulations and meets all requirements of the international Civil Aviation Organisation (ICAO).
VNS