VietNamNet Bridge - "I believe that there will be a wave of foreign investors funneling their capital into Vietnam's logistics sector in the time to come when Vietnam joins AEC (ASEAN Economic Community) and the TPP (Trans Pacific Partnership Agreement)," said Tran Thanh Hai, deputy director of the Ministry of Industry and Trade's (MOIT) Import – Export Department.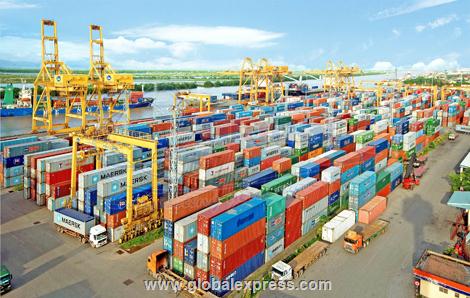 There will be a wave of foreign investors funneling their capital into Vietnam's logistics sector
Hai, in an interview with Bizlive, said Vietnam's import/export turnover has increased by 8-10 percent per annum, which would lead to higher demand for logistics services such as storage, packaging and inspection. Foreign-invested enterprises (FIEs) make a great contribution to Vietnam's economic development, making up 2/3 of Vietnam's total exports.
Hai noted that foreign logistics firms are very sensitive to the new circumstances. Dutch, British, German, Japanese and South Korean firms, which have been present widely in Vietnam, are believed to scale up their businesses in Vietnam.
After leaving Vietnam in 2012, ConocoPhillips, the fourth largest oil giant, has decided to return to Vietnam with Phillips 66 brand.
"They came back because they can see the great development potential of the logistics industry," an analyst said.
Luu Cu Tuan, director of Tutto Vietnam, the importer and sole distributor of Phillips 66, also noted that the development of the logistics industry would help supporting industries develop.
"The move of coming back to Vietnam by Conoco Phillips could be seen as a reminder to investors that Vietnam's logistics sector has great potential for development," he said, adding that TPP would help Vietnam's logistics industry to recover.
In the first nine months of 2015 alone, the total volume of goods going through the Hai Phong Port reached 51 million tons, an increase of 13.7 percent compared with last year in the same period.
AEC will open the doors for foreign investors to flock to Vietnam.
The significant increase in the volume of goods going through the ports is attributed to three factors. First, the foreign direct investment (FDI) flow into northern industrial zones (Dinh Vu, VSIP Hai Phong, Hai Duong and Bac Ninh) has been increasing steadily.
Second, the transport infrastructure works (passage, roads to the ports and highways) have helped push up the goods circulation. Third, the robust development of post-port logistics services (depot, storage…) has been provided by private investors.
Dao Hoang Tuan and Bui Thuy Van from the Ministry of Planning and Investment's Policies and Development Institute, in their research, also pointed out that AEC will turn Vietnam into an attractive destination for foreign investors.
They said AEC will open the doors for foreign investors to flock to Vietnam.
In fact, foreign logistics firms have been doing business for a long time in Vietnam. A report shows that there are only 25 multinational logistics firms in Vietnam but they hold 80 percent of the Vietnamese market. 
Therefore, worries have been raised that the situation would be even worse for Vietnamese firms if the free trade agreements (FTAs) Vietnam has signed take effect in the future. 
The FTAs are believed to pave the way for more and more foreign logistics firms to come to Vietnam, which would create more competition in the market.
Bizlive