The PetroVietnam Exploration Production Corporation (PVEP) welcomed the first flow of commercial oil from Bir Seba oil field, lot 433A and 416B during a ceremony in Algeria on December 11.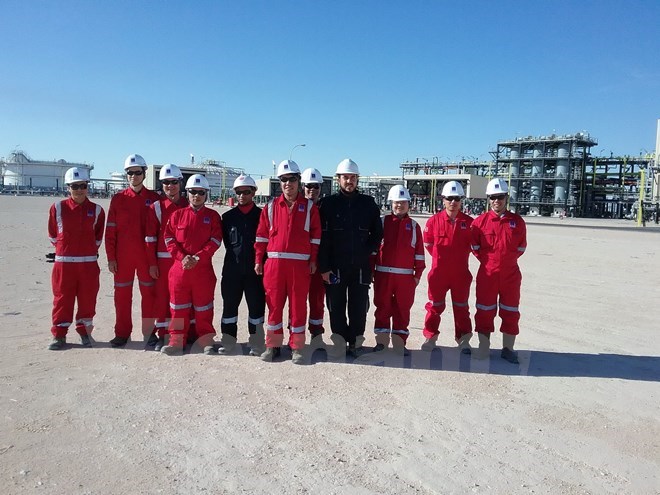 Vietnamese and Algerian engineers in Bir Seba.

The project is underway through a joint venture between PVEP, Thailand's PTT Exploration and Production Company (PTTEP) and Algeria's state-owned oil and gas company Sonatrach with a respective stake of 40 percent, 35 percent and 25 percent.
It is the first successful project abroad of PVEP and the Vietnam Oil and Gas Group, which started in 2003 with an international bidding through a surveying process to 2008.
Launched in 2009, the Bir Seba joint-venture has a total capital of 1.26 billion USD and is operated by Groupement Bir Seba.
Hoang Ngoc Dong, Director of the PVEP-Algeria company, said the joint-venture has drilled 16 wells and tapped nearly 20,000 barrels per day and one million barrels as of November 4.
The second phase of the project is expected to begin in the foreseeable future and the total output is to increase to 40,000 barrels per day in early 2020.
Vietnam's oil and gas sector has extended its reaches to many countries worldwide such as Venezuela, Russia and Algeria.
The North African country is one of the top three oil producers in the region with a total production of roughly 5.7 billion tonnes (38 billion barrels), a daily output of 180,000 tonnes (1.2 million barrels), ranking 12 th in terms of output and ninth in exports.
Having 4.500 billion cubic meters in reserve, which is capable of producing 60 billion cubic meters per year, Algeria is also the leading natural gas producer in Africa, the second biggest gas supplier to Europe and the fourth largest in the world.
Bir Seba oil field is located in Hassi Messaoud province in Sahara desert, more than 600km from the capital to the south – the petroleum capital of Algeria in which the PVEP and PetroVietnam Drilling & Well Services Corporation are based.
During his official visit to Algeria in late May, Prime Minister Nguyen Tan Dung said the first flow of commercial oil is the result of long-term joint efforts between Vietnamese and Algerian firms, contributing to fostering the bilateral traditional friendship and cooperation and creating a new impetus to extend partnerships beyond traditional areas.
VNA