VietNamNet Bridge - With Japanese Sapporo in Sapporo Vietnam (SVL) joint venture buying 29 percent of SVL stake from the Vietnamese partner, the Vietnamese beer market is heating up.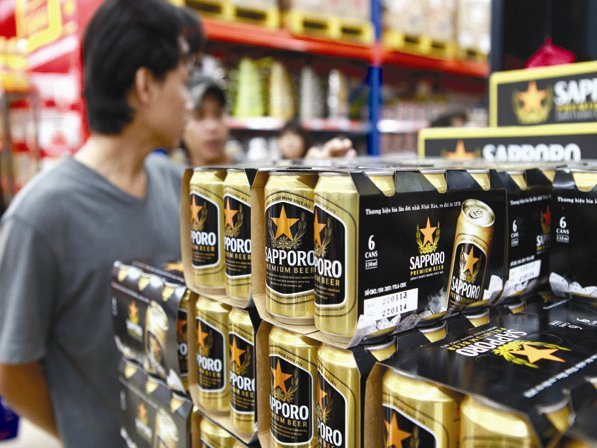 Analysts believe that more and more merger and acquisition (M&A) deals in the brewery sector would be made this year and next year, because the government has once again urged state-owned enterprises (SOEs) to divest its holdings from non-core business fields. This means that SOEs will have to accelerate the sale of shares they are holding in brewery companies.

While most investors are eyeing Sabeco, the largest brewery in Vietnam, which is being owned by a lot of SOEs, Sapporo has taken necessary steps to acquire SVL after buying the 29 percent of stake held by Vinataba, a Vietnamese tobacco manufacturer. After the deal, SVL has operated as a 100 percent foreign owned enterprise for one month.

Analysts noted that SVL, after five years of operation in Vietnam, is still in the early stage of development and it still cannot make profit. However, Sapporo International still accepted to buy Vinataba's capital contribution in the joint venture at $8.28 million, according to Nikkei.

The former Vietnamese partner in the joint venture confirmed that it could make profit from the capital contribution deal.

The analysts said the Sapporo's deal is 'predictable', because Vietnam is believed to be the largest beer market in South East Asia. Meanwhile, the demand for the products in Sapporo's home country, Japan, has decreased because of the aging population.

After acquiring SVL, Sapporo plans to boost sales by expanding SVL sale network which has been mostly developed in HCM City, according to Nikkei. Sapporo Premium, an SVL product, is now sold at 4,000 restaurants and shops in Vietnam.

Once Sapporo expands the distribution network in Hanoi in the north and Da Nang in the central region, the product would be available at 7,000 restaurants and shops by February 2016.

A survey conducted by Sapporo found that the middle class in Vietnam will increase by 2-3 times in the next 10 years, which means that more Vietnamese would be able to afford Sapporo's high-end beer products. 

Also according to Nikkei, SVL's sales in 2014 increased by 34 percent compared to 2013. This explains why Sapporo decided to spend more money to raise the Long An brewery from 40 million liters per annum to 100 million liters in more years before the capacity would reach 150 million liters by 2019.

Sapporo Vietnam is the only brewery in the region which has exported products to South East Asian countries, South Korea and Australia. The brewery hopes to bring 50 percent of overseas sales to the Japanese group in the time to come.
Who will be Sabeco's strategic shareholder?
Not only the 140-year old Japanese Sapporo Group can see great potential in Vietnam, many other 'big fish' have also been trying to join the large market.
All foreign investors who want to jump into the Vietnamese beer market would consider Sabeco.
Sabeco in the south and Habeco in the north are controlling the domestic beer market. Both of them are state-owned enterprises (SOE).
Sabeco, with its '333' and 'Bia Sai Gon' products, now hold 46 percent of the market share. The State, which now holds 89 percent of the company's stake, is considering selling 53 percent of stake at maximum to one or several strategic investors.
The government's statement on accelerating SOE equitization and the large market share being held by Sabeco both have made Sabeco attractive' to foreign investors. A lot of big foreign companies such as Sab Miller, Kirin Brewery, Asahi Breweries and Asia Pacific Breweries all have sent word intimating that they want to become the strategic investors the state is looking for.
The Thai billionaire Charoen Sirivadhanabhakdi is the businessman who has caught the special attention from the public in Sabeco's case. Sources said he expressed his wish to buy a part of Sabeco at billions of dollars. 
Prior to that, the Wall Street Journal reported that Thai Beverage (ThaiBev), owned by Charoen, planned to buy Sabeco's shares worth $2 billion.
Meanwhile, another Thai business, Singha Group, the owner of Singha Beer, has also shown interest in Sabeco.
Analysts noted that foreign investors understand that it would be very costly to penetrate the Vietnamese market from the very beginning. Acquiring Sabeco, they would be able to save time and money to expand the market. 
Besides, if they become Sabeco's owners, they would own not only 20 breweries which can churn out 1.8 billion liters of beer a year, but many real estate products in large cities as well.
For many reasons, the sale of Sabeco's stake would be one of the best deals in Asia. 
To date, Sabeco's strategic shareholders remain unknown. However, analysts believe that Sabeco would be sold to foreign investors, because the valuable business, with strong brand and big assets, would be unaffordable to domestic investors.
A report by the Ministry of Industry and Trade shows that Sabeco put out 115.6 million liters of beer in the first nine months of the year, an increase of 1.6 percent in comparison with the same period of last year.
Vietnam is listed among the world's largest beer markets. According to the Vietnam Beverage Association (VBA), in 2014, Vietnam consumed 3.14 billion liters of beer.
Big players 
Nguyen Van Viet, chair of the Vietnam Beverage Association (VBA), noted that though the growth rate now was lower than that of five to seven years ago, the market was still very attractive with the sales up by 6-7 percent year on year. 
The association estimated that about 3.3 billion liters of beer would be consumed in 2015. Therefore, Vietnam remains a very attractive market for foreign manufacturers. 
Meanwhile, according to the Industry Policy Institute (IPI), the beer output and sales will reach 4.5 billion liters by 2020, or 1.3 billion more. 
Foreign manufacturers, both newcomers and those who have been in Vietnam a long time, have rushed to scale up their production in Vietnam.
Danish Carlsberg is reported holding a large stake of the brewery in Ba Ria – Vung Tau province, while Halida and Ha Long Brewery are planning to acquire 13 percent more of Habeco's stake to raise their ownership ratio in the largest brewery in the north to 30 percent.
Meanwhile, Anheuser - Busch InBev (AB InBev) has inaugurated a brewery specializing in making Budweiser and Beck's brands in Binh Duong province which is expected to churn out 50 million liters a year in the first phase and 100 million liters in the next stage of development.
Ricardo Vasques, general director of AB InBev Vietnam, said the manufacturer decided to set up a new brewery because of the high growth rate of Budweiser beer sales in recent years. 
Budweiser and Beck's beer produced in Binh Duong would be consumed domestically and exported to India in the near future, and to Laos, Cambodia and the Philippines in the future.
Meanwhile, Heineken considers Vietnam one of its four largest markets in the world. 
An analyst noted that more foreign investors would come to Vietnam to set up breweries especially because of the Trans Pacific Partnership Agreement (TPP) under which the import tariff would be cut gradually from 35 percent to zero percent.
In the latest news, Kantar Worldpanel Vietnam has released a report showing that beer sales in the four largest cities of Vietnam in the third quarter of 2015 increased by 11 percent compared with the same period last year.
Nguyen Huy Hoang from Kantar Worldpanel said Vietnamese tend to buy beer more often, at least once a month, and tend to drink higher-end products.
TBKTSG