VietNamNet Bridge - Large-scale projects invested in by multinational conglomerates have become magnets attracting other foreign direct investors to Vietnam.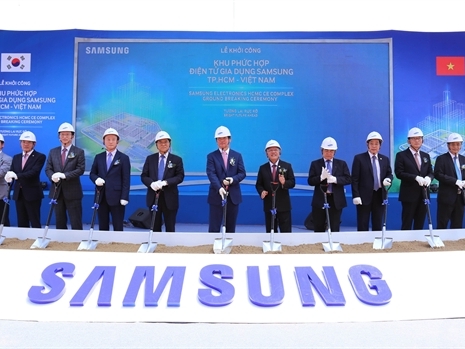 The report about Japanese outward investments released by the Japan External Trade Organization (Jetro) recently showed that China is no longer the top priority choice for Japanese investors.
In 2014, Japanese poured $6.7 billion worth of foreign direct investment (FDI) capital into China, which was just equal to 1/3 of the capital they poured into ASEAN countries. 
Jetro, while noting that the number of Japanese businesses heading for ASEAN countries has always been higher than to China since 2013, pointed out that Vietnam is the top priority choice for Japan in ASEAN.
Jang Sang-Wook, CEO of JNTC from South Korea, visited Vinh Phuc province last June to discuss the development of a project on making optical glasses with the initial investment capital of $50 million. The project needs six hectares of land and plans to employ 2,000 workers.
Like JNTC, Vina Anydo Electronics, another South Korean company, has decided to choose Vinh Phuc province to set up its factory which makes components and accessories for mobile phones and other electronic appliances.
Analysts noted that the investment expansion by multinational groups in Vietnam has roused a new FDI investment wave to the north and south of Vietnam.
Samsung is a typical example. After it set up the mobile phone factory in Vietnam in 2009, hundreds of foreign companies have also come to Vietnam, becoming the South Korean electronics manufacturers' satellite businesses. 
Jang Sang-Wook from JNTC confirmed that JNTC's factory in Vietnam aims to serve two Samsung's complexes in Thai Nguyen and Bac Ninh provinces.
Just two weeks after Samsung started the construction of the household electronics complex worth $1.4 billion in HCM City, the HCM City High-tech Park Management Board (SHTP) granted the investment certificate to Daeyoung Electronics Vina, a Samsung satellite company which specializes in electronic components and LED screens.
Besides Samsung, other large multinational groups like LG, Intel, Microsoft, Mitsubishi Heavy Industries and General Electric have also attracted a lot of projects in supporting industries.
Hong Sun, secretary general of the South Korean Business Association in Vietnam, said he can see a new investment wave from South Korean and Japanese small and medium enterprises. 
Nguyen Mai, chair of the Foreign Invested Enterprises' Association, noted that the presence of multinational conglomerates in Vietnam is step by step turning Vietnam into a new world production base.
Cushman & Wakefield, in its latest 2015 report, ranked Vietnam as first on the list of attractive destinations for the investors in manufacturing sector, and said that fast-moving consumer goods projects will see a boom in the country.
NCDT