VietNamNet Bridge - The bulk rice exports to the Philippines under the government-to-government market have not helped raise rice prices.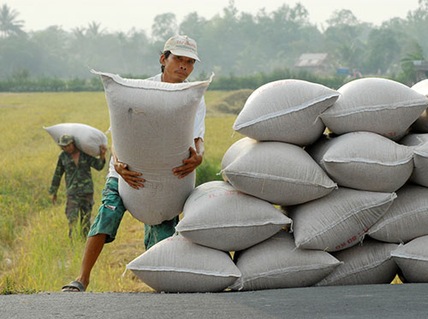 The rice price in the Mekong River Delta did not move up in the last week despite the news about Vietnam's attending the bid to provide 750,000 tons of rice to the Philippines later this year and early next year. The price even at times decreased slightly.
In the past, the price would go up at least by VND100 per kilo right after the news about the bidding.
Nong Nghiep Viet Nam quoted rice suppliers as saying that merchants and exporters have not put high hopes on the bidding; therefore, merchants did not speed up the rice collection from farmers.
They also lacked information, and Vietnam's rice price has fallen sharply in the world market as well. 
A rice exporter said though Vietnam's 5 percent broken rice now sells at $330 per ton only, the sale has been going very slowly. 
Meanwhile, Vietnam exported only 4 million tons of rice by the end of August, leaving a big inventory.
Vietnamese rice exporters have had to struggle to win every rice export contract this year. Major export items – 5 percent, 15 percent and 25 percent broken rice – all have been selling very slowly. 
Only broken rice products have been selling well because the Chinese government, while restricting rice imports from Vietnam with a quota scheme, allowed Chinese importers to import broken rice without licenses.
A branch of the Northern Food Corporation (Vinafood 1) reportedly exported 40,000 tons of broken rice this year thanks to high demand from China.
The rice exporter complained that Vietnamese businesses were meeting big difficulties in negotiating with importers because of 'spies'.
Some rice survey firms, which try to keep good relations with foreign rice importers as they hope to be chosen as rice inspection service providers for the importers, have been regularly providing information to them about rice prices in Vietnam.  
The importers use the information they get from their partners – survey firms – in negotiating with Vietnamese rice exporters and then try to force the prices down. 
In many cases, rice importers have forced Vietnamese exporters to lower the selling prices the two sides had agreed to before, because they had heard about the domestic price decrease.
In the latest news, Manila Bulletin has reported that Vietnam won the right to provide 450,000 tons of rice to the Philippines in a bid invited by the Filipino National Food Agency (NFA) at $426.6 per ton, lower than the ceiling price set by NFA at $426.83 per ton.
Kim Chi