VietNamNet Bridge - Doing business with China is one of the biggest problems Vietnam has to deal with as it integrates more deeply into the global economy, economists have said.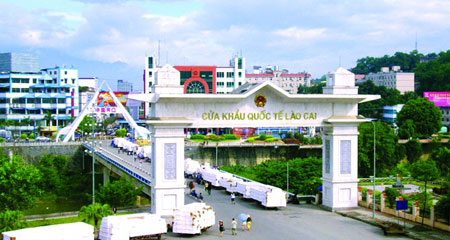 Vietnam needs to develop products that are different from those produced by China.
"Any problems of the Chinese economy would have a strong impact on Vietnam because Vietnam maintains a special trade relationship with China," said Truong Dinh Tuyen, former Minister of Trade, at the Spring Economic Forum held in late August.
Cyprus makes up 0.2 percent of European GDP only. However, its crisis still could shake European and the world's stock markets. The impact would be much more serious with China, one of the world's largest economy with $10 trillion in GDP, making up 23 percent of global economic growth.
Tuyen, who led the 11-year process of negotiation to join the WTO, said Vietnam has time to change its production structure, which is now heavily reliant on China.
"Vietnam needs to go the other way from China. If Vietnam also develops products China is developing and with Chinese technologies, it will fail to compete with China," Tuyen said.
"If Vietnam follows the way China goes, it will fail," Tuyen warned.
Vu Tien Loc, chair of the Vietnam Chamber of Commerce and Industry (VCCI), noted that dealing with China is one of the most important matters Vietnam has to think of when drawing up its plans for integration.
"Vietnam has to become taller when standing next to the giant neighbor," he said.
Meanwhile, Tran Dinh Thien, director of the Vietnam Economics Institute, said: "Once Vietnam joins the global game, it will have to cope with the giant (China)".
Restructuring the economy
Thien said there were clear signs showing the Chinese economy was worsening. 
"The stock market fall and the exchange rate policy are clear evidence. They show an economy with problems inside," Thien said, adding once troubles occur with the giant economy, Vietnam will suffer because of its heavy reliance on the economy.
China has to undergo a restructuring. A question has been raised about where the old structure would go.
"Vietnam should not have the old production structure China wants to throw away," Thien said.
"Vietnam's industrial production now heavily relies on China in input materials. It is now the right time for us to ease the reliance and change our economic structure," he said.
Regarding the Chinese yuan devaluation, Thien said Vietnam should take full advantage of the cheap input materials under the weaker yuan. 
However, he emphasized that the advantage in price will only exist in the short term.
The economist, while emphasizing there is a special relationship in Vietnam-China trade, said it was necessary to lay down special policies for the upcoming period.
Pham Huyen