VietNamNet Bridge - The resort real estate market is scorching hot with investors rushing to inject money, but experts warn that the hot growth may not be sustainable.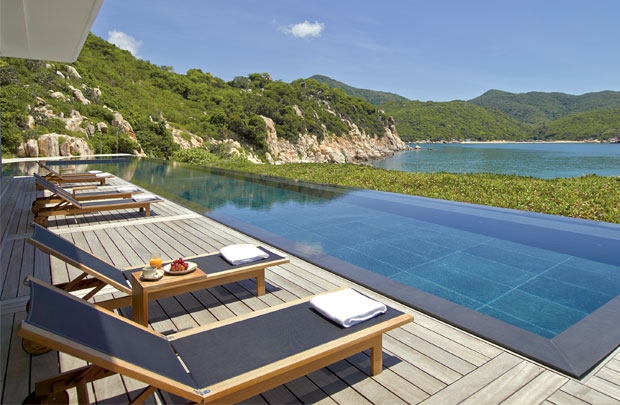 Phu Quoc Island is the most attractive destination for resort real estate investors. A report shows that 202 investment projects have been registered so far on the island, covering nearly 8,000 hectares of land in total. 
The central region, which is considered the 'resort real estate metropolis', is also bustling with many investment projects.
In mid-June, KTG Land put the last apartments of its Fusion Suites Da Nang Beach on sale. Beachfront villas with Vinpearl Premium brand in Da Nang and Nha Trang cities are also popular. 
Meanwhile, Hung Thinh has begun selling products for the next stages of Golden Bay project in Cam Ranh.
In the north, FLC Group has inaugurated FLC Sam Son, an ecotourism resort complex in Sam Son Town of Thanh Hoa province. 
The project developed with investment capital of VND5.5 trillion was put into operation in mid-July.
Meanwhile, Syrena Vietnam - BIM Group launched Lotus Residences in Ha Long Marina urban area in June.
The HCM City beachfront villa market has also heated up with the news that Vingroup received approval from the HCM City People's Committee to become the strategic partner in implementing the Can Gio sea urban area, a huge project covering an area of 821 hectares.
Rudolf Hever from Alternaty Company said that  interest by foreign investment funds in Vietnam's resort real estate has increased. 
He said that resort real estate distributors were now receiving more calls from foreign investors who want to buy second homes.
Phu Quoc Island is the most bustling market. The upgrading of infrastructure there (airport, transport system, electricity and water supply) and changes in policies (a possible casino in the future, international marina, visa waiver policy and economic zone plan) all have helped heat up the market.
When asked if he thinks the resort real estate market has overheated, an expert commented that 'fever' and 'explosion' were the words usually used for the Vietnamese market, i.e., the market does not have enough time to develop step by step and in a sustainable way based on basic market principles. 
Huynh Phuoc Nghia from GIBC, a consultancy firm, also noted that investors need to be cautious amid the current hot development of the resort real estate market.
According to Nghia, Vietnam's sea urban areas will need one more decade to complete the social and service infrastructure to turn sea tourism potential into reality.
Dat Viet