VietNamNet Bridge - The discussions about the coal supply for Duyen Hai 1 and Vinh Tan 2 Thermal power Plants have come to a deadlock.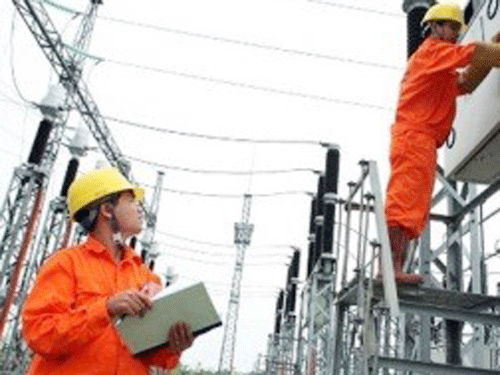 The Electricity of Vietnam (EVN) fears that the electricity supply in southern provinces may be short in the second half of August because of heavy floods in Quang Ninh province.
The coal reserves at Duyen Hai 1 and Vinh Tan 2, the two largest thermal power plants in the south, are very low. The former has 122,000 tons in stock, which is just enough for 10 days of use, while Vinh Tan 2 has 48,000 tons.
Tran Viet Ngai, chair of the Vietnam Energy Association, on August 7 reassured the public, saying that the coal supply for Duyen Hai 1 and Vinh Tan 1 was sufficient. 
EVN can mobilize electricity from gas turbine plants and from the 3.600 MW O Mon oil-run plant. Besides, it can expect 6,000-7,000 MW from the northern and central regions.
Meanwhile, according to Truong Duy Nghia, Chair of the Vietnam Thermal Science and Technology Society, Duyen Hai 1 and Vinh Tan 2, which have 600 MW generation units (the total capacity is 2,400 MW) can churn out 60 million kwh a day if runs 24 hours a day. Therefore, the south will suffer an electricity shortage if the two plants don't have coal to run. 
"The discussions about the coal supply sources for Duyen Hai 1 and Vinh Tan 2 have come to a deadlock. Using imported coal is also impossible for now because it will take at least one month to import coal," he said.
"If the two plants have to halt operation, they would cause more serious consequences than any other smaller plants," he said, adding that each of the two has only half of the capacity of Son La Hydropower Plant.
Nghia pointed out that the biggest problem in Vietnam's power development strategy is that the matter of coal supply for thermal power plants is not mentioned.
"There is no long-term coal supply plan for thermal plants. The plants still have been 'living' from hand to mouth'," he noted.
"We just think of building more and more power plants to generate power, but we forget that the plants need coal to run," he said, noting that importing coal to run domestic thermal plants in the time to come is inevitable.
Minister of Industry and Trade Vu Huy Hoang, at a meeting with the heads of EVN, Vietnam Coal and Mineral Industries Group (Vinacomin) and PetroVietnam on August 5 to discuss the solutions to power plants' coal supply, requested Vinacomin to speed up the plan to exploit coal at the Red River coal basin.
Dat Viet