VietNamNet Bridge - Lam Dong Province, home of the world-famous Da Lat Arabica coffee, which is now sold at Starbucks stores, wants to be one of the finest coffee producing areas in the world.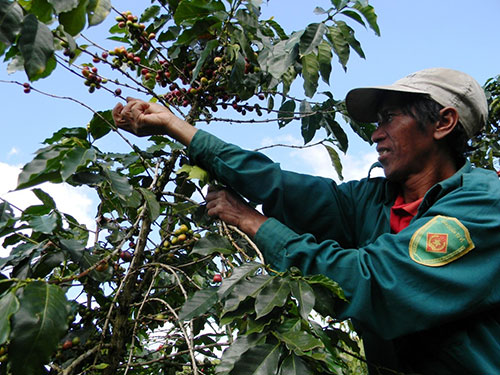 Pham S, deputy chair of Lam Dong, said the locality has all the conditions to turn the dream into reality. It has the second largest coffee growing area in Vietnam, just to Dak Lak, and the highest quality arabica in Vietnam. 
Arabica coffee is the top priority crop under the province's latest development program.
The programme aims to develop arabica coffee growing area, build the Da Lat arabica brand, use post-harvesting processing technology and prevent chemical abuse.
It is expected that Lam Dong would have 30,000 hectares of Arabica coffee growing area by 2020 out of the 140,000 hectares of coffee area throughout the province.
Nguyen Xuan Ton, the owner of Long Trieu Company, which specializes in making and trading Arabica Da Lat coffee, said that Da Lat, located 1,500-1,600 meters above sea level, is an ideal area for arabica cultivation.
However, the outdated harvesting habits and unreasonable processing technology have affected the quality of Da Lat arabica. 
An official of the Vietnam Coffee and Cocoa Association also noted that the abuse of plant-protection chemicals, poor harvesting, and the use of low-quality seeds prevent the production of high-quality beans.
"We will apply an advanced clean coffee production process to make coffee products that can satisfy the world's standards," S stated.
Lam Dong Province has gained initial success with the Starbucks' chain. 
"When we received a sample of this coffee, we were delighted at the quality," said Leslie Wolford, senior coffee specialist for Starbucks on Starbucks' website. 
"Vietnam's Da Lat beans have a bright refreshing acidity highlighting kola nut, toffee, and vanilla. It is excellent as espresso, brewed coffee, or even cold brew."
The US café chain has chosen arabica beans from only six localities all over the world.
Tourism companies were delighted at the news. The presence of 'made-in-Vietnam' arabica coffee at Starbucks' stores will stimulate travelers' curiosity and interest
However, analysts are cautious about the future of Da Lat Arabica coffee, saying that it depends on many factors.
"The problem lies in the marketing strategy," an analyst noted. "This is why Vietnam has wonderful beaches and caves, but still cannot attract many foreign travelers."
Starbucks has started selling roasted Arabica coffee beans from Vietnam's Da Lat City in the US and plans to sell it in more than 21,500 stores in 56 countries.
NLD