VietNamNet Bridge – A representative of the Vietnam Coal and Mineral Industries Group (Vinacomin) said on Wednesday that the torrential rains in Quang Ninh, Vietnam's kingdom of coal, caused losses of about VND500 billion (nearly $25 million) for the group. Most of the coal mining firms have halted production.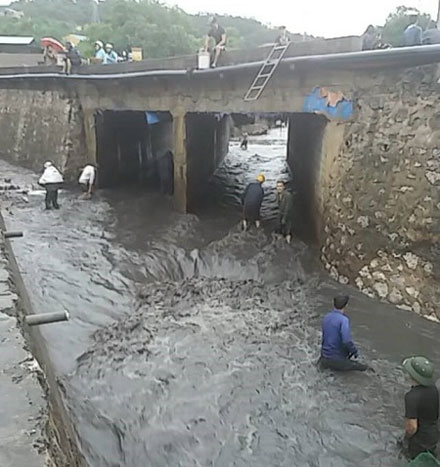 Heavy rains flooded coal mines of many companies like Quang Hanh, Ha Lam, Mong Duong, and 790, and damaged coal railways in Cua Ong and Hon Gai.
Ha Lam Coal Company lost about 7,000 tons clean coal, which was washed away to streams and the sea. Two coal mines of Ha Tu Coal Company were completely submerged. Roads from Ha Lam and Ha Tu coal companies to the port of Lang Khanh were eroded.
At Hon Gai Coal Company, heavy rains caused landslides on some internal roads and one of the coal grounds was covered with 2,000 cu.m of soil from the broken Ha Tu damp.
Heavy losses also were incurred by the Quang Ninh Thermal Power Plant, with at least two coal warehouses flooded and a large volume of coal washed into Dien Vong River.
In Cam Pha city, the operation of many coal companies like Coc Sau and Mong Duong was affected by heavy flooding. It was reported that these companies need 4-5 days to solve the consequences.
On Wednesday, Vinacomin Chairman Le Minh Chuan asked all coal companies in Quang Ninh province to focus all resources to overcome the consequences caused by floods, and to help local people and workers return to normal.
Due to the adverse weather, Vinacomin said it would be very difficult – or even impossible – to maintain a stable coal supply.
The group said it notified Vietnam Electricity (EVN), the country's sole power provider.
More than 38,500 households in the province had been provided electricity by yesterday morning.
The Quang Ninh Electricity Company said more than 1,700 households still lived without power in Van Don Island District, which was inundated with floods triggered by the torrential rain.
It was unsafe to supply electricity when the floodwater was still high, the company said.
A senior official from EVN told Tuoi Tre (Youth) yesterday that a number of thermal electricity plants, including Hai Phong Thermal Power Plant 1 and 2, would be severely affected once their coal stock burnt out.
Thanh Son