VietNamNet Bridge – In the past seven months, Vietnam imported insecticides and materials to make pesticides worth over VND9.000 billion ($463 million), reported the Ministry of Industry and Trade. With a developed fertilizer industry, the country still imported up to 2.4 million tons of fertilizer, totaling over $789 million during this period.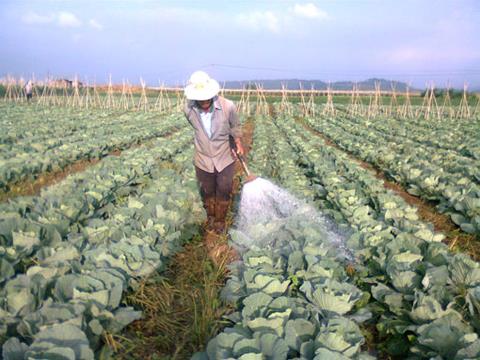 Speaking at a conference on June 17, Nguyen Xuan Hong, director of the Department of Plant Protection of the Ministry of Agriculture and Rural Development, said 80% of plant protection products were imported from China.
Herbicides accounted for 45-47%, followed by fungicides with 27%, insecticides 23% and some other drugs.
At an international conference held on May 4, Deputy Minister of Agriculture and Rural Development Le Quoc Doanh said that pesticides and chemical fertilizers not only make the increase of production costs but also cause instability in agricultural production. Therefore, finding substitutes for these products is essential for sustainable agriculture.
According to the Treatment Department of the Ministry of Health, in the first half of 2011, there were over 3,000 cases of pesticide poisoning nearly 3,000 victims and over 100 people died.
Scientists have discovered 43 toxic chemicals in 286 commercial drug names on the list of restricted use pesticides in Vietnam. These hazardous chemicals may cause endocrine disorders, weaken the reproductive process of animals, change gender and cause melanoma.
According to the Ministry of Agriculture and Rural Development, the import of plant-protection chemicals has increased dramatically. In 2005, Vietnam imported 20,000 tons of the chemicals, but the figure soared to 50,000 tons in 2014.
There are 20,000 pesticide sales agents and 97 pesticide processing factories which produce 40,000 tons of products a year.
As for fertilizer, the used amount has soared by 500 percent since 1985. About 10 million tons of fertilizer are used a year.
An FAO report showed that fertilizer use efficiency in Vietnam is low, just 45-50 percent, meaning that it is actually absorbed by the soil. The remaining 50 percent is washed away, which damages the land. Some kinds of fertilizer have acid residues, which acidify the land, leading to lower yields and higher toxicity in the soil.
Scientists said that the agriculture sector should curb this abuse, which has also polluted the environment and reduced cost-efficiency of agricultural production, emphasizing that effective use and control of pesticides was crucial for the agricultural sector to boost exports in 2015..
Thu Ha