Increasing imports of meat are putting pressure on the development of the domestic livestock industry, experts say.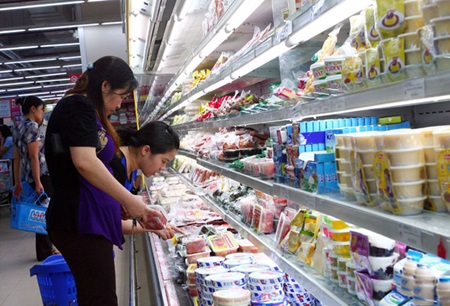 According to the Ministry of Agriculture and Rural Development's Livestock Department, Viet Nam imported 2,432 tonnes of pork and 68,100 tonnes of chicken in the first half of this year, posting year-on-year increases of 47 per cent and 54.5 per cent, respectively.
Meat imports saw a strong surge after the ministry, in mid-May, permitted 106 eligible firms to import all kinds of meat, the department said.
The Viet Nam Trade Promotion Agency (Vietrade) said Viet Nam had become a target market for producers and traders in Europe. One hundred exporters from the European Union (EU) have been granted certificates to export meat to Viet Nam.
Over the past three years, the volume of frozen pork imported from the EU increased 7.5 times to 6,100 tonnes, and that of beef jumped sixfold to 1,000 tonnes, Vietrade said.
The imports were expected to increase further after Viet Nam and the EU sign a free trade agreement, which would lead to a reduction in tariffs, Vietnam Economic Times quoted Vietrade as saying.
Viet Nam was a potential market for Australian beef, the agency said, adding that imports of chicken from the US had also increased over the past few years.
According to Nguyen Van Trong, deputy head of the Livestock Department, the industry has developed over the past few years but will face challenges in future because the country has integrated into the world economy.
Households are the major producers in the domestic livestock industry but they do not work together as part of a production chain, and companies have not been able to integrate them into their operations.
The ministry has asked the industry to improve the quality of inputs that go into the making of a successful livestock industry, including varieties of animal and animal feed, as varieties of animal decide meat output while animal feed accounts for 65-70 per cent of the production cost.
Besides, Trong said the Ministry of Industry and Trade should consider technical barriers to control the volume of meat imports and the quality of the imported meat. 
VNS