VietNamNet Bridge - The country's public debt is higher than any statistics published by local institutions. Thus, each Vietnamese person is carrying over $1,200 public debt, equivalent to more than half of the average annual income.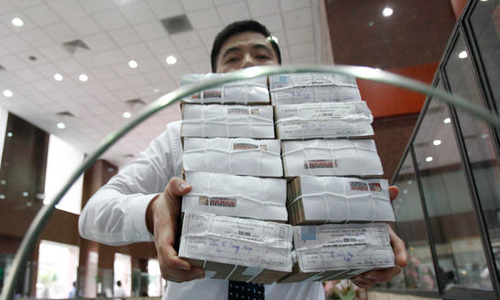 The World Bank (WB) - the largest multilateral donor of Vietnam – on Tuesday announced that by the end of 2014, Vietnam's total public debt, including government debt, government guaranteed debt and local government debt, was estimated at VND2.35 million billion dong (about $110 billion).
Comparing to GDP ($186.2 billion), the public debt calculated by the World Bank is equivalent to 59%, similar to the figure released by the Ministry of Finance. But in terms of absolute number, the WB's figure is higher than any figures announced before.
According to the public debt newsletter dated November 2014 of the Ministry of Finance, by the end of 2013, Vietnam's public debt including the debt of the government, government-guaranteed debt, and the foreign debt of enterprises reached over VND1.5 million of billion, up from nearly VND890 trillion in late 2010.
According to the WB, the entire data on Vietnam public debt was obtained from competent authorities of the Government. If based on this number and the population of Vietnam in late 2014 (90.7 million people), on average each Vietnamese "shoulders" nearly $1,212.8 of public debt.
The public debt clock of The Economist noted that each Vietnamese had a burden of $914.1 of debt in late 2014 and $997.9 at present.
Per capita income of Vietnamese at the end of last year was more than $2,000.
In a newly published report, VinaCapital, which invests more than $1 billion in Vietnam, said that the fiscal picture in the country was facing many problems, especially public debt.
"The situation of public debt has been worse in recent years," the company said.
The ratio of public debt to GDP decreased to 50.8% in 2012, but it is projected to rise to 60.3% in 2015 and 64.9% next year - approaching the safety threshold of 65% of GDP.
The Government said to would reduce it to 60.2% in 2020, but VinaCapital questioned how public debt can climb to almost 65% of GDP next year and then fall to 60. 2%.
Public debt is on the rise along with the increase of the government's spending. Overspending increased from 4.9% of GDP in 2008 to 5.3% of GDP in 2014.
In the first half of 2015, the budget deficit was estimated at approximately VND99 trillion ($4.5 billion).
This occurred when government spending increased while budget revenue was unstable because of falling oil prices. Also, Vietnam is now in a tariff reduction roadmap to support businesses.
In addition, the World Bank said that the fiscal loosening policy to prevent a stronger economic downturn has significantly widened the fiscal deficit.
Thanh Tung