VietNamNet Bridge - The demand from Vietnam's key export markets has decreased significantly, while the dollar has appreciated sharply, causing textile and garment export growth to slow down.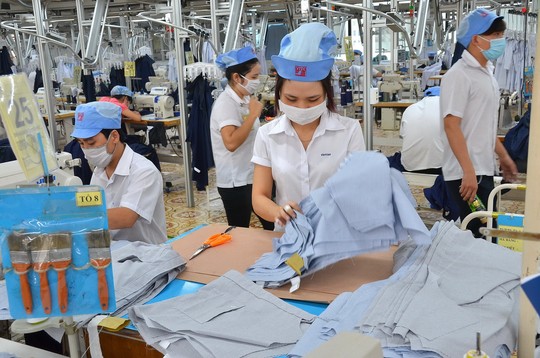 Vietnam's textile and garment export turnover has reached $12 billion this year, which represents a modest increase of 9 percent in comparison with the same period last year, a 3-year low, and much lower than the 19 percent growth rate last year.
More foreign owned factories 
Vinatas reported that the number of foreign invested garment & textile factories has been increasing dramatically as foreign investors have been flocking to Vietnam to take full advantage of the free trade agreements (FTAs) of which Vietnam is a member.
The Foreign Investment Agency (FIA) has confirmed that most of the large foreign direct investment (FDI) projects registered this year are in the textile & garment sector. 
These include the project registered by Hyosung Dong Nai which has investment capital of $660 million, one by Worldon Vietnam at $300 million and one by Lu Thai Vietnam at $160 million.
In late June, Binh Duong provincial authorities licensed Polytex Far Eastern Vietnam which plans to make synthetic fiber with capital of $274 million.
Textiles & garments are the key export item of Vietnam, with $24 billion worth of export turnover in 2014 and an expected $27-27.5 billion in 2015. 
However, there is a big problem that while foreign invested enterprises are expanding, Vietnamese firms have shrunk. 
According to Vinatas, Vietnamese enterprises made up only 27.5 percent of the $12 billion worth of export turnover, while the remaining was created by foreign invested enterprises (FIEs).
Vietnamese companies
Vinatas has confirmed that the number of orders from Vietnam's key markets such as the EU and Japan is on the decrease.
Vinatas' deputy chair Pham Xuan Hong said though garment companies still have enough orders until the third quarter of the year, there are not many 'attractive jobs' and most of the orders are small. 
Hong said though demand from the US has recovered well, the recovery cannot offset the decreasing demand from the EU and Japan.
"The problem sounds really serious," Hong said. "While the export prices remain unchanged, the input costs have increased sharply. Meanwhile, more and more foreign manufacturers have come to Vietnam where they compete fiercely with Vietnamese enterprises."
Le Quang Hung, chair of Garmex Sai Gon, said the stronger dollar has badly affected Vietnam's exports to the EU and Japan.
"As the dollar gets stronger, Vietnam's exports are more expensive," he explained.
Hung also thinks the current difficulties will last until next year at least and the situation will heavily depend on the financial crisis in Greece.
NLD