VietNamNet Bridge - Every year, the Ministry of Labor, War Invalids and Social Affairs (MOLISA) and relevant agencies discuss the minimum wage increase, but both businesses and workers have not seen benefits.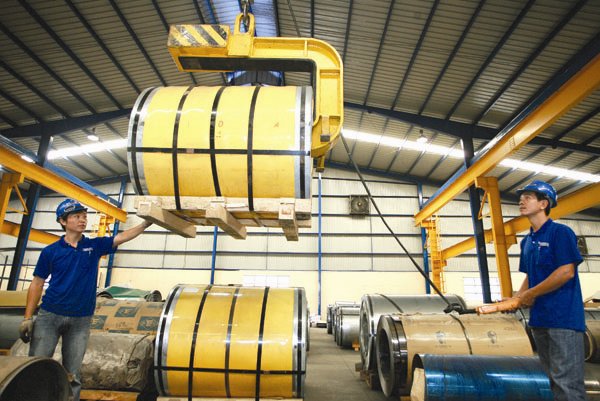 In late July, the National Wage Council, comprising representatives from MOLISA, the Vietnam Chamber of Commerce and Industry (VCCI) and the Vietnam Labor Federation, will convene a meeting to discuss the adjustment of minimum wages for 2016, before a report will be submitted to the government in October.
Chu Van An, deputy general director of Minh Phu Seafood Group, complained that the rapid minimum wage increases in recent years have seriously affected the seafood exporters' competitiveness.
An said Minh Phu's 15,000 workers now can receive pay of VND5-5.3 million a month, which is nearly double the required minimum wage. 
Therefore, the minimum wage increase will not bring any benefits to workers and businesses, while it will do harm because it will push essential goods' prices up by 20-30 percent.
Meanwhile, the minimum wage increase will make businesses suffer, because they will have to pay more for insurance premiums and other expenses. 
In 2015, as the minimum wage has increased by 15 percent over 2014, the total expenses Minh Phu pays for social, healthcare and unemployment insurance premiums has risen by 35 percent.
Truong Van Cam from the Vietnam Textile and Apparel Association (Vitas) noted that since 2010, fees relating to laborers increased once every two years. 
And if the regional minimum wage increases again, this will be far beyond enterprises' capacity.
Garment Company No 10 reported that in 2014, it had to pay VND63 billion for workers' insurance premiums, while the figure will rise to VND94 billion in 2015. 
The total amount of money the enterprise would have to pay would be VND120 billion in 2016, if it has to pay social insurance premiums based on workers' total income.
A businessman who asked to be anonymous noted that the social insurance premiums and union dues that Vietnamese enterprises have to pay are the highest in the region. 
The proportion is 13 percent in Malaysia, 10 percent in the Philippines, 8 percent in Thailand, and over 30 percent in Vietnam.
According to Nguyen Xuan Duong, chair of the Hung Yen Garment Company, the expenses on insurance premiums and union dues account for 12 percent of total revenue of garment companies.
Duong said if businesses have to pay too much to employ workers, they will go bankrupt.
Vi Thi Hong Minh from VCCI confirmed that the minimum wage adjustment has put pressure on businesses.
TBKTSG