Vietnam and Laos signed an agreement on bilateral border trade in the central province of Nghe An on June 27.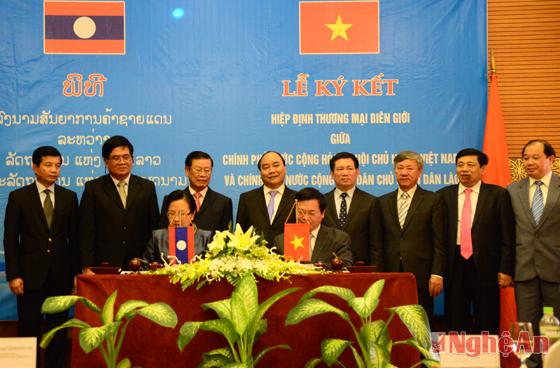 Vietnam's Deputy Prime Minister Nguyen Xuan Phuc and Minister of Industry and Trade Vu Huy Hoang, and their Lao counterparts Somsavat Langsavad and Khemmani Pholsena, respectively, attended the signing ceremony.
Deputy PM Phuc hailed the agreement as highly significant since it would create a legal basis for boosting bilateral trade in line with the two countries' time-honoured friendship and comprehensive cooperation.
More specifically, it is expected to help achieve the joint objective of increasing two-way trade to 2 billion USD in 2015, he stated.
According to Deputy PM Phuc, in recent years border trade between Vietnam and Laos has grown, with a larger number of businesses involved and import-export demands on the rise. Administrative procedures and policies have been improved, while the infrastructure along the border has been upgraded. Efforts to prevent smuggling and the trade in counterfeit goods have also produced positive results.
The new border trade agreement comprises 23 articles, documenting that all border gates on land are open to trade.
The import tax rates for goods made in Vietnam and Laos, as well as various products made by Vietnamese investors in Laos, will be reduced to zero.
The agreement also regulates payments for trans-border trade, controls the transportation of cash via border gates, and manages the entry-exit regulations for humans and vehicles.
According to the document, the Governments of Vietnam and Laos agreed to set up a joint Steering Committee on Border Trade and organise a biennial cooperation conference on the development of Vietnam-Laos border trade, and encouraged the establishment of a border trade entrepreneur association.
On this occasion, by order of State President Truong Tan Sang, Deputy PM Phuc presented three second class Independence Orders and two third class Independence Orders to Lao individuals for their outstanding contributions to the consolidation and enhancement of the two countries' traditional friendship.
VNA