VietNamNet Bridge - Major US investors are following through on their previous statements about relocating their production bases.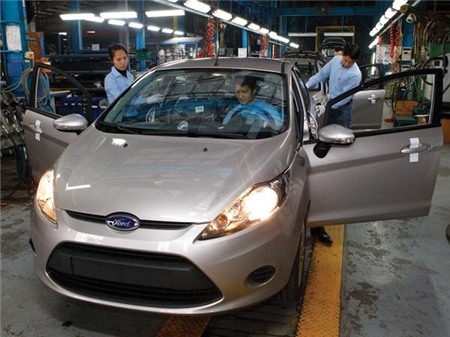 Intel, for example, is considering relocating its mainboard and microprocessor production bases from Kulim, Malaysia to Vietnam because of the lower labor costs in Vietnam.
Some months ago, the group said it would relocate a production line from Costa Rica to Vietnam. 
The shows that the giant is taking action to speed up its investment activities in Vietnam, turning the country into an important global production base.
The US Ambassador to Vietnam Ted Osius said at an important event that the TPP (Trans Pacific Partnership agreement) would allow the US to become Vietnam's No 1 investor and partner.
In late March, P&G started construction of its Gillette razor factory in the southern province of Binh Duong, capitalized at $100 million. The factory, expected to become operational in 12 months, will create 300 jobs.
P&G Vietnam's CEO Emre Olcer said the group had considered other countries before deciding to set up a factory in Vietnam.
P&G brands in Vietnam have had steady two-digit growth rates, including Ariel, Pampers, Downy, Pantene to Tide and Head & Shoulders.
More and more US businesses have come to Vietnam to seek investment opportunities in recent years. They are attracted by the low labor costs, the large domestic market and news that the TPP agreement would be inked soon.
Twenty-two US businesses in 2013 came to Vietnam to learn about the business environment. Three groups of large conglomerates, including big players such as Boeing, Apple, AIG and Exxon Mobil, came in the first six months of 2014. 
More recently, more than 30 US businesses, all members of the US-ASEAN Business Council, came to Vietnam to seek opportunities in the civil engineering sector.
Analysts said they see a new wave of US businesses leaving China for Vietnam, whcih could be a new world factory in the near future.
Microsoft has relocated its 39 production lines from its factories in Komarom, Hungary, Beijing and Guangdong in China and Reynosa in Mexico to Bac Ninh province of Vietnam, turning Vietnam into an important link in the group's global supply chain.
Vu Minh Tri, Microsoft Vietnam's CEO, said the group considers Vietnam a strategic market. 
Intel, the largest chip manufacturer in the world, is fulfilling its commitment of investing $1 billion in Vietnam.
According to Intel Products Vietnam's CEO Sherry Boger, SOC (system on a chip), used for tablets and smartphones has been made at the factory in Vietnam since January 2014. 
DNSG