VietNamNet Bridge - The Ministry of Industry and Trade (MOIT) has said the Tan Rai and Nhan Co bauxite projects are highly efficient, but scientists say they will cause serious consequences.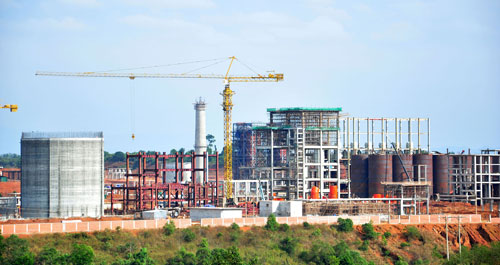 MOIT's Minister Vu Huy Hoang, in a report to the ongoing National Assembly session, said that the bauxite projects in the Central Highlands were running smoothly as planned.
The Tan Rai bauxite project has been reported as gaining the expected socio-economic efficiency and satisfying environmental requirements. 
Thoi Bao Kinh Te Viet Nam quoted Hoang as reporting that worries about the red mud treatment have been lifted as the environmental indexes are all below the permitted levels. 
The newspaper also quoted Hoang as saying that the products of the Tan Rai alumina factory are sold as soon as they are produced. There has been no inventory to stock.
The majority of the factory's products have been exported. The investor has signed contracts on selling alumina with 11 clients from Switzerland, South Korea, China and Hong Kong.
As for the Nhan Co alumina factory, the report said 90 percent of the construction work has been completed.
Hoang calmed the public down by saying that the Vietnam Chemistry Institute had completed scientific research on making fine iron ore, on an industrial scale, from red mud generated by the alumina factories. 
He said suitable technologies had been found to treat the red mud, which optimize the red mud treatment and iron ore production at reasonable costs.
Meanwhile, Vietnamese scientists are not optimistic about the projects. A group of 12 scientists have signed a petition on the bauxite projects, saying the projects will not bring high economic efficiency, and will cause serious consequences.
The scientists pointed out that the technologies and the technical design of the Tan Rai factory are problematic. Chalieco, the contractor for the project, is not using advanced technologies. The economic and technical norms show that the factory's energy, materials and chemical consumption is higher than the world's average level.
As the machines and equipment at Tan Rai are not synchronized, the automatic measurement system is unstable, and some operations have to be done manually.
Regarding financial efficiency, they said the total costs of the two projects have exceeded the initial estimates, while the output is below the designed capacity. Meanwhile, the mineral prices have been fluctuating. All these factors have placed pressure on Vietnam's public debts which have been increasing rapidly.
The scientists have also warned about the safety of red mud reservoirs. In October 2014, more than 5,000 cubic meters of waste sludge spilled over the environment after a dam of the reservoir broke
Dat Viet