VietNamNet Bridge - Will it be a good or bad thing if Vietnam, as a part of South East Asia, becomes a new factory for the world and displace China?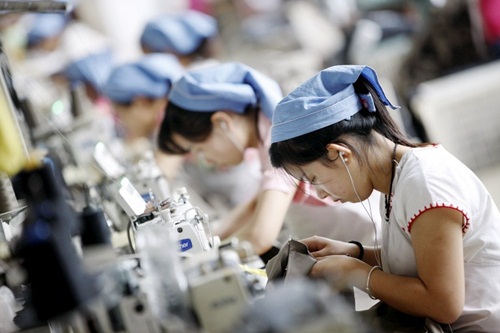 South East Asian countries, including Vietnam, are expected to take up China's title of the "world's factory" in 10-15 years, thanks to their cheap, young labor force and the strategic locations in the world's map, according to ANZ economists.
The report released by the bank days ago showed that half of the 650 million population in South East Asia would be 30 and below by 2030, and part of an emerging middle-class with higher consumption demand.
ANZ believes that major foreign investors would move to the region to set up factories to take full advantage of the abundant labor force there.
In fact, the prospect was once mentioned by economists, who said they could see a movement of foreign investors leaving China for Vietnam as the production costs in China have become high.
Vietnamese have different attitudes toward the information. Some said this is good news if the central and local authorities can make the best out of the opportunity by applying reasonable policies on training, human resources and creating favorable investment environment.
Meanwhile, others think this would not be good for Vietnam, which cannot manufacture mechanical engineering products, including screws.
An analyst warned that Vietnam needs to think carefully before deciding to become the world's factory. 
"With its current low management skill, it would not be able to take full advantage of the great opportunities, but would become a place for the world to bring low technologies and waste too," he warned.
Professor Nguyen Mai, a renowned economist, now chair of the Vietnam Association of Foreign Invested Enterprises (VAFIEs), noted that Vietnam was becoming a world factory as Samsung, Intel and Canon have set up their factories in the country.
He noted that many provinces and cities have made breakthroughs in their economic development thanks to foreign direct investment (FDI).
Vinh Phuc province, for example, many years ago had modest revenue of VND100 billion for the local budget, while the figure now is 1,160 times higher. Meanwhile, Bac Ninh province became richer after it welcomed Samsung, Canon and Nokia.
An FIA report showed that the FDI economic sector makes up 22-25 percent of total investment capital of the society and 15 percent of the state budget.
Dr. Nguyen Quang A, a renowned analyst, also noted that this should be seen as good news if foreign investors relocated their production bases to Vietnam.
"The factories would create jobs for Vietnamese, help increase productivity and mobilize domestic resources," he said.
Dan Viet