VietNamNet Bridge - The Ministry of Construction (MOC) wants to turn cement production into a key industry, but analysts believe it is a bad idea.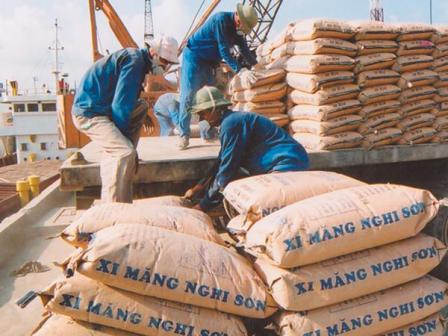 Nguyen Tran Nam, MOC's Deputy Minister, reported that Vietnam exported 21 million tons of cement last year, which brought turnover of roughly $1 billion. Such an achievement is unheard of in Vietnam. 
Deputy Minister of Industry and Trade Tran Tuan Anh confirmed that cement exports have been increasing rapidly, turning Vietnam into the biggest cement exporter in South East Asia.
Nam, in the midst of achievement, has proposed to develop cement into a key export item. 
"We have 12 billion tons of limestone, reserves which are big enough to make cement for hundreds of years," he said.
The official urged to increase production and consumption of cement to take full advantage of big cement reserves. 
"No one can be sure if cement will still be used as building material in the future. I am afraid that other agglutinative substances will be used in civil engineering," he warned.
According to Tran Thanh Hai, deputy head of MOIT's Import/Export Department, the cement industry has been making a great contribution to the country's economic development in recent years.
Nevertheless, while government officials keep optimistic about the future of the cement industry, experts do not think stepping up cement production is a good idea.
An analyst, while applauding the achievement of exporting 21 million tons of cement last year, noted that the achievement is good news for cement manufacturers, not for Vietnam's economy.
Cement manufacturers were excited about the number of exports because they found foreign buyers during a domestic oversupply.
A report showed that the cement industry has a designed capacity of 70-80 million tons a year, while only 50 million tons can be sold in the domestic market. 
This means that Vietnam has 20 million tons of cement in abundance every year, while the figure is expected to be even higher in the time to come.
The analyst noted that boosting cement exports should be seen as a solution to overproduction, while stepping up cement production should be a policy for economic development.
"There are risks latent in cement exports, because the export markets are unstable," he noted. "Meanwhile, the cement export doesn't bring much money."
Cement is is heavy and bulky, but unvalued, but the high handling and shipping costs are always a big headache to every manufacturer. 
Cement can be preserved for six months at maximum, which explains why manufacturers organize production to satisfy local demand, while they do not intend to make products in large quantities for export.
TBKTSG