VietNamNet Bridge - The Chair of Hoang Anh Gia Lai Group, Doan Nguyen Duc, one of Wall Street Journal's 20 most powerful Asian business people in 2011, tops the list of the "big bosses" with high monthly salaries.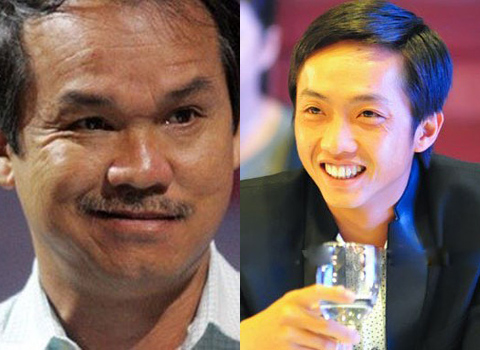 Doan Nguyen Duc (left) received VND4.18 billion in 2014
There is no common answer to the question about the monthly pay to businesses' chairs and CEOs. The salaries could be sky-high for prosperous businesses and surprisingly low for unprofitable ones.
Hoang Anh Gia Lai's financial report showed that in 2014, every member of the board of directors received VND3.4 billion a year, or VND283 million a month.
Duc, as the chair of the board of directors, received more than VND3.4 billion. In 2013, he received VND4.18 billion in salary and bonus. 
However, while the members of the group's board of directors received sky-high pay, each member of the board earned VND106 million in 2014, or VND8.8 million a month.
The post-tax profit of CII, a HCM City-based infrastructure development company, soared in 2014; therefore, CII's managers can expect high pay.
Le Vu Hoang, chair of CII, received VND2.1 billion in 2014, or VND175 million a month. Le Quoc Binh, a member of the board of directors, CEO, received VND2.6 billion in pre-tax salary and bonus. As such, Binh earned VND217 million a month in 2014.
REE, the refrigeration engineering enterprise, which is a highly profitable business, also reported high pay to high-ranking managers. 
Each member of the board of management received VND1.9 billion a year in 2014, or VND160.5 million a month. The pay was VND3.2 billion for the board of directors and supervisory board in total.
Working for REE proves to be a dream of every worker. The monthly salary for REE's staff was VND10.22 million per head per month, which was 35 percent higher than 2013. 
In Vietnam, those with the monthly income of VND10 million and higher are listed as high income earners.
Vietnam Airlines, enterprise in which the State holds controlling stakes, has also been listed among the best payers.  Its chair Pham Viet Thanh received VND396 million in 2014, while CEO Pham Ngoc Minh had VND384 million, and every member of the board of directors VND348 million.
An analyst noted that the economic recession has had a different impact on Vietnamese businesses. While many enterprises had to leave the market, others have become more prosperous.
While some enterprises still can offer attractive salaries to their managers, other big bosses received pay which was even lower than the income of a factory worker.
The Tu Liem Housing JSC, for example, could pay only VND3.8 million a month to each member of the board of directors in the year. Meanwhile, the average income of the company's staff was higher, VND8.6 million a month.
US$1 = VND21,000
VTC