VietNamNet Bridge - Eighty-five percent of textile and garment companies have outsourcing contracts with foreign partners, but the situation is expected to change when the Trans Pacific Partnership (TPP) Agreement becomes effective.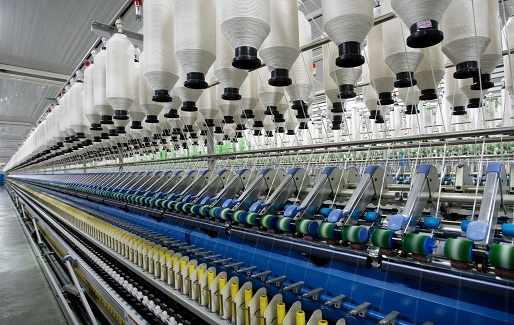 The Century Synthetic Fiber Corporation (CSFC), after successfully issuing 5 million shares last December, has decided to list its shares on the bourse this June. CSFC is one of the very few fiber manufacturers listing shares on the stock market. Its customers are not only final product users, but fabric manufacturers as well.
Thanh Cong Joint Stock Co (TCM) is another fiber manufacturer on the bourse. However, TCM's major products are garments; it makes fiber only to get the best out of the closed production line.
There are few Vietnamese companies like CSFC, but this will change in the near future when Vietnam signs the TPP, which will apply the "yarn forward" principle in the textile and garment sector. 
Under this principle, preferential tax rates will be applied to products made of fiber sourced from TPP countries.
This means that Vietnamese products will not be able to enjoy preferential tax rates if it continues using materials from China.
As a result, analysts say that Vietnamese have begun pouring money into fiber projects. 
CSFC, for example, has been expanding its production scale for many years. In 2000, its factories could churn out 4,800 tons of fiber. The figure is expected to rise to 41,000 tons per annum in 2015, an increase of 24 percent over the last year.
The corporation plans to spend VND890 billion on a factory at its Trang Bang Branch in the next two years. 
Dang Trieu Hoa, chair of CSFC, said at the shareholders' meeting in late March that the expanded production can satisfy only a small part of the demand. 
The Vietnam Textile and Garment Corporation (Vinatex) has also geared up with investments in fiber manufacturing projects. 
In late March, it kicked off the Que Son fiber – textile - dyeing – garment complex project, capitalized at VND1.2 trillion. The fiber factory in the complex, scheduled to become operational in 2017, is expected to put out 5,000 tons of fiber a year.
A senior executive of Vinatex revealed that the corporation plans to develop 51 projects in the new development period, including 14 fiber projects, the products of which would be provided to Vinatex's subsidiaries.
FPT Securities said that Vietnamese enterprises in the textile and garment sector are mostly following the CMT model (cutting, making, trimming). Only 6 percent of enterprises are spinning. 
The countries participating in TPP Agreement have set a target of concluding TPP negotiations in 2015 and this is within reach.
By the end of 2014, TPP members underwent 19 official rounds of negotiations and many others at chief negotiator and ministerial levels along with high-level meetings.
NCDT