VietNamNet Bridge - The World Gold Council (WGC) has reported that Vietnam consumed 69.1 tons of gold in 2014. However, Vietnamese experts disagree with that assessment.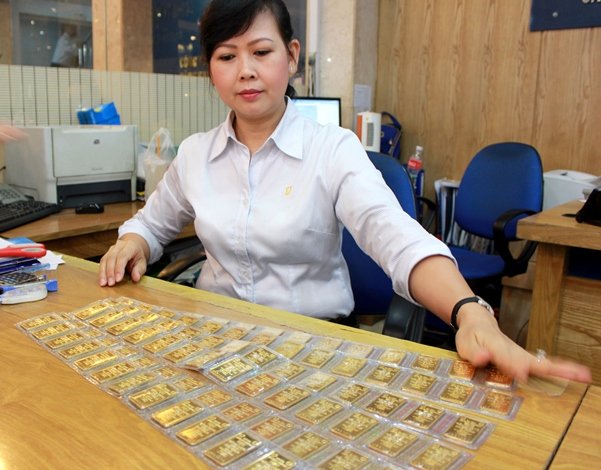 "It is unclear where WGC sought information to make report. But I can say for sure that the total revenue of all Vietnamese gold companies could not make up such a figure," he said.
Trong said a large jewelry company needs about 200 kilos of materials a month to make jewelry. 
The number of large jewelry companies can be counted on one hand or two, and the actual volume of gold materials is not high.
Other goldsmith shops mostly process finished products they buy from customers, and do not have demand for gold materials.
"12.7 tons of jewelry gold consumed in 2014 was reasonable, if counting the jewelry illegally imported from China. The jewelry market last year was very gloomy," he noted.
"The remaining 56.4 tons of gold was listed as bullion gold for investment. However, it's unclear where the imported bullion gold has gone," he said.
There are three "ways out" for the imported gold. First, it could be used as material for making jewelry. However, this volume is counted as part of the 12.7 tons of jewelry gold. Second, it could be used as gold to make handicrafts.
However, the volume of gold used for this purpose is small because gold is only needed for product covers. Third, it could be used in making industrial products, but also with small volume. 
In the past, imported gold was put for sale in the market. However, this was stopped by management agencies.

Meanwhile, the only thing SJC, the producer of bullion gold for the State Bank, did in 2014 was to remake deformed gold, while there were no imports during the year.

Under Decree No 24, bullion gold is now under the State Bank's control and can be processed only at SJC.

As such, Trong said, with the modest gold demand for jewelry and no gold bullion made at JSC in 2014, the huge amount of 61 tons of gold is unreliable.

Nguyen Van Dung, chair of the Association of Fine Arts, Jewelry and Gemstone, said the gold trading was gloomy in 2014. 

Many gold shops and companies shut down because bullion gold was prohibited, while the jewelry demand was modest.

An SJC executive also said the WGC's report surprised him. "With the weak purchasing power, there was no reason for Vietnam to import 69 tons of gold in 2014," he said.

TBKTSG