VietNamNet Bridge – Though Vietnam has never been considered a hi-tech power, locally made hi-tech brands have become popular with consumers.
SmartHome

SmartHome, a product of BKAV, a Vietnamese technology group, surprised foreign clients when it was first marketed.
SmartHome's software has automatic programs such as alarms and a security system, and it can learn homeowners habits and adjust its operations.
The 100 percent Vietnamese-made product is "the most complete system in accordance with Gartner's standards" and can communicate with homeowners via a virtual assistant's voice.
The friendly SmartHome has convinced many foreign customers. A Singaporean billionaire has decided to use SmartHome for his $8 million home. It is estimated that the expense for the service accounts for 10-15 percent of the total cost of the home.
The Tosy robot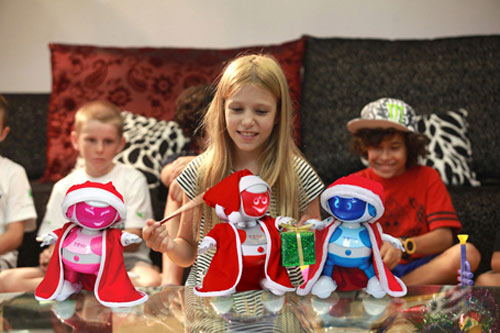 Tosy, the Vietnamese robot, has been living with many families in the US and Europe. Parents have given the robot to their children as presents on special occasions, including Christmas.
Tosy has also been used in industrial production, serving as a qualified worker in welding, painting and assembling factories. With many outstanding features, such as picking up products on fast-moving conveyor belts, Tosy has been ordered by many large manufacturing groups worldwide.
Tosy has also made a spinning top, which can spin nonstop for 24 hours, 35 minutes and 15 seconds. The Tosy top in 2011 became the first Vietnamese toy granted a Guinness World Record for the longest running mechanical spinning top.
Flappy Bird
Flappy Bird, a mobile game developed by 29-year-old Nguyen Ha Dong in Hanoi caused a craze worldwide last year. Flappy Bird at one time had the highest number of downloads on the Google Apple Store.     
A report showed there were 50 million downloads of Flappy Bird and 47,000 comments on the App Store.
Flappy Bird was one of the top 10 key words searched on Google in 2014, while Nguyen Ha Dong has been named by The Richest as one of the top 10 technology millionaires who got rich from internet services. The game brought turnover of $50,000 a day.
Flappy Bird was not backed by any marketing campaign. It was quietly developed and posted by Dong alone.
Analysts, citing these success stories, said that offering original products and targeting niche markets is the best way for Vietnam to follow.
The Flappy Bird mobile game by Nguyen Ha Dong was named as one of the 50 best-known brands worldwide in 2014 by Infergy, a leading company in the field of data analysis activities of mass media.
It compiled the list based on interactive reports, analysis of more than 800 brands, and billions of online conversations in 2014.
On this year's list, many new names appeared. The most notable name was Flappy Bird of Nguyen Ha Dong, ranked 39th.
Flappy Bird was the only electronic game in the ranking, overcoming other games like Clash of Clans and Candy Crush. The position of Flappy Bird was higher than other famous brands such as Toyota, Intel or Soundcloud.
Tran Thuy