VietNamNet Bridge – The advantage of Chinese goods are the cheap prices, whileThai goods have good quality, and both are popular with Vietnamese customers, according to Dr. Le Dang Doanh, former Director of the Central Institute for Economic Management (CIEM).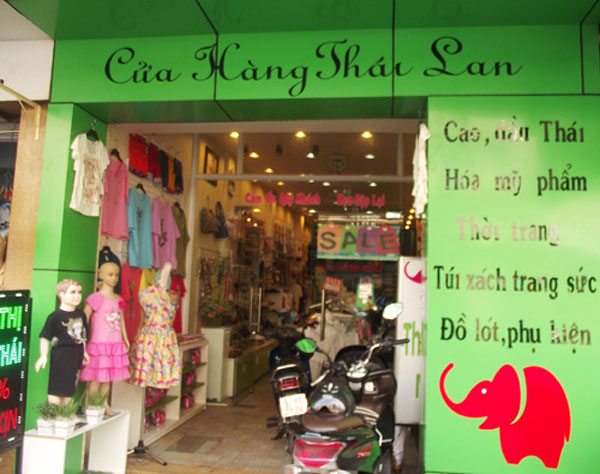 A Thai shop in Hanoi.

Appreciating the development potential of the Vietnam market, many Thai investors have increased investment in Vietnam through the acquisition of shares in domestic companies and expanding investments in the field of retail.
Most recently, Power Buy bought a 49% stake in Nguyen Kim, one of the biggest electronics distributors in Vietnam. Earlier, Robinson Department Store opened the first supermarket in Royal City building in Hanoi.
Berli Jucker Corporation (BJC), which is owned by Thailand's third richest man (according to Forbes), spent nearly $880 million to acquire the Metro Cash & Carry Vietnam.
Berli Jucker also bought retailer FamilyMart (Japan) in a joint venture with Phu Thai Group 95 convenience stores and named them BJC Mart.
In Hanoi, shops selling Thai products are scattered in many streets. Thai products are gradually winning Vietnamese customers for their good products and reasonable prices compared to similar products in Vietnam.
The owner of a Thai shop on Tay Son Road, Hanoi, said demand for Thai goods is high. Most of Thai goods in her shop are imported via the Vietnam-Laos borders in Quang Tri or distributed by Hanoi-based distributors.
Vu Vinh Phu, a trade expert, said that Thai goods have penetrated the domestic market for a long time, in both production and distribution stages.
Thai products often have higher quality than Chinese products and are cheaper than Vietnamese products.
Dr. Ngo Tri Long, former Head of the Institute for Price Research, said that auto products imported from Thailand are better than those produced or assembled in Vietnam. Thai plastic, household and electronics products also have good quality.
Both Dr. Long and Dr. Le Dang Doanh said that Thai goods are formidable rivals for Vietnamese producers.
A report of the General Statistics Office says that Thailand is one of the largest import-export partners of Vietnam, with total trade value in the top 10.
According to statistics, in January-November 2014, Vietnam's export revenue to Thailand reached $2.94 billion, up 10.5% compared to the same period in 2013.
Vietnam's import turnover from Thailand was $6.44 billion, up 12.2% over the same period.
Na Son