VietNamNet Bridge - Local authorities have been warned to think carefully before welcoming more foreign textile and garment investors, as they could likely suffer in the future.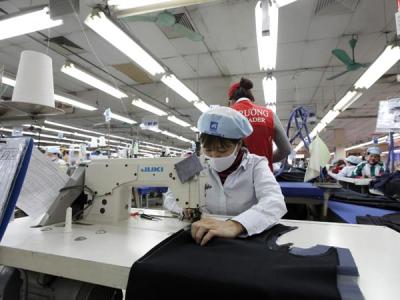 Vietnam in recent years has become an ideal destination for foreign textile & garment investors, especially the Chinese.
Of the four Chinese-invested textile & garment projects which have been licensed recently, two were in textile and dyeing. They were registered as Thien Nam Sunrise and Yulun Vietnam, with the latter receiving an investment certificate in March 2014.
In addition, the Rang Dong Industrial Zone (IZ)  in Nghia Hung district of Nam Dinh province has been added to the national IZ development program. The IZ was developed by two Chinese companies Luenthai and Sanshui Jialida, and Vietnamese Vinatex Investment JSC.
Pham Chi Lan, a renowned economist, said she had heard from the Binh Duong provincial authorities during a recent working visit there that they had received over 200 applications for developing textile & garment projects in the province.
This prompted local authorities to build an industrial zone reserved specifically for textile & garment projects.
Lan warned that local authorities should think of restricting the number of textile and garment projects.
If there are too many projects in the field and the investors do not fulfill the commitments on environmental protection, a heavy burden will be put on local authorities' and local residents' shoulders.
"It is very costly to deal with environmental problems, which are unbearable to the local authorities," Lan said.
An independent analyst noted that there are already "more than enough" textile and garment projects in Vietnam.
Meanwhile, Vietnam does not want to attract investors to this business field, because it does not use high technology and causes environmental problems.
"Vietnam is now not in the period when it needs to attract foreign investors at any cost. It needs to be more selective when choosing investors," he said.
Bo Ngoc Thu, director of the Dong Nai provincial Planning and Investment Department, said the local authorities are well aware of the environmental problems, so textiles and garments are listed as a conditional business field, and investors only receive licenses if they can satisfy the requirements on waste water treatment.
Thu said that not all textile & garment projects should be refused, even if there are already many here.
"If we completely prohibit projects in the field, we will not be able to make many kinds of materials domestically," she explained.
"If so, Vietnamese companies will forever do the outsourcing for foreign partners and never increase the locally-made ratio of products," she said.
Thanh Lich