Bechtel Corporation of the United States has shown keen interest in developing Hon Khoai port in the Mekong Delta province of Ca Mau, according to the Ministry of Transport.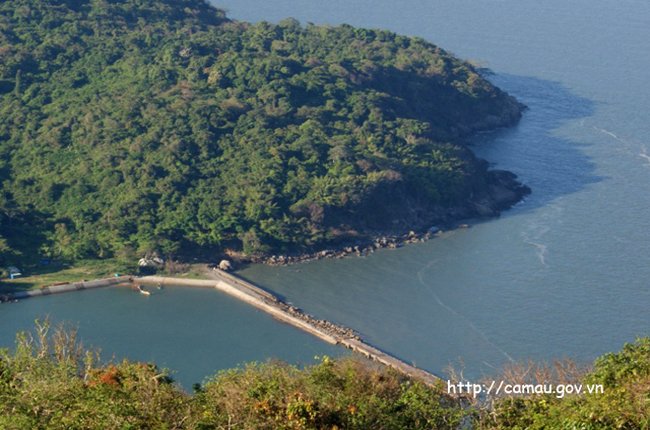 The current wharf of Hon Khoai Port.
Mark Argar, project manager at the corporation, told a meeting with leaders of the ministry held in Hanoi on Monday that Bechtel has clinched an agreement with Van Phong Company and sought approval to conduct a feasibility study for the project.
The corporation wanted to develop Hon Khoai into a gateway port for coal imports used to fuel thermal power plants in the Mekong Delta region, according to Argar.
Minister of Transport Dinh La Thang said that Bechtel should weigh the plan and gauge  demand in the region as the region already has a coal port named Duyen Hai and the whole southern region has Cai Mep-Thi Vai complex as the international transshipment port.
Can Tho will serve as the port hub for the Mekong Delta as part of a project to dredge the Hau River to allow in larger ships. The ministry is carrying out this project, Thang said.
Thang questioned how the cargo imported via the proposed port in Ca Mau Province will be transported to other parts of the Mekong Delta region as an expressway connecting this province with Can Tho City will be built after 2020 in line with a master plan for road-port links in the region.  
Thang was quoted by the ministry's portal as saying that Bechtel would contribute to socio-economic development in the southernmost region of Vietnam if it implemented the project. "However, we do not want the investment to be ineffective," he stressed.
Therefore, the minister suggested Bechtel should carefully survey the market, infrastructure development and logistics facilities before making any investment decision.
In September last year, N&M Commodities Pty Ltd. worked with the Vietnam Marine Administration over a port investment plan in Hon Khoai.
The Australia-based firm proposed building 24 piers at the port, with half of them able to handle 250,000-DWT vessels supplying coal to thermal power plants and the remainder used for other goods.
The firm estimated the project would cost US$3.5 billion and be built in 2014-2016 before coming online in 2017.
SGT