VietNamNet Bridge – Vietnam had a bumper 2014 with bountiful crops and high farm produce export prices, but farmers believe there is nothing to be happy about.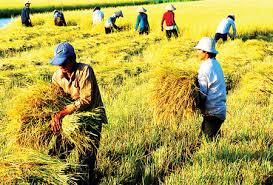 Analysts noted that though the production value and export turnover were high, the money farmers could pocket was modest. The problem lies in the fact that Vietnam had to import many kinds of raw materials.
A report by the Ministry of Agriculture and Rural Development (MARD) showed that the total farm, forestry and seafood produce import turnover in the first 11 months of 2014 reached $19.78 billion, of which the majority were agricultural materials.
Vietnam had to spend $690 million on pesticides and input material imports during that period and $774 million in 2014, an increase of 3.5 percent over 2013.
Vietnam vows to develop the animal husbandry, but in order to do that, it has to import most of the animal feed products needed. The import turnover reached $3.24 billion in 2014, higher by 5.2 percent over 2013 and higher than the money Vietnam earned from rice exports.
Vietnam cannot produce plant seeds. MARD reported that Vietnam had to spend $500 million to import 8,000 tons of seeds for the country's 700,000 hectares of vegetable area in 2013.
Dr. Le Hung Quoc, former head of the MARD's Plantation Agency, said these facts are not surprising.
He said that all the input materials used in agricultural production in Vietnam are imports (except farmers and land).
"The best varieties used in Vietnam are imports," he said. "Vietnam even cannot make cabbage, cauliflower, kohlrabi, carrot, cucumber, tomato seeds, the popular kinds of vegetables."
How much does Vietnam earn from farm exports?
Though Vietnam is the world's biggest rice exporter, the money it can pocket form rice exports is small.
The Vietnam's rice export price hovers around $400-450 per ton, which is lower by $50-75 per ton if compared with the products of the same kinds from India, Pakistan and Thailand.
While government agencies report great achievements in the agriculture sector at workshops and conferences, Vietnamese farmers have quietly given up their rice fields.
According to MARD, 42,785 households gave up farming in 2012-2013, leaving 6,882 hectares idle. As many as 3,407 households gave back agricultural land to the state.
The Chair of the Vietnam Farmers' Association, Nguyen Quoc Cuong, said farmers can make a profit of only VND100,000-200,000 per 360 square meters from every crop within a three month period.
Dat Viet