VietNamNet Bridge – Any ODA receiver who borrows yuan from China, including Vietnam, will be at a disadvantage because of the yuan appreciation and US dollar depreciation, economists say.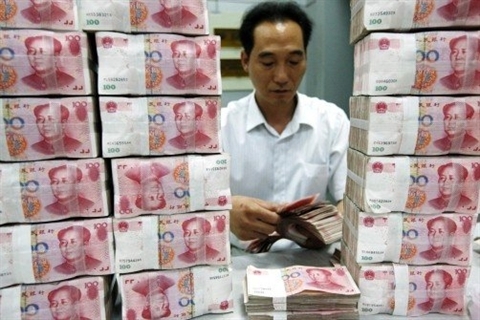 Beijing has been making every effort to enlarge the influence of the Chinese yuan worldwide. By mid-2010, the yuan had been used in trade between China and 23 partners. A report showed that by 2013, the total value of the cross-border transactions in Chinese yuan reached 4.630 trillion yuan.
Dr. Ta Van Loi from the Hanoi Economics University noted that lending other countries in yuan is a part of the policy pursued by China which is attempting to make the yuan into the third major hard currency in the world, next to the US dollar and the euro.
Over 10,000 international finance institutions trade in Chinese yuan, a sharp increase from 900 in 2011.
Since mid-2014, China and the UK have been exchanging their local currencies directly, not via the US dollar. In October 2014, China and Russia signed an agreement worth $150 billion on trade in yuan and rubles, the move aiming to increase two-way trade twofold.
According to Dr. Luu Ngoc Trinh from the Vietnam Academy of Social Sciences, the lending in yuan will bring big benefits to China and disadvantages to borrowers in the context of the yuan appreciation and dollar depreciation.
Suppose that China gives a preferential loan (with no interest rate) of 700 yuans to Vietnam. At disbursement time, the sum of money equals 100 US dollars, which means one dollar could be converted to seven yuan. However, five years later, as the yuan appreciates, one dollar could buy six yuan only. This means that in order to pay the debt, Vietnam needs to spend 117 dollars.
Meanwhile, in order to have the additional $17, Vietnam will have to pay more Vietnam dong. This will lead to dong depreciation and push up the inflation rate.
Bui Ngoc Son, MA, from the Vietnam Academy of Social Sciences, noted that with the current abundant foreign exchange reserves, China would push up lending in both dollar and yuan.
"Even if China lends in US dollar, it will still get big benefits," Son commented. "At first, the borrowers would find it satisfactory with the loans, because the US reportedly maintains a weak-dollar policy. However, in fact, they are facing high risks."
Besides, Son said, China will also benefit from selling out-of-date technologies it tries to eliminate from its factories to borrowers. "As such, it can expand economically, polish its image and sell out-of-date products as well," he said.
Dat Viet